Bishop Briggs added to her list of achievements by winning season 9 of The Masked Singer. Disguised as Medusa, Briggs defeated Macaw (David Archuleta) to take home the crown. The British singer burst onto the scene with her 2015 single River. Since then, Briggs has released two studio albums: Church of Scars and Champion.
Bishop Briggs proposed to her husband, Landon Jacobs, in late 2021
Bishop Briggs and Landon Jacobs celebrated their third anniversary in November. "3 years with the love of my life," Jacobs captioned a photo of the couple. "I am more thankful for her than anything. Let's have at least a couple dozen more together."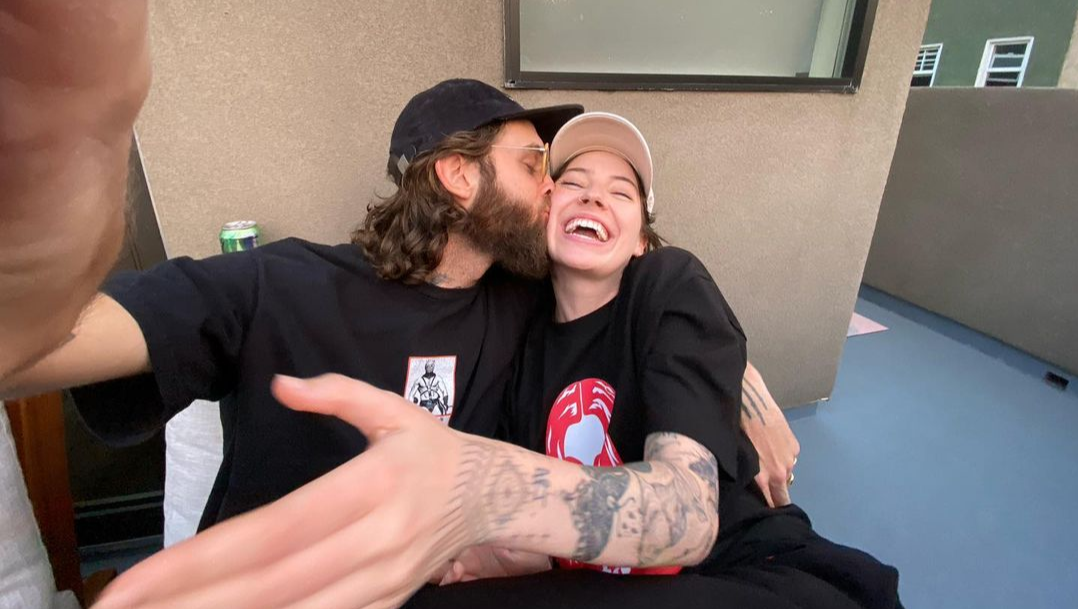 Briggs proposed to Landon in late 2021. She said during an appearance on Tuna on Toast with Stryker that she drew inspiration from Irish women she'd seen proposing to their partners (Briggs was born to a Scottish couple).
Briggs proposed to Landon in Big Bear, California, surprising him with a ring and a speech. "We both cried," she said. "It was really special. Really, really special." The singer said she was overwhelmed by the positive reaction to her engagement. She continued:
"I feel proud of the things I have accomplished. And I feel like my extended family is proud of me. The reaction to the engagement was so much bigger than any reaction to any sort of career thing. It was time. I proposed to him."
It's unclear when Landon and Briggs married. Landon revealed that Briggs was his wife as he wished her a happy birthday in July 2022. He captioned a 19th July 2022 post:
"Happy Birthday to the love of my life, my partner, wife, best friend, and future mother of our child. It's an honor to be your husband, and I can't wait to raise our kiddo together."
Landon is the frontman of the LA-based band Sir Sly
Landon fronts the LA-based band Sir Sly. Jason Suwito and Hayden Coplen, the instrumentalists, complete the three-man band. Sir Sly released its debut single, Ghost, in March 2013. Landon and Briggs likely met through music.
Sir Sly's most recent album, The Rise & Fall of Loverboy, debuted on 23rd April 2021. Landon also has a solo career, releasing music under the alias My Real Name. He has released an online album titled Un-couth.
During a 2021 interview with Mini Masterclass, Landon said he draws songwriting inspiration from Japanese writer Haruki Murakami. He explained:
"The kind of dream-like format of his storytelling really, I feel like, gave me permission to try to be a little bit more bizarre in my lyric writing… a little less specific and a little bit more like I was painting with words."
Briggs and Landon's child was born in August 2022
Bishop Briggs revealed she was pregnant via a Paper Magazine photoshoot. "SURPRISE," Briggs captioned the 8th April 2022 Instagram post. "THANK YOU @papermagazine FOR MAKING MY MATERNITY SHOOT DREAMS COME TRUE!"
A barrage of baby bump photos followed in the months after the pregnancy post, culminating in the announcement of the baby's birth. In early August 2022, Briggs and Landon posted an image of the child's toes sticking out of a blanket. "Worth the wait," Briggs captioned the post.
"The cutest 10 lbs I've ever gained," Landon captioned a late August 2022 Instagram photo. "MY HEART IS GOING TO EXPLODE," Briggs commented.
A conversation with Landon sparked Briggs' recovery from the grief over her sister's death
Briggs wrote on Nylon that she struggled to overcome the grief over her sister's death. Kate, Briggs' sister, died of ovarian cancer in 2021. Briggs wrote that she was suicidal but couldn't share her thoughts with anyone. She explained:
"I kept thinking about how, in some cases, a therapist has to file a report if you're deemed to be a danger to yourself or others, and that can make having a conversation about suicidal ideation feel really scary. You're afraid: What will happen to me after I open up?"
Briggs tried different forms of therapy, hoping they would help her recover from the depression and anxiety she was feeling. The singer revealed that she wasted away, neglecting food and water and disregarding hygiene. A trip to the doctor revealed the shocking extent of Briggs' deterioration.
Briggs vowed to recover. "I knew she [Kate] would've wanted me to take care of myself," she wrote. However, the turmoil in her head worsened.
The turning point was a candid conversation with her husband. Briggs had kept her suicidal inclinations secret, but Landon had seen enough to know that Briggs was contemplating suicide. The River hitmaker wrote:
"Shifting in his spot, my husband said, "I think that's more so for cases where you're obsessing over killing yourself." A silence fell between us. I'll never forget it. I wish I could. I nodded. Now, he knew what I'd been fighting so hard to keep inside. Tears began streaming down the eyes I had grown to trust so deeply over the years."
"That conversation with my husband marked the first step in my journey toward actively living each day in honor of Kate," she continued. Briggs started a regimen of antidepressants and sought advice from a friend on how to handle them. She also found solace in online communities. Briggs concluded:
"To hear that I wasn't alone in my grief and that there were tangible steps that I could take toward living. That was a game changer."
"Kate, if you are reading this you know I really fought," Briggs captioned a 31st December 2022 post. "I gave birth to a new baby boy, I proposed and then we tied the knot. Not in that order but I think that's a lot."
---