Gradey Dick has made the transition from high school to college basketball seem easy – such is the extent of his talent and temperament. Top talents sometimes struggle to adapt to the faster and more physical college basketball game, but Gradey has adapted seamlessly.
Gradey's parents have contributed a great deal to Gradey's success.
Gradey's mother, who played basketball for Iowa State, battled colorectal cancer
Gradey Dick was born on 20th November 2003 to Carmen and Bart Dick in Wichita, Kansas. He grew up alongside three older siblings: Kelsey, Brodey, and Riley.
Carmen played basketball for Iowa State; after graduation, she played for a year overseas. Bart played football and baseball at Kansas University but didn't pursue a career in sports after graduating in 1980.
When Gradey was 7, doctors diagnosed Carmen with colorectal cancer. As Carmen fought the disease, Gradey picked up responsibilities in the household. The experience taught Gradey discipline and instilled in him a sense of maturity beyond his years.
"I think that molded Gradey in some different ways to not take things for granted," Bart told SLAM. "I don't think that's lost on him."
Gradey started playing basketball at a young age. To avoid being bullied on the court by his older siblings, Gradey developed into an accomplished shooter. "He had to keep up, and he did," Carmen said. "He couldn't get inside, so he had to learn to hit the long shots." "To fit in, he had to be creative," Bart added.
Carmen has helped Gradey become a more rounded basketball player. He told JayhawkSlant: "My mom is more of a post player. Throughout the years I've been a shooter but I have an advantage because my mom teaches me post moves a lot. If I don't shoot, I can take it to the rim and use what I've learned from her."
Bart concedes that Gradey is a lot like his mother. "She's very focused and I think Gradey gets that from her," Bart said. "She takes a few things and does them crazy well, and I think that's where Gradey got that."
Gradey's parents say that he's settled in seamlessly at Kansas University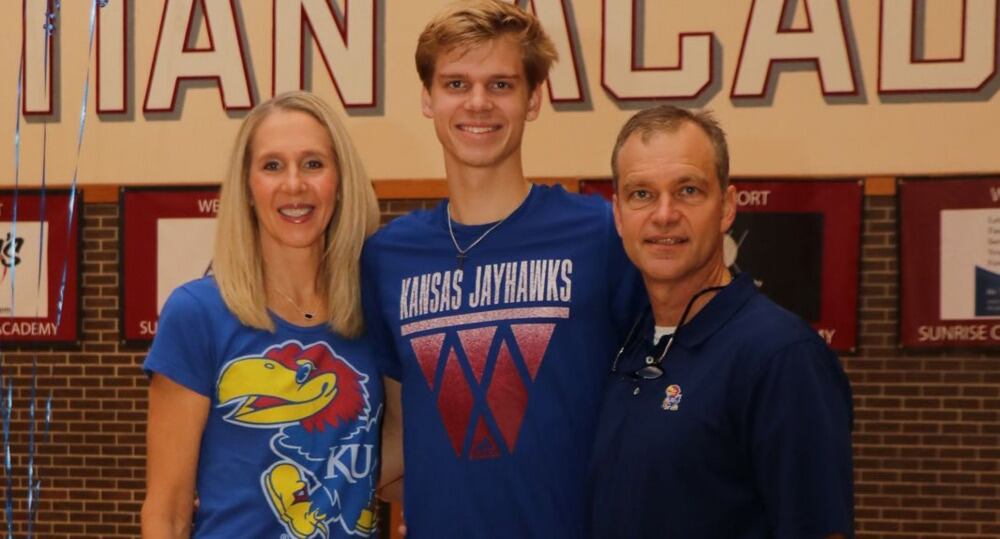 Gradey Dick considered several college offers, but he seemed destined to end up at Kansas University: his father and older siblings had attended the university. However, despite his family's ties to the institution, it wasn't a straightforward decision for Gradey.
"Yea, so my mom played at Iowa State," he stated. "Iowa State is a team that I followed and I'm a fan of Coach [Fred] Hoiberg, so when he went to Nebraska and offered me, that is another connection that I have."
Gradey chose Kansas University and fit right in. Carmen told KSNW: "I would say he's doing great. I mean, like I said, this has been a dream of his whole life to play at KU, and he loves the campus. He loves the team. He loves the coaches. And, of course, going to school, but I mean, it's going great. He's a happy kid. It's a great place for him."
"He seems to be happy and seems to be enjoying the team and coaches," Bart added. Bart said he enjoys watching Gradey evolve his game."I see plays and say, 'I've never seen that before,'" Bart said. "That's what he likes about it because he's not just a shooter."
Gradey's parents attend every game and receive attention from the television crews. "They seem to like to shoot the parents a lot," Carmen said. "And I think especially us since we're from around here. You know, we have the KU connection."
Bart and Carmen disagree with some of Gradey's decisions, including his pet cat. "He just got a new cat," Carmen said. "So, we are not cat people. We have dogs. So, this was something new."
---