Jaliyah and FunnyMike are famous for their YouTube channel, The MJ Family. The YouTube channel also features their daughter Londyn. Jaliyah and FunnyMike were social media personalities before they formed their family channel. FunnyMike still maintains a YouTube channel known as FunnyMike.
The family YouTube channel contains videos about the family's daily tasks and a fair share of prank videos. A quick browse on the channel will also reveal that FunnyMike and Jaliyah are aspiring musicians. The couple majors on rap music.
The family's YouTube channel has 3.22 million subscribers, and that number continues to rise every day. Jaliyah and FunnyMike are a true YouTube power couple. This article will reveal the lovely story of how the couple met and started their family.
Jaliyah and FunnyMike went on their first date on Mike's birthday
FunnyMike and Jaliyah initially met via social media. Both FunnyMike and Jaliyah had seen each other's videos, but they hadn't talked to each other until FunnyMike sent Jaliyah a message on Snapchat. Jaliyah admitted that Mike was funny, but she didn't pay much attention to him.
Jaliyah and FunnyMike met officially when Mike visited Jaliyah's business to buy an iPad. FunnyMike met Jaliyah, but he didn't make a move. A short while later, FunnyMike sent Jaliyah another message asking her about the price for a new iPhone. He bought the iPhone from Jaliyah's shop, but again he didn't make a move.
FunnyMike eventually made his move when he sent a bunch of flowers to Jaliyah's workplace. It was after the flowers that Jaliyah gave FunnyMike her number. Mike asked Jaliyah out, but she was still hesitant, given that she had just come from a bad relationship.
However, Jaliyah was charmed, and she decided to give FunnyMike a chance. The day of the date turned out to be FunnyMike's birthday. He planned a romantic date that swept Jaliyah of her feet. Jaliyah revealed in one of her videos;
"He had came pick me up…opened the door for me… like what you're supposed to do or whatever. And we got into the car and he wasn't forcing conversation, he wasn't being corny, he just was being himself, and I'm like, I might like him… I might like somebody… My mom was so excited… and my coworkers too…"
The relationship grew gradually from there, and the couple grew deeper and deeper and in love. It hasn't been completely smooth sailing for the couple, as they have had to endure several breakup rumors.
The couple don't plan on having other children following the births of their daughter Londyn and son MJ
Jaliyah and Mike's love led to the birth of their daughter Londyn in February 2019. Mike announced Londyn's birth via an Instagram photo posted on 13th February. The couple welcomed their son MJ in mid-July 2020. Mike announced the birth via an Instagram video of MJ captioned: "Welcome son. Daddy love you."
Jaliyah posted a video titled Baby MJ is here in which she explained that she didn't vlog MJ's birth because the delivery happened very quickly. Via a May 2020 Instagram caption attached alongside photos of a pregnant Jaliyah alongside Londyn, Jaliyah explained what motherhood means to her:
"I believe that God sent you into my life to give me something to fight for, to show me there is love in this world, to give me hope and to bring me happiness. All the proof in God I need is you. I didn't give you the gift of life, life gave me the gift of you. I am absolutely blessed to be your mommy!"
At the moment, Jaliyah is content with two babies. Via a video posted on the channel on 30th August 2020, Jaliyah told her fans that she has adopted a contraception method that prevents her from getting pregnant for five years. "We don't need to have kids until our kids that we have now can watch our new kids," Jaliyah said amid laughs.
Londyn is already showing promise in the social media arena. She appears in most family videos and has over 800K followers on her Instagram page.
FunnyMike and Jaliyah temporarily broke up after she complained that he doesn't give the family enough time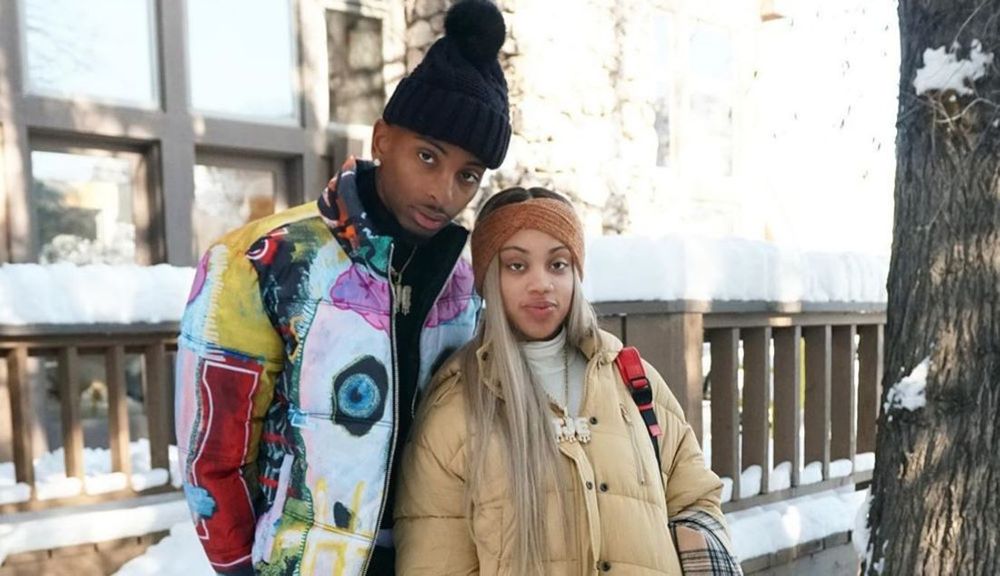 On 12th August 2020, FunnyMike posted a video stating that he was done with Jaliyah after she left without wearing her engagement ring. A visibly irate and emotional Mike kept stating that he couldn't do it anymore. He ranted:
"I'm trying to be a family man. Sometimes I can't go to a picnic man because I am working. You hear what I am saying? I am trying to make it happen out here. I know females be wanting their time and they be missing this. I am trying to make it happen. I am not playing. This is for real. She left her ring by the bed. If it ain't going to work out, it ain't going to work out."
Mike seemed resigned to the fact that the couple's relationship couldn't work, and so did Jaliyah in her reply video. Jaliyah appeared alongside Mike's sister Paris to discuss Mike's video. Paris defended Mike as Jaliyah accused him of neglecting the family. Jaliyah stated that the relationship was over, but added that she was open to reconciliation. She said:
"If you don't want me to be happy, then you don't really care for me. I'm making this move for not only me, but for my kids. If anything, they deserve that. I have to be 100% emotionally and mentally for my kids. It's for my kids; it's not just for me. Hopefully, we will come back."
Paris stated that she was sure Jaliyah and Mike would get back together, and her prediction proved true. Mike and Jaliyah are still going strong.
---