Brandon Walker is a sports gambling analyst who works for Barstool Sports. The polarizing analyst joined Barstool in the wake of a feud between Barstool and his former employer, MyBookie. The feud started after MyBookie questioned the legitimacy of David Portnoy's gambling habits. Portnoy, the founder of Barstool, hit back at MyBookie by leaking complaints from the site's customers.
MyBookie lost customers and sponsors due to the loss of credibility caused by David's leak. As a final blow to the disparaged company, Barstool took one of its most important employees, Brandon Walker. Brandon has taken his chance at Barstool as he now one of the most famous figures at the company.
This piece will look at Brandon's career, his wife, and children.
Brandon struggled as a writer and a podcaster before landing his position at Barstool
Brandon started working as a writer after graduating from Mississippi State. He rose the ranks to editor, but he found it difficult to make the step from small-town publications to major news publications. Brandon moved around the country in attempts to find work at big companies, but he always ended up working for small publications.
Walker needed a job with a salary that could comfortably cater for his growing family. He failed a lot at trying to get a high paying job, but he didn't give up. The opportunity at Barstool was tailor-made for Walker. He had gained enough experience working as a sports writer, and he had the personality to execute the role.
After consulting with his wife, Brandon took the job. Brandon loves Barstool because the company doesn't attempt to censor or control what Walker says when the camera starts rolling. He stated in an interview posted on Barstool's YouTube channel:
"Barstool is real, which means whatever you really are, that's what you portray at Barstool. Whatever I really am, I portray at Barstool. It's real. They turn the camera on, they give you a blog. You be you. The entire world is different than Barstool. The entire world is structured and tells you where to be and what to do and where to stand and how to act. Barstool says, 'Here everything! Go!' It's up to you."
Brandon's wife supported his move to New York but he isn't sure that he would have done the same
Brandon wasn't sure how his wife would react after he told her that they'd have to New York because he'd landed a gig with Barstool Sports. Walker got a better reaction than he'd anticipated. His wife agreed to move without condition because she was so happy that Brandon had gotten the big break that his hard work warranted.
The next day, she informed her employer that she was moving and started working on plans to move the family to New York. Brandon referred to his wife's support as 'abnormal' and added that he's unsure if he would have done the same if he was in his wife's position. He said:
"I would've put up a road block. I would have eventually done it but we would have had to jump over every obstacle that I would have put in her path. She; no obstacles."
The coronavirus pandemic has given Brandon and his wife time to strengthen their bond. However, Brandon revealed via Twitter that his wife has been asking some uncomfortable questions. He posted the following tweet on 2nd April 2020:
"My wife and I have really reconnected and shared great conversations on quarantine. Today she's been full of questions like 'wanna go for a walk' and 'what do you think about starting keto' and 'have you thought about cutting out sugar?'"
Brandon believes that his 9-year-old son has the potential to be bigger than him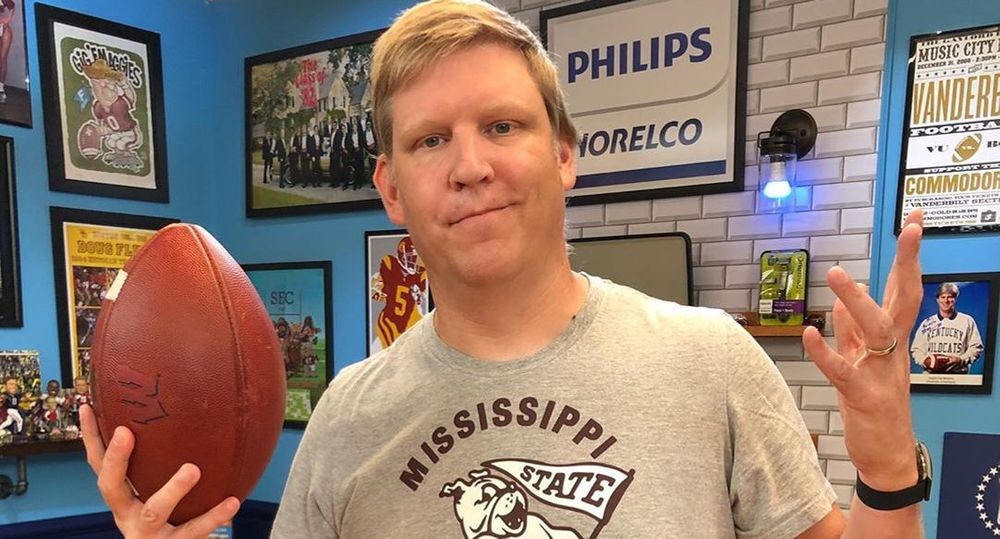 It's safe to say that Brandon has proved everybody wrong at Barstool. He knows that he was offered a contract at Barstool due to David Portnoy's beef with MyBookie, and not because of the potential that David saw in him. However, from the first day, he set out to prove that he deserved to be at Barstool – that he wasn't just a pawn in the duel between David and MyBookie.
Walker has made it big, and he believes that his 9-year-old son, Tommy, has the potential to eclipse him. Out of his four children, it's his son that has shown the most interest in what Walker does. Walker said:
"He's talked to me and said, 'Dad it's time to start my podcast. When are you going to start my video show?' When I had the Mississippi State stuff he would actually come up and he would sit with me and he would actually do it. He thinks he is going to be the next me, which is not a bad thing."
---