Emma Raducanu is the breakout star of the 2021 Wimbledon tennis tournament. The Briton started playing tennis aged five and made her WTA main-draw debut in mid-2021. She earned a main-draw wildcard to participate in Wimbledon, where she is making her Slam debut. No one expected Raducanu to advance as far as she has in the tournament.
Following victories over Vitalia Diatchenko and Marketa Vondrousova, Emma became the youngest woman to reach the third round since Elena Baltacha in 2002. After defeating Sorana Cirstea to advance to the fourth round, Emma became the youngest British woman to reach the last 16 in the open era.
Emma's parents prioritized Emma's education over her tennis career
Emma was born on 13th November 2002 in Toronto, Canada, to a Chinese mother, Renee, and a Romanian father, Ian. The family moved to London when she was two.
Raducanu displayed obvious talent when she picked up the racquet at the age of five. She advanced rapidly, but her parents held her back as they insisted that she focus on her education. During the pandemic, Emma's parents prevented her from flying to tournaments even when the government allowed people to travel.
They insisted that she focus on her education to give her a place to land if an untimely injury ended her tennis career prematurely. Emma responded by delivering on the tennis court and in class, where her parents expected her to achieve high grades.
Emma has nothing but praise for her parents. "On my mum, she's always instilled a lot of discipline and respect for other people into me," Emma said. "I think having parents like I do, they always push me. They have high expectations. I've always tried to live up to that. And I hope I did them proud this week."
Emma's parents will miss her first Grand Slam final appearance at the 2021 US Open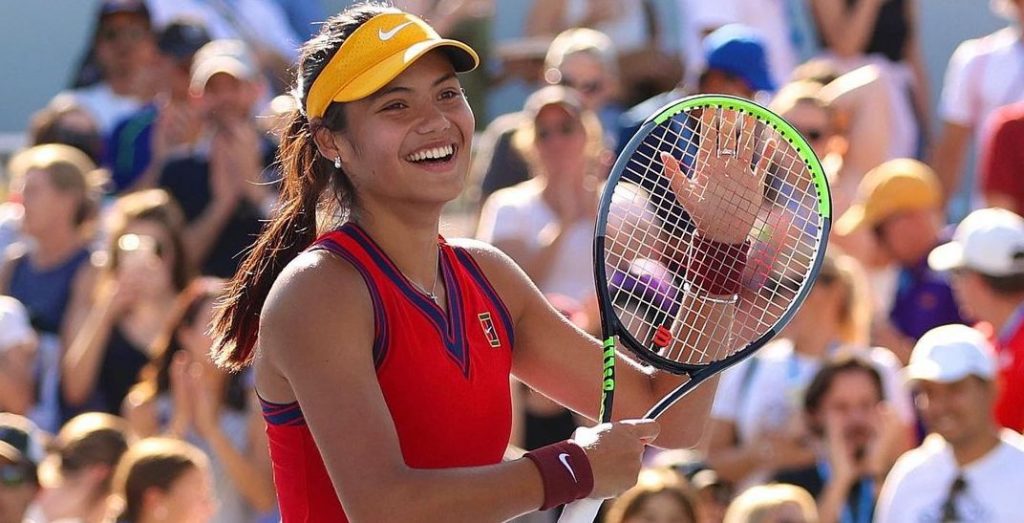 Two teenagers will battle for the 2021 US Open crown: Canadian Leylah Fernandez and Briton Emma Raducanu. Following her defeat of Maria Sakkari in the semi-finals, Emma became the first qualifier in history to make it to the US Open final.
Unfortunately, Emma's parents won't be present to witness her first appearance (and possible win) at a Grand Slam final. Emma's parents need an exemption visa to enter the US, which is difficult to acquire at the best of times.
Emma's parents seem unbothered by their daughter's extraordinary tennis exploits. She joked that her parents 'ghosted' her after texting them about her win to advance to the quarter-final.
"My parents actually, like, ghosted me after the match," Emma said. "I texted them but they didn't reply even though they were online! Yeah, that meant something."
Ian is not in the US to support his daughter, but he has created a strong support structure around her. He has made important decisions to support Emma's career, including firing and hiring coaches. Emma told The US Open:
"Right now I've got such a great support team around me and a smaller tight-knit group of people that I really trust, and they are really helping me through these moments, and we are all just really enjoying the moment."
Emma hasn't dropped a single set from the qualifiers through to her semi-final triumph. She's weathered poor starts with characteristic calmness and fought back to claim emphatic victories. After her quarter-final success against Belinda Bencic, Emma stated that she credited her parents for cultivating her composure:
"I think that calmness and the mental strength definitely comes from my upbringing. I think my parents have both instilled in me from a very young age to definitely have positive attitude on court, because, yeah, when I was younger, it was definitely an absolute no-go if I had any sort of bad attitude. So from a young age, I definitely learned that, and it's followed me until now."
Emma maintains strong connections to her parents' roots
"London, Toronto, Bucharest, Shenyang" reads Emma's Twitter bio referencing her hometown, birthplace, and her parents' hometowns.
Emma maintains close ties to Bucharest and Shenyang. She visits her paternal grandmother twice a year and is a huge fan of her cooking. Videos taken years apart prove that Emma frequents China and was at the Chinese Tennis Academy in Nanjing in 2018. Emma can also speak Mandarin.
"I think it's definitely helped me, the mentality that both of them bring," Emma said. "They both come from very hard-working countries."
---