Dustin Neil Diamond was an American actor best known for playing the role of Samuel 'Screech' Powers in Saved by the Bell. The show and its stars earned cult followings and grew into internet obsessions. Screech was a geeky underdog who had an unrequited crush on fellow student Lisa Turtle.
Diamond struggled to find work after his stint on Saved by the Bell. In 2006, he released a sex tape, which, by his own admission, was a mistake. He later revealed that a stunt double played his role in the sex tape.
Dustin Diamond passed away on 1st February 2021 due to small-cell lung carcinoma. This piece will look at Dustin Diamond's parents and his love life.
Dustin's parents supported his career as a child actor, but it didn't end well
Dustin Diamond was born on 7th July 1977 to Jaimee and Mark Diamond. His father taught digital electronics, and his mother was a computer operator for Pacific Bell. Dustin's parents supported his career as a child actor but getting it acting at such a young age adversely affected Dustin's life. He explained in Oprah: Where Are They Now:
"The hardest thing about being a child star is giving up on your childhood. I had been working for the last 10 years, every single week, and I felt lost. As I mature I realize, wow, I was kind of going through my rebellious teens in my 20s."
Diamond's mom passed away due to breast cancer in 1996. Dustin struggled to find work because showrunners typecast him as Screech. They couldn't see him successfully portraying any other character other than Screech.
In 2009, Dustin released a tell-all book titled Behind the Bell. The sensational book told tales of drug use and sex among the cast of Saved by the Bell. Dustin later expressed regret that the book came out, claiming that a ghostwriter created most of what is in the book. "I talked to a guy a few times, so the book has some truth in it, and a lot of the stories were just kind of throwaways," he said on the Oprah show.
Dustin's girlfriend Tash Jules pressured him into having a lump on his neck checked out
Dustin's long-time manager Roger Paul told People that Diamond had been feeling ill and he had a lump on his neck that he didn't want to have checked out. His girlfriend, Tash Jules, eventually convinced him to go to the hospital. Unfortunately, tests confirmed that Dustin had stage 4 small-cell carcinoma.
Diamond started a course of treatment shortly after receiving his diagnosis. "Dustin tried to be as positive as he could throughout everything – that's who he was – but he was scared," Paul said. "He didn't want to die." Despite the treatment, Dustin succumbed to the disease on 1st February 2020. His team announced his untimely demise via the following Facebook post:
"We are saddened to confirm of Dustin Diamond's passing on Monday, February 1st, 2021 due to carcinoma. He was diagnosed with this brutal, relentless form of malignant cancer only three weeks ago. In that time, it managed to spread rapidly throughout his system; the only mercy it exhibited was its sharp and swift execution. Dustin did not suffer… For that, we are grateful."
According to Roger Paul, Tash Jules was by Dustin's bedside until the last moment.
Dustin's ex-wife Jennifer Misner suffered a miscarriage years before the couple wed in 2009
It is unclear when Dustin and Jennifer started dating, but in 2004, she was pregnant with his child. Unfortunately, Jennifer suffered a miscarriage due to an ectopic pregnancy.
Dustin and Jennifer tied the knot in 2009. In an interview three years after his marriage, Dustin flaunted his wedding ring and said, "Happy life, happy wife, my friend." The couple went separate ways in 2013.
Diamond and his ex-fiancé Amanda Schutz were arrested following a December 2014 bar brawl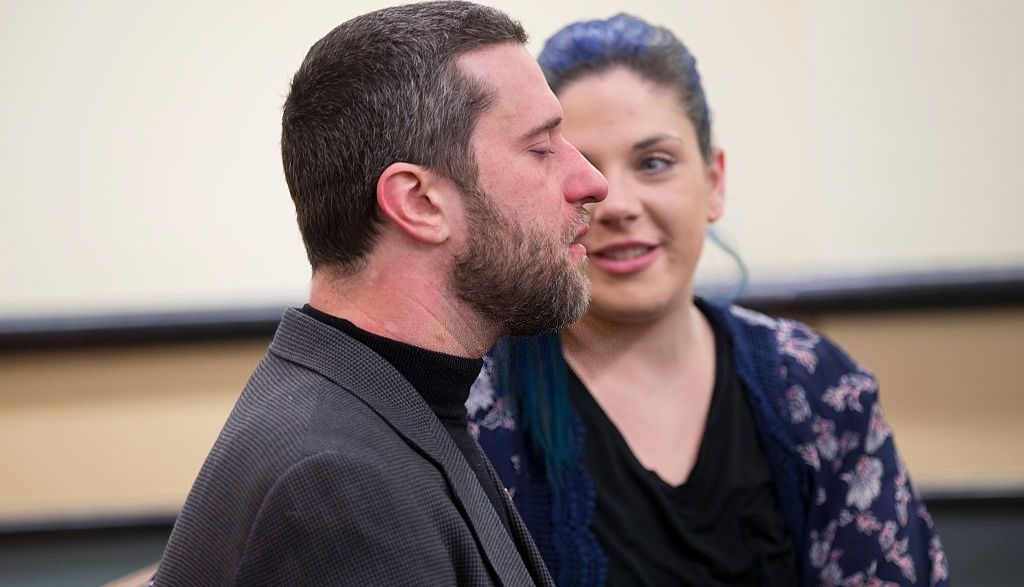 Dustin and his ex-fiancé Amanda Schutz got engaged in 2014. In December 2014, they found themselves on the wrong side of the law following their involvement in a bar brawl that left one man stabbed. Diamond was convicted of carrying a concealed weapon and disorderly conduct. Amanda, on the other hand, was found guilty of disorderly conduct.
After reports of Dustin's arrest surfaced, Beth Musolff, a girlfriend he dated from 2002 to 2005, told the Daily Mail that Dustin was an abusive partner. She detailed one incident in which he pulled a knife on her and threatened to push her over a hotel balcony. Beth said:
"It made him very angry and aggressive when we were out in public, and I experienced moments where I feared he was going to become violent. His behavior stems from a long-term issue that he thinks that everybody is out to get him. He was very verbally aggressive to me during times in our relationship and it was unpredictable – you never knew what would set him off."
Dustin spent 3 months in prison for his misdemeanor. It is unclear when Dustin and Amanda broke off their engagement.
---