Doja Cat has promised fans an album, but the current discussion surrounding the artist concerns her mental health. Comments about Doja's apparent change in personality often flood her social media pages. Some commentators opine that Doja is slyly courting controversy to market her music. This piece explores why some fans are concerned about the Boss Bitch hitmaker.
Doja's weird tattoos and erratic tweets have raised concerns for her mental health
Doja Cat joked about getting her first tattoo in July 2022. "First tattoo ever," she captioned a photo of temporary ink on her butt cheek. Doja has since added more permanent imagery on her body, sparking rumors of satanism.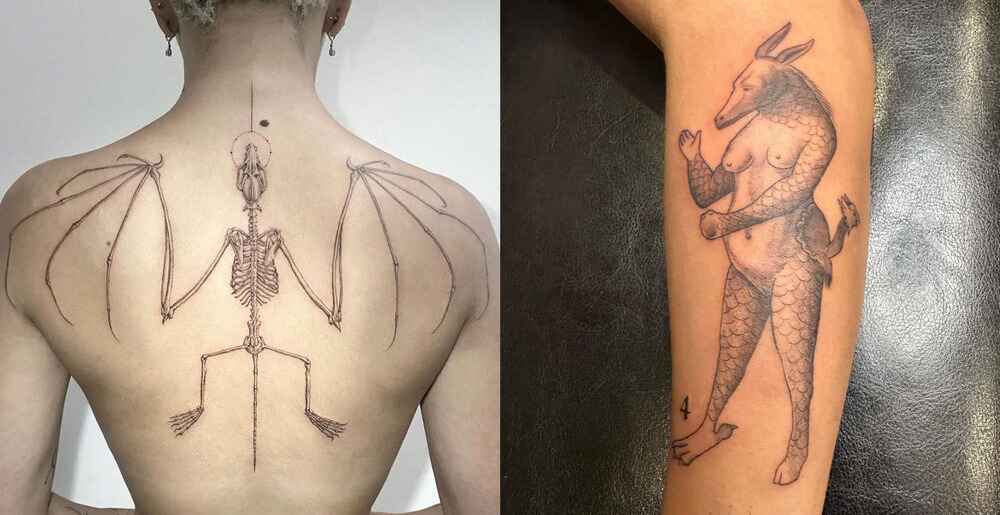 Fans aren't concerned with Doja inking her body – tattoos are ubiquitous in the music industry. They are, however, worried about the drawings Doja is tattooing.
In mid-April 2023, Doja showed off a tattoo on her arm of a scaled animal featuring female genitalia. The artist responded to fan backlash by explaining the origins of the image.
Doja's tattoo was inspired by the works of 17th-century artist Fortunio Liceti, who specialized in illustrating unusual distortions of nature. Doja's post read:
"'It is said that I see the convergence of both nature and art,' wrote Liceti, 'because one or the other not being able to make what they want, they at least make what they can.'"
"Your fear is not my problem," Doja wrote, suggesting she didn't care about the satanism and Illuminati accusations. "I miss the old Doja," one fan commented. "She's just odd now."
In early May 2023, Doja unveiled new ink: a bat skeleton covering most of her back. The post sparked a fresh wave of satanism accusations, with some fans describing the tattoo as 'demonic'. Doja defended herself, painting a bat as a symbol of rebirth and renaissance. She posted a screenshot with the following message:
"In the southwest and Mexico, they [bats] are representative of death and rebirth, because they go underground in the early morning, and then appear again each night in a noisy hoard. So they are reborn every night. They are symbols of transition, of initiation, and the start of a new beginning."
The explanation seemingly landed on deaf ears. Doja's facing seemingly endless criticism for what she perceives as authenticity. She's even threatened to leave social media for 4 weeks. On 8th May 2023, Doja tweeted:
"My comment section on IG used to be only positivity because I was doing what everyone wanted me to do and I love that I can see through all the bullshit now. It's nice. Much love to everybody else that's been down since day one. I appreciate it. <3"
Doja said she's given up on pop music to exclusively pursue rap
Part of Doja's reinvention may also involve a change in creative direction. On 9th April 2023, she tweeted that she'd stopped making pop music. She later added:
"I also agree with everyone who said the majority of my rap verses are mid and corny. I know they are. I wasn't trying to prove anything. I just enjoy making music but I'm getting tired of hearing yall say that I can't so I will."
In reply to a Twitter comment, Doja explained why she'd given up on pop to pursue rap. She stated:
"After Coachella when I felt so tired of doing a bunch of shit I didn't believe in and not telling my side or my story with my music. When I realized I hadn't done anything personal and that I was cranking out digestible pop hits for children on twitter to get into fights about."
---