Love is a relatively common motive for murder – one which motivated Diane Downs to shoot her three children in cold blood. In May 1983, Downs pulled over on the side of the road and shot her kids multiple times using a .22-caliber pistol. She then shot herself in the arm and drove gingerly to the hospital, hoping her children would bleed out before she arrived. 
Downs' indifference towards her children's well-being at the hospital hinted to investigators that her story about a bushy-haired stranger attacking the family was false. Within the next several months, the evidence against Downs piled up. Although prosecutors didn't find the murder weapon, a court found Diane guilty of murder, attempted murder, and criminal assault. 
Diane is incarcerated and has been denied parole several times
Diane Downs was sentenced to life plus 50 years and is currently incarcerated at Central California Women's Facility. Downs isn't imprisoned in Oregon, the state that sentenced her, because shortly after her sentencing, she escaped from Oregon Women's Correctional Center. 
Downs had vowed that she would get her children back, so her escape frightened the adoptive parents of her children. Diane killed one child, Cheryl, and left two, Danny and Christie, disabled. She gave birth to another child, Rebecca, shortly after her sentencing, who the Babcock family adopted hours after her arrival. 
Fred Hugi, the lead prosecutor in Diane's case, and his wife, Joanne, adopted Danny and Christie. Following a ten-day manhunt, authorities rearrested Diane at an apartment one mile from the prison. She received an additional five-year sentence for her escape. 
Despite the correctional facility introducing security upgrades, Hugi lobbied for Diane's transfer to another state. Hugi lived 66 miles from the prison, and during the ten days Diane escaped, he feared she would try to contact her children. State officials accepted that Christie and Danny faced significant danger if Diane escaped again. 
Prison authorities initially transferred her to New Jersey. Ten years later, they moved her to California, where she spent time in several facilities before settling in the Central California Women's Facility. 
Downs became eligible for parole in late 2008. During her first parole hearing, she said: "Over the years, I have told you and the rest of the world that a man and the rest of the world that a man shot me and my children. I have never changed my story."
She was denied parole, and two years later, she filed another parole application. Diane maintained her innocence, saying she did not shoot the children. The parole board denied her request and scheduled her next parole hearing for 2021. 
Downs feared the coronavirus would cause many deaths in her prison
In April 2020, Diane Downs hit the headlines for comparing the coronavirus to the red death. Downs said via an email to The Oregonian that she survived the scourge due to luck and an attentive employee. 
The infamous murderer said she worried more about her children than herself. "Every time the World News shows the big red circles on the national map, I look at Oregon because that's where Christie and Daniel are," she said. She continued:
"Compared to other States, it appears Oregon's red circle is smaller than most places. Is Oregon relatively virus-free, or are my children in greater danger than the red circle size suggests? I still worry about them and love them, though they'll never know it."
Downs' concern for her children seems disingenuous, considering she shot them because her lover at the time didn't want parental responsibility. 
Diane communicated to The Oregonian through her brother, James Frederickson, who reportedly believes Downs' claim that a stranger shot the children. James told the outlet that Downs' notoriety is a disadvantage in prison:
"New inmates who know of her come and think it's necessary for them to make a name for themselves, so it is not uncommon for her to be attacked."
Downs said that a mysterious disease hit her cellblock in early March 2020. Diane said she tried to continue working, but her supervisor noticed her discomfort and asked her to return to bed. Downs said:
"I showered, slept for 4 hours, woke up and drank water, then went back to sleep for 16 more hours. When I see what others have suffered, I think my boss probably saved my life."
Diane's daughter Becky feared she would end up like her mother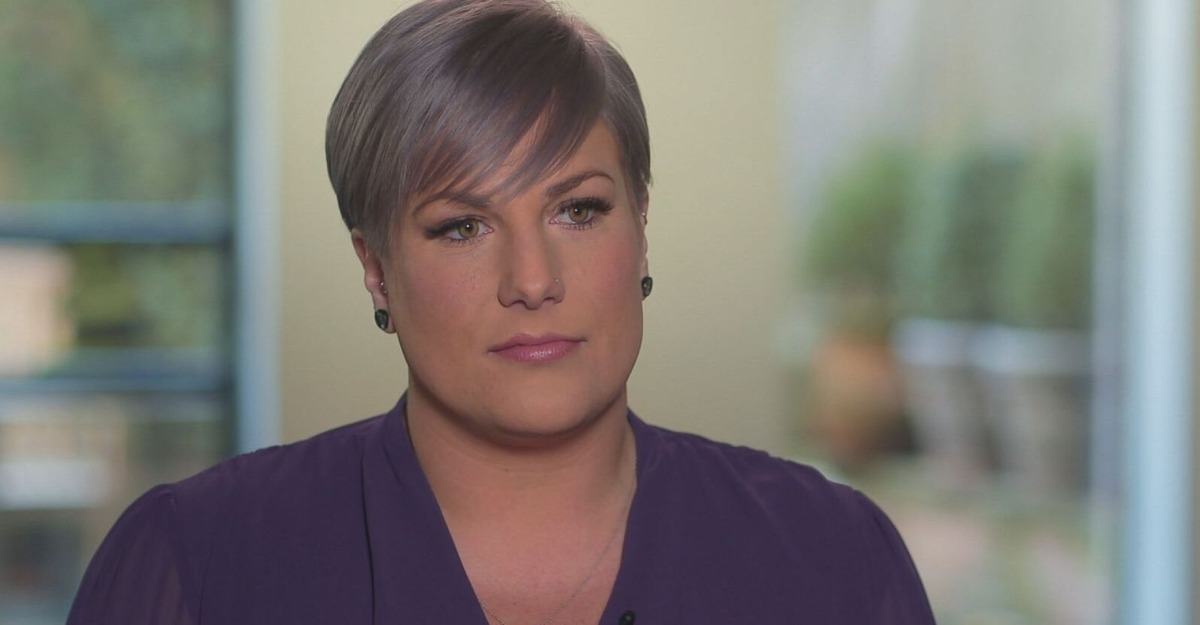 Danny and Christie, the kids Diane shot, have maintained a secretive life since their adoption. Christie is currently married and has two children, one of whom she named Cheryl in memory of her deceased sister. 
Rebecca Babcock, the child Diane gave birth to after her sentencing, has opened up about growing up knowing her mother shot her kids. During Diane's trial, commentators said she got pregnant to garner sympathy from the jury. "I got pregnant because I miss Christie and I miss Danny and I miss Cheryl so much," Diane said. 
Jackie and Chris Babcock opened up about Rebecca's parentage after Diane escaped prison. Jackie told ABC News:
"We didn't know what [Downs] would do. The precautions that we took were to let people know… that were coming in contact with Becky, her daycare person, her babysitter… for Becky's own safety."
However, they gave vague answers to Rebecca when she asked about her biological parents. "I told her that her mom was in jail," Jackie said. "That's too much for an 8-year-old to take on."
Aged 11, Rebecca tricked her babysitter into divulging Diane's story. Several years later, she watched Small Sacrifices, a film about Diane's crimes, which sent her into a downward spiral. Rebecca said:
"Throughout my teen years, I was wild… and after the movie, it escalated. I dropped out of high school. I slept around with a lot of people. And I did a lot of harsh drugs. I had no concern for myself."
Rebecca got pregnant as a teenager, just like Diane. "I was worried that she could turn out like her biological mom," said Kaylee Hammond, Rebecca's friend. After falling out with nearly everyone in her life, Rebecca contacted Diane. 
The correspondence made her realize she was nothing like her mother – she couldn't imagine hurting a child. Rebecca said:
"I tried to make myself think about it once. It made me physically sick to think about hurting my child in any way. Mothers are put on this earth to take care of their children. It's our job."
---