It only took ten hours for the jury to return guilty verdicts on all counts following the trial of Derek Chauvin for the murder of George Floyd. Despite wearing a face mask, Derek couldn't hide his bewilderment – police rarely get convicted for killing unarmed black men. Not this time, however.
As people celebrated in the streets and on social media, Derek was remanded into police custody after the judge revoked his million-dollar bail. Chauvin appeared to look around for support, but he found no one. His family's absence at the trial has since become a topic of discussion and an excuse for people looking to humanize the convicted murderer.
Derek's mother pleaded for leniency before Chauvin's sentencing
Derek's mother, Carolyn Marie Pawlenty, was the first of Derek's family members to speak out in support of Chauvin. Carolyn stated that she supported Chauvin '100%' and would always support him.
She referred to Derek as a 'quiet, thoughtful, honorable and selfless man,' who'd been unjustly vilified by the media and prosecution team. "My son's identity has been reduced to that as a racist," Carolyn said. "I want this court to know that none of these things are true and that my son is a good man."
"The public will never know the loving and caring man he is. But his family does." She described Derek's birth as the happiest moment in her life, with his admission into the police force coming a close second. "And my second is when I was honored to pin your police badge on you," Pawlenty said. "I remember you whispering to me, 'Don't stick me with it.'"
Carolyn described Derek as a dedicated police officer who, during his leave days, would call in to find out if the force needed help. In her final plea for leniency, Carolyn stated that Derek regretted his actions and that by sentencing Derek, the court would also be sentencing her. She said:
"Derek has played over and over in his head the events of that day. I've seen the toll it has taken on him. I believe a lengthy sentence will not serve Derek well. When you sentence my son, you will also be sentencing me."
Pawlenty implied that if the court handed Derek a long sentence, she would probably not live long enough to see him get out of prison. As expected, Carolyn's comments drew intense criticism. Most critics understood her parental desire to believe that her son was innocent, but given the overwhelming evidence against Derek, the critics dismissed her plea.
Derek was eventually sentenced to 22 years and six months in prison, seven and a half years less than the 30-year sentence requested by the prosecution.
Derek's parents divorced after his father found out that he wasn't the biological father of Derek's sister
Derek Chauvin was born on 19th March 1976. His mother was a homemaker, and his father, Robert Michael Chauvin, was a public accountant.
When Derek was 7, his mom filed for divorce, asking for child support for Derek and his younger sister. Derek's father retaliated by asking for a paternity test of Derek's sister, which proved that he wasn't the father.
Derek's father got the family home and shared custody of Derek. His mother eventually married her lover, Leroy Jerome Pawlenty, and Robert married Debra Chauvin.
Derek lived a tumultuous life after the divorce. He enrolled in four elementary schools in five years and became a withdrawn youth. Speaking to The New York Times, one of his classmates, Scott Swanson, described him as "just a face in the crowd." According to reports, Derek lived with his grandmother at her house in Inver till he was 27.
Derek's ex-wife Kellie legally separated from Derek three days after he knelt on George Floyd's neck for nine and half minutes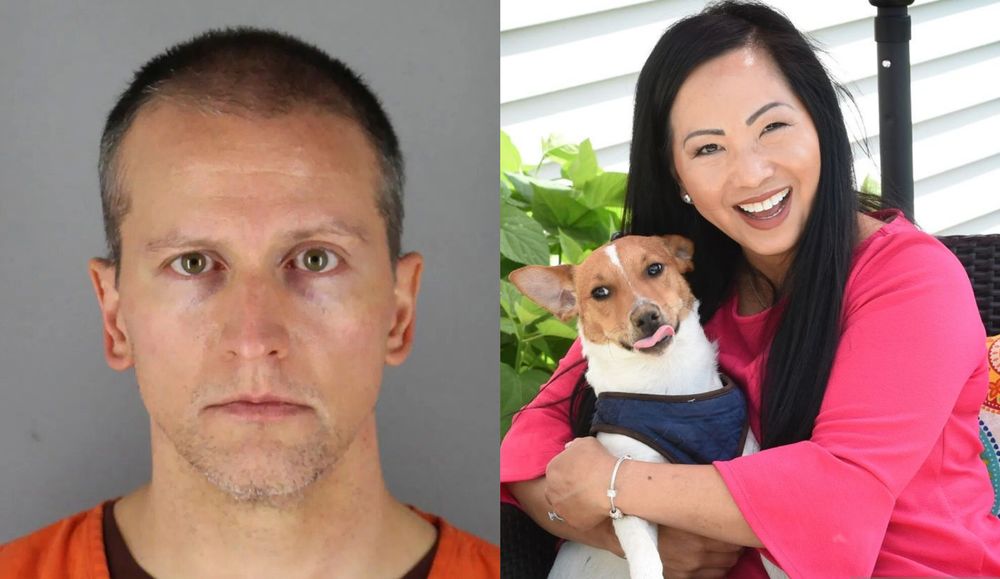 Three days after George Floyd's murder, Kellie legally separated from Derek Chauvin. Kellie also filed for divorce, citing 'irretrievable breakdown of the marriage'. A statement released by Kellie's lawyers stated that Kellie felt sympathy for George Floyd's family. The statement read:
"She [Kellie] is devastated by Mr. Floyd's death and her utmost sympathy lies with his family, with his loved ones and with everyone who is grieving this tragedy. She has filed for dissolution of her marriage to Derek Chauvin. She respectfully requests that her children, her elder parents, and her extended family be given safety and privacy during this difficult time."
Washington County District Judge Juanita Freeman rejected the couple's first divorce settlement in October 2020. She cited possible fraud, as the settlement would have transferred most of the assets to Kelly, thereby shielding funds from potential litigation against Chauvin.
The couple filed a proposed settlement in January 2021, which provided that Kellie would get the profits from the couple's houses in Minnesota and Florida, both of which lost value due to vandalism. The settlement also contained a proposed split of the money in their bank account, with Kellie getting the lion's share.
Derek and Kellie didn't release the details of their final settlement after finalizing their divorce in February 2021.
Derek's ex-wife Kellie was in an arranged marriage for 10 years before marrying Derek
Kellie was only three years old when her family fled from Laos to Thailand as refugees. The family later migrated to America and settled in Eau Claire, Wisconsin. Kellie's struggles with reading and writing English exposed her to bullying. To counter this, her parents shielded her and her siblings from the outside world.
"We didn't know English," she told Twin Cities Pioneer Press. "My parents didn't want us leaving the house because they didn't trust the world. You land into this brand-new world and you don't know what to expect, and so we were always kept inside."
As a Hmong woman, Kellie had to marry before the age of 18 because if you are not married by then 'your parents think that nobody will marry you.' Kellie's parents arranged a marriage for her at age 17. The couple stayed together for ten years and had two children before divorcing.
Kellie went on to earn a degree in radiology and a job at Hennepin County Medical Center in Minneapolis. Derek and Kellie met at the medical center as Derek escorted a suspect for a health check. After jailing the suspect, Derek returned and asked Kellie out on a date.
The couple married in June 2010 and had no children together. In a 2018 interview with Twin Cities Pioneer Press, Kellie showered praise on her ex-husband:
"Under all that uniform, he's just a softie. He's such a gentleman. He still opens the door for me, still puts my coat on for me. After my divorce, I had a list of must-haves If I were ever to be in a relationship, and he fit all of them."
---