Charles Barkley is an NBA legend known by current NBA fans for his antics and predictions as an NBA analyst. Barkley's colleague Kenny Smith recently found himself on the wrong side of a correct prediction by Charles. Barkley foretold a Kansas Jayhawks win against the North Carolina Tar Heels.
Following a stirring comeback, the Jayhawks won, validating Charles' prediction. Smith, a North Carolina alum, was disappointed by the result, and Barkley was on hand to rub his face in it. Barkley's overt celebrations and taunts must have stung Smith, who couldn't bear to look at the dancing Chuckster.
Barkley's career exploits are well-documented, but he rarely discusses his personal life. This piece looks at Charles Barkley's wife, Maureen Blumhardt.
Maureen and Barkley met in the 1980s and married in 1989
Charles Barkley and Maureen Blumhardt met in the 1980s at a restaurant named City Avenue in Pennsylvania. Barkley was playing for the 76ers, and Maureen was a legal aid.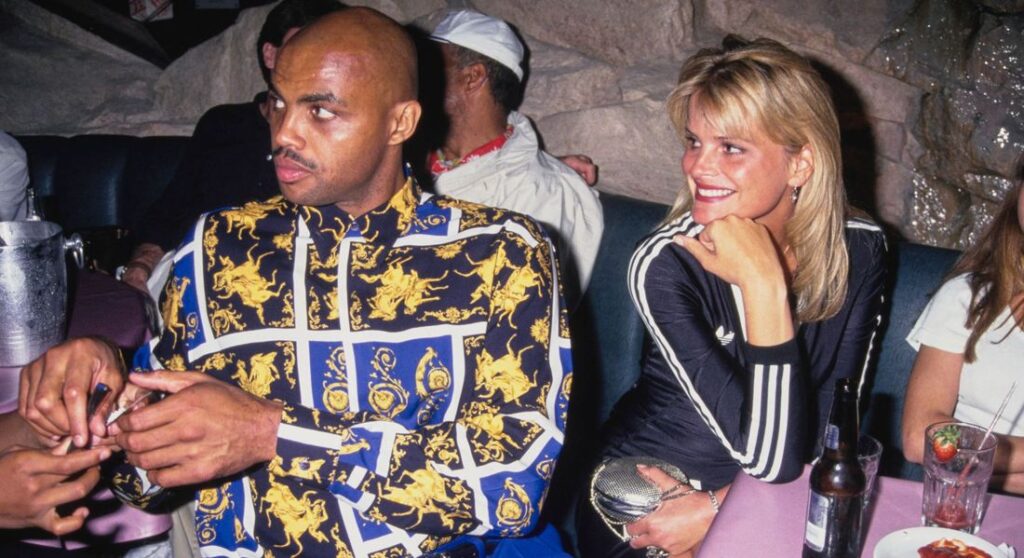 The couple reportedly faced backlash for pursuing an interracial relationship. Philly had allegedly not accepted interracial relationships, let alone interracial marriages. Despite the controversy, Maureen and Charles married in 1989.
Barkley told Sports Illustrated that he hated the stereotypes attached to non-White people. He said:
"If you are black on television, you are probably going to be some kind of thug, gangster or portrayed in a negative light. If you are some type of Muslim, you are going to be blowing stuff up. If you are Hispanic, you are going to be some type of gangbanger. I've felt like this for years."
Interracial marriages are now more common, but the racial climate in the United States is still hostile. Charles told former WWE presenter Renne Paquette that his marriage has lasted for more than three decades, largely thanks to Maureen. Barkley said:
"Well, no. 1, I'm gone a lot that always helps. I think the main reason is she accepts my flaws and all. She doesn't judge, accepts me how I am, she's a great mother."
Maureen's secret to a happy marriage is seemingly humor. She is quite the comedian on Twitter, with some of her posts offering a glimpse into her life with Barkley.
"This quarantine!" Maureen tweeted in May 2020. "C told me that if I try to take control of the TV remote again…that he'll bury me alive. I told him that would be a grave mistake."
She recently made fun of Charles's affinity for swearing via the following tweet: "I finally figured out the reason behind the coin shortage. My husband started a swear jar a year and a half ago so…"
The couple welcomed their daughter in 1989 and named her after a mall
Barkley and Maureen welcomed their daughter, Christiana Barkley, in 1989. Charles said on The Steam Room podcast that the couple got their daughter's name from a mall in Delaware.
"There's a Christiana Mall in Delaware that I always used to go by," Barkley said. "That's how she got her name, Christiana. I just liked the mall." Christiana was born during Barkley's time with the Philadelphia 76ers.
Christiana and her mother followed a similar higher education path. The pair attended Villanova University and, later, Columbia Journalism School to study journalism. Charles supports Villanova's basketball team as his wife and daughter graduated from the school.
In April 2016, Barkley was seen cheering fervently for Villanova following the team's victory over North Carolina. Initially, people thought his celebrations stemmed from his strained relationship with Michael Jordan, a North Carolina alum. However, Barkley told USA Today that he was happy for his daughter's team:
"My daughter was living and dying with every game for the last three weeks, so I was really more excited for her, to be honest with you. She's been going to a Villanova bar in New York City every game. She didn't even want to come to the game because she didn't want to jinx the game."
Maureen studied journalism but became a model and, later, a legal aid. Blumhardt currently focuses on philanthropy and women empowerment – she is an honorary member of a non-profit organization in Phoenix named 'Fresh Start Women's Foundation.'
Christiana is also a member of the Fresh Start Women's Foundation. "Fresh Start Women's Foundation provides education, resources and support for women to positively transform their lives and strengthen our community," the organization's website reads.
Barkley said that his reports linking him to Madonna contributed to Maureen's mom's heart attack
In the early 90s, Charles Barkley was linked with singer Madonna. The rumors emerged after Charles moved to the Phoenix Suns, leaving Maureen and Christiana in Philadelphia.
Charles was linked with Madonna after the pair met once in Phoenix. He ignored the reports until they started to affect his family's health. Charles told The Chicago Tribune that stress from the links contributed to Maureen's mom's heart attack.
"She [his mother in law] has had a lot of stress from the jokes about me and Madonna [dating] and has been harassed with people calling the house," Barkley said. "She's not doing well right now and that's a major concern."
Barkley urged people to stop harassing his family and allow him to focus on the NBA finals. He said:
"They should leave my wife and daughter alone. When my wife goes out, they play Madonna songs, they're calling my in-laws. This stuff is ridiculous, unbelievable. Nothing happened. I'm trying to concentrate on the finals, but this is harassment of me and my family."
The NBA legend reiterated that he and Madonna didn't have a relationship. "I only met [Madonna] one time when she was in Phoenix," he said. "We don't date. We don't have a relationship."
---