Chad Kuhl and his wife Amanda are engaged in perhaps the most important battle of their lives: the fight against cancer. Following Amanda's breast cancer diagnosis, Chad and Amanda partnered with the Washington Nationals Philanthropies to raise funds for breast cancer treatment and research.
Chad and Amanda Kuhl have known each other since childhood
In May 2018, Amanda detailed the couple's love story in an Instagram post for Our Baseball Life. Amanda said the couple met in sixth grade, dating intermittently through middle and high school. In senior year, Chad asked Amanda to be his girlfriend for the last time, the post states.
The pair attended the University of Delaware. Chad played well enough to earn a spot on the Pittsburgh Pirates roster. "The first few seasons were hard for us, but we quickly learned how to survive the distance," Amanda writes.
Amanda writes that she supported Chad as his baseball career progressed. In 2016, Amanda won the Miss Delaware crown. "Chad watched the entire competition via FaceTime from the clubhouse," Amanda adds. Shortly afterward, Amanda watched as Chad made his Major League debut.
2016 got even better for the couple, as Chad proposed to his long-time partner. "He planned everything to a T," Amanda writes. "He scheduled me to get a manicure, we had a photographer and videographer, and a beautiful dinner afterwards. After the excitement of 2016, we were ready for whatever 2017 had to offer."
In 2018, Chad and Amanda bought a house and began planning their wedding. Amanda also traveled to away games with Chad, forming bonds with other couples under the Pirates Organization. She concludes:
"Having a group of close-knit teammates and their wives by our sides each season has made this crazy life a little easier. We are so grateful for every opportunity that we have been given over the years, and for every person we have met through baseball."
Chad and Amanda married in December 2019 and welcomed their son, Hudson, in March 2021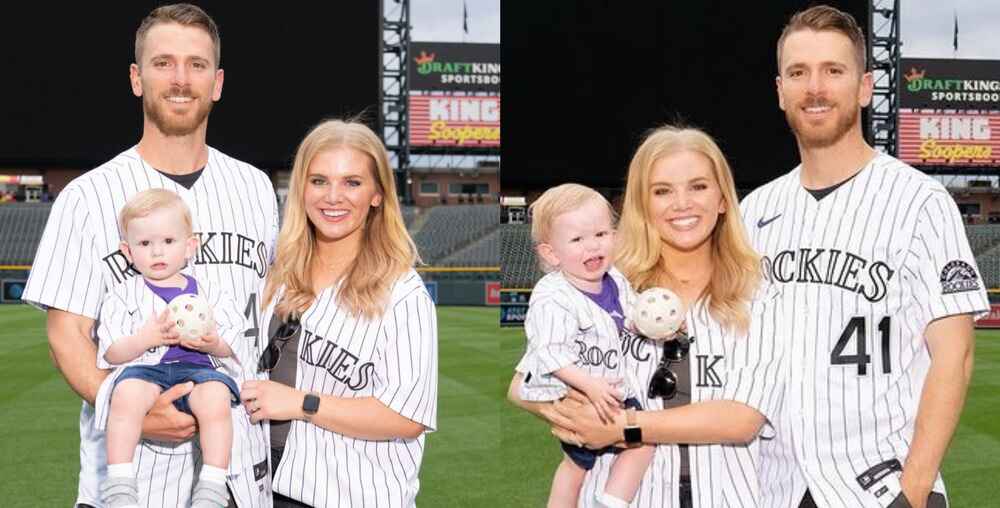 Chad and Amanda married on 28th December 2019. "My favorite place in the world is next to you," Amanda wrote on Instagram on the couple's third anniversary. "Happy anniversary babe. Love you so much."
The couple welcomed their son, Hudson Everett Kuhl, on 19th March 2021. "Tiny shoes are made for tiny feet. My two arms are made for where you sleep. Sky was made for the moon and stars. You were made to steal my heart," Chad announced Hudson's arrival.
Four months after his birth, Hudson contracted COVID-19. In August 2021, Amanda wrote that Chad and Hudson had tested positive for the coronavirus while she'd tested negative. Amanda said that the disease had complicated her job as a mother:
"I have to wear a mask while breastfeeding my 4-month-old. I can't immediately pick him up when he's crying. I can't kiss him. I can't snuggle him. I have to awkwardly pass him off to his dad by laying him in a bassinet in the hall & walking away. Silver lining through all of this is that he gets to spend a lot of time with his dad."
Amanda underwent a double mastectomy following an unexpected breast cancer diagnosis
Amanda wrote on social media that she received her breast cancer diagnosis during a routine checkup. As part of treatment, she underwent a double mastectomy. Amanda wrote:
"The part of my body that helped me feed and comfort Hud for so many months will be gone and our future family plans will forever be changed. But nonetheless, I'm ready to officially kick cancer's ass and heal up quickly so I can hang with my soon to be two year old."
Amanda wrote on 21st January 2023 that she considered the cancer diagnosis a 'little detour in life'. Amand thanked the doctors, medical staff, friends, and family for supporting her. She wrote:
"I am so thankful that I get to go to bed tonight snuggling hud. I am so thankful that I have the greatest support system of a husband to get me through this. If I'm being super honest, I'm pretty numb right now. But other than that, f* cancer, let's beat this sh."
Amanda started chemotherapy at Sibley Memorial Hospital Oncology Department in late April 2023. She's also launched a campaign dubbed cancer isn't KUHL to raise money for Breast Care for Washington DC, The Previvor, and Delaware Breast Cancer Coalition.
---