Brandi Rhodes' reaction to Brock Lesnar's betrayal of her husband, Cody Rhodes, summed up her disappointment and anger. "These hoes ain't loyal," Brandi captioned a video of Brock slamming Cody onto the ring. Brandi doesn't wrestle, but she's part of the WWE Universe. 
In 2015, Brandi Rhodes became the first African American woman to be a ring announcer at Wrestle Mania
Brandi Rhodes was born in Detroit, Michigan, on 23rd June 1983. She is African American.
The former television news anchor grew up in the Canton suburb of Detroit alongside her older brother, Jason Reed. "My parents are great people and great examples," Brandi wrote on a blog titled Being Brandi Runnels. "Loving marriage, hard working, and God fearing."
Brandi is a pioneer in the wrestling world for the Black community: In 2015, she became the first Black woman to be a ring announcer at Wrestle Mania; three years later, she became the first woman of color to star in a match at Wrestle Kingdom; when AEW appointed Brandi it's Chief Branding Officer, she became the first African-American woman to hold an executive position in a major North American wrestling promotion.
"It's great because I've had a lot of big 'firsts' in wrestling," Brandi discussed her achievements with Andscape, "and I don't think a lot of people know that until you have to be the one where you have to let them know."
Brandi had dreams of making it big, but not in wrestling – she wanted to become a renowned figure skater. She spent 17 years of her life dancing on ice. Brandi gave up the sport to focus on her broadcasting career. Brandi told Andscape:
"What I imagined back then was that I would be the first black female figure skater to win the gold medal at the Olympics, so I had high hopes for being a 'first,' for sure. I definitely ended up in a different direction."
Brandi told the outlet that her parents informed her that her skin color would hamper her chances of success. They informed her that she would have to work harder than people of other races. "That was a hard, hard lesson to tell an 8-year-old girl," Brandi told Andscape.
Some people try to downplay Brandi's success because she married a white man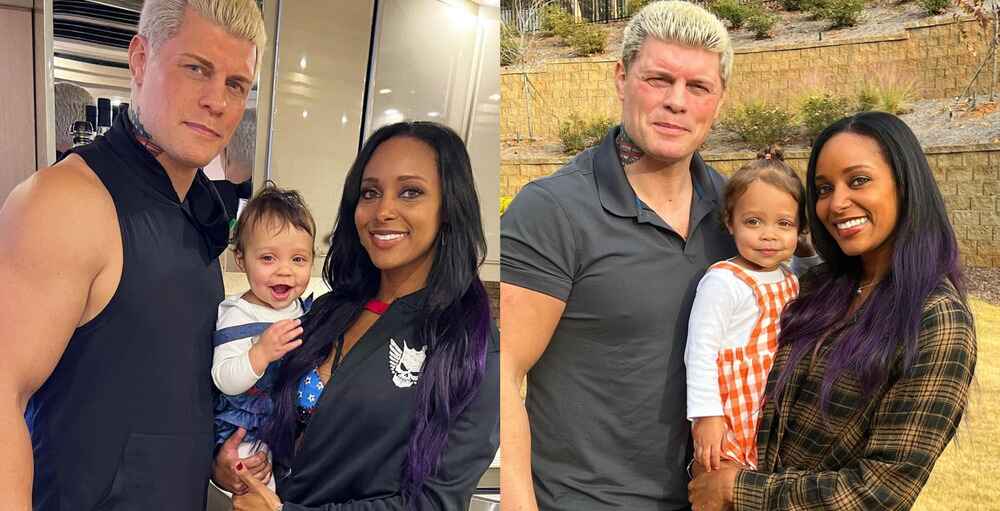 Brandi married into wrestling royalty: the Rhodes family is one of the most famous and successful families in the wrestling world. Consequently, some people try to downplay her achievements, claiming that her success is linked to Cody Rhodes, her white husband, not her effort.
She talked to Andscape about an interview that addressed people's comments about her marriage. "[The interviewer] had said, 'Y'know, I feel like people don't credit you a lot in these movements that you're spearheading because you're married to a white man,'" Brandi recalled.
"And I said, 'Well, that could very well be true, but that doesn't take it away from me.' I'm still black. I'm still a female. And I'm still the first.'"
"People can have different prejudices if they want to, and that's their prerogative, but it doesn't change the effect that I'm having, it doesn't change the work that I'm doing, and it doesn't change where I'm going," Brandi concluded.
---