Azriel Clary was one of the two women who defended R. Kelly following accusations of sexual abuse and exploitation. Clary and Joycelyn Savage said they were Kelly's 'girlfriends' and tried to paint the disgraced singer as a misunderstood saint. After Clary's 2019 interview with CBS News, her father told Gayle King:
"That is not my daughter. That is not who she is. That is not how she speaks. That is not what she believes."
Clary's father was right. She overcame Kelly's manipulation and testified against him in court. Some of her testimony was so graphic that the judge blocked its release to the public.
Azriel Clary is making and releasing music, which is helping her heal
Clary's desire to make it in the music industry inadvertently drew her into Kelly's web. She saw him as a mentor who could facilitate her growth as a vocalist. She told Jason Lee of Hollywood Unlocked:
"I just felt like, 'What am I doing If I'm not doing music?' and that's what comes when you're dealing with someone who's very toxic and you're very young."
Kelly swiftly manipulated Azriel, forcing her to abandon her music dream. "A lot of people don't necessarily understand how fast stuff escalated."
When Azriel broke free from Kelly's clutches, she was at an all-time low mentally. She'd experienced abuse for four years by a man she'd seen as a mentor – and appeared on national television to defend him.
Azriel told REVOLT that making music helped her survive those tough times:
"Music has really helped me. It was one of the biggest tools that helped me find myself again. It was about going back to the basics, remembering who I was [and] relearning myself. Music was the thing that helped me when I was very depressed and at my lows. It was the only thing I felt comfortable [doing]."
Clary released her first song, Liar, Liar, in autumn 2021, followed by Sounds of an Angel and Inside Me in spring 2022. She plans to release her debut EP, Eat Your Heart Out, in summer 2022.
Azriel told HuffPost her experience with Kelly allowed her to reset and appreciate the value of music in her life. "It was really just about going back into that girl and remembering who I was and what it is that I liked and what it is that made me happy," she said.
Clary told the outlet that people tuning into her upcoming EP would discover her true nature and hopefully forget the manipulated version they saw on television in 2019. She explained:
"Nobody knows who Azriel is. Everyone just knows a very frightened version of me, a side of me that was very much vulnerable, taken advantage of, a very young, naive side of me. And so I think from this, people will be able to start to see that I'm edgy."
Clary opines that therapy and sharing her journey on social media help her recovery
Clary's healing journey has involved music, therapy, and vulnerability. Azriel told REVOLT that therapy helped her rediscover self-love and self-confidence. "I feel like aside from music, [therapy sessions were] able to help me break down a lot of barriers," she said.
Azriel told the outlet that her therapist could tell whether she'd been making music via the singer's mood. Clary was happier and more optimistic when she made music. "Music was definitely an outlet," Clary said.
Clary also found healing in being vulnerable to the public. She told Hollywood Unlocked that by opening up, she hoped other women in her situation would find strength in her vulnerability. Azriel said:
"For me, it was super, super important to show how I healed and my healing process. Days that I was happy, days that I was sad, days that I was depressed and days that I was high."
Through healing, Clary has rediscovered happiness. "This is probably the happiest I've ever been in my life," Clary told HuffPost. "I'm accomplishing things. I'm outgrowing old habits, and it's really just a great place to be in."
Azriel is glad that her family accepted her back in
Clary's parents reacted to their daughter's music aspirations by offering her access to vocal coaches and lessons. After joining high school in Orlando, Florida, she started playing instruments and learned proper voice control.
When the opportunity to grow musically under R. Kelly arose, Azriel's parents encouraged her to take it. Azriel said on Hollywood Unlocked that she doesn't blame her parents for the decision:
"I kind of feel like you can never blame a parent [or an] adult who left their child with an adult, so let's start there… it doesn't fall on anyone except for that adult that the child was left with."
In her 2019 interview with Gayle King, Azriel criticized her parents. Two years later, she sat down with King and recanted everything she'd said about her family. Clary said, despite everything, her family gave her the support she needed to build herself back up:
"They were so supportive. They never gave up, they never did. I'm so thankful I had that [support system] because I needed that more than anything in life. If you are leaving something traumatizing, more than you want to breathe, you need support."
Azriel has found another support system in The Blueprint Group, which manages and distributes her music. She told REVOLT:
"My creative process has been enhanced a lot, actually. I have had the privilege to meet and work with a lot of phenomenal people. It is all about finding your tribe and people that actually want to uplift you and your craft."
Clary said R. Kelly coached her on what to say when she defended him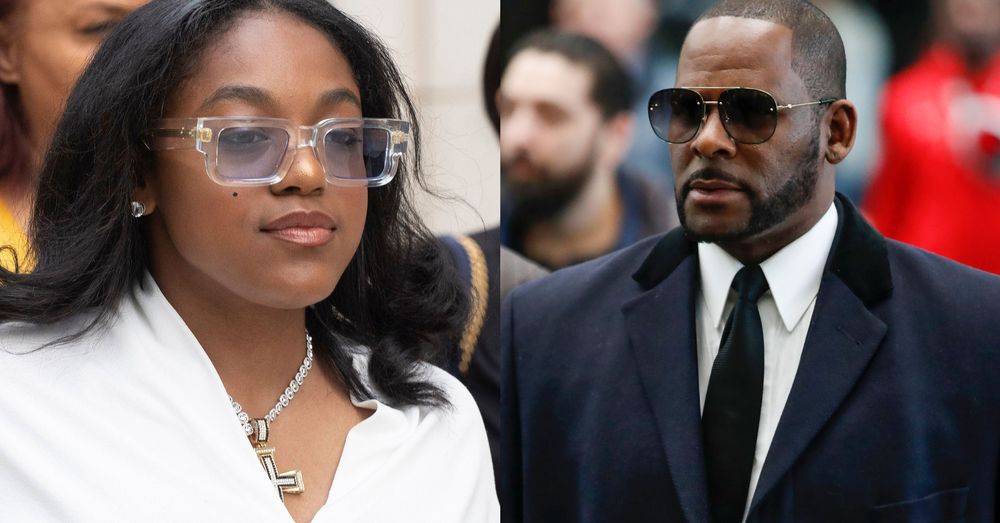 Clary told Gayle King in 2021 that Kelly told her to fake anger during her 2019 interview. She continued:
"Before that interview, you know, he had us practicing every single day. Answering questions. … And if he didn't like our answers, he would tell us exactly what to say and how to say it."
She said Kelly barred them from talking about anything sexual. According to Clary, Kelly was triumphant after her interview, telling Clary and Savage they did 'amazing.'
"I believe he even, like, got food and wanted to celebrate. That's how happy he was with that interview," Clary said.
However, following that public defense of an indefensible man, something 'shifted' in Clary. She told Gayle that she realized she couldn't be in love with a man who'd placed her through such a harrowing experience. Clary said:
"'Why am I putting myself through all of this misery? Why am I exploiting myself for a man who has me in this position in the first place?' And I really had to come to terms and, you know, realize that it wasn't love. Love doesn't hurt, you know?"
Azriel left Kelly's premises seven months after the interview and returned to her family.
---