Lee Keifer is an American foil fencer who won the United States' first fencing medal at the Tokyo Olympics. Keifer's victory over Inna Deriglazova made her the first US women's fencer to win gold in the individual foil competition. The three-time Olympian's achievements in foil fencing illustrate her dominance in the sport.
Keifer is a four-time NCAA champion and a nine-time individual Pan American champion. Her husband, Gerek Meinhardt, a four-time Olympian, was among the first to congratulate Keifer for her achievement. Meinhardt participated in the 2008 Summer Olympics as the youngest US Olympic fencer of all time. He won team bronze at the 2016 Rio Olympics.
Keifer is of Filipino-Asian descent, and Gerek has Asian-American roots
Lee Keifer was born on 15th June 1994 in Cleveland, Ohio. Keifer and her two siblings – Alex and Axel – were raised in Lexington, Kentucky, by Steven and Teresa Keifer. Steven is a neurosurgeon, and Teresa is a psychiatrist.
Keifer is of Filipino-American descent. She draws her Filipino heritage from her mother, Teresa.
Gerek Meinhardt was born on 27th July 1990 in San Francisco, California, to Kurt and Jane Meinhardt. He is of Asian-American descent and grew up alongside one older sister named Katie.
Keifer and Gerek started dating in 2012 and married on 1st September 2019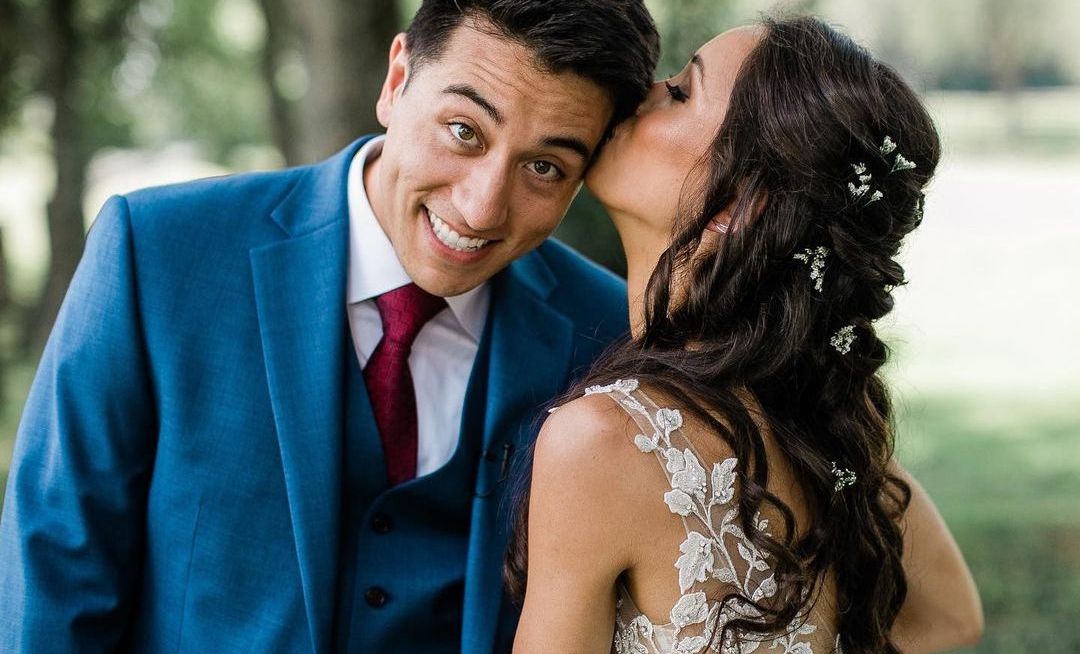 Keifer first laid eyes on Gerek as he represented Team USA at the Beijing Olympics. "I actually remember pulling out my computer in the middle of the night and watching my now-husband fence in Beijing 2008 [when I was 14]," Lee told NBC.
"I did not know him at the time nor did I even contemplate being an Olympian one day." Thanks to fencing, Lee and Gerek met and started dating in January 2012.
Gerek proposed to Keifer in January 2018. A year after the engagement, Gerek posted a selfie of the pair, and in the caption, he expressed his excitement about their upcoming wedding. "I am so lucky and proud to be your fiancé and soon-to-be-husband this September," he wrote.
Keifer and Gerek wed on 1st September 2019 at Versailles, Kentucky. Gerek wrote on Instagram that it was the best day of his life. "Thank you to our parents, friends, and family who made it the perfect weekend for my stunning wife and me," he added.
Lee described it as 'the most amazing day.' She also thanked everyone who made the couple's dream wedding a reality.
Keifer and Gerek are approaching a decade together, and their bond grows stronger by the day. "Where's my husband?" Lee asked as the reality of her Tokyo victory sank in. Meinhardt was at the venue cheering her on as she won a deserved gold. "Basically, it felt like he was out there fencing with me," Keifer later said.
He later wrote on Twitter: "My wife just made my #Olympics dream @leetothekeifer GOLD. Words can't describe how bad she wanted this, how hard she worked, or how proud of her I am. Thank you ALL for the incredible words of support. We felt each one of them. @TeamUSA @USAFencing HISTORY!!!"
Lee's father, a former captain of the fencing team at Duke University, introduced his three kids to fencing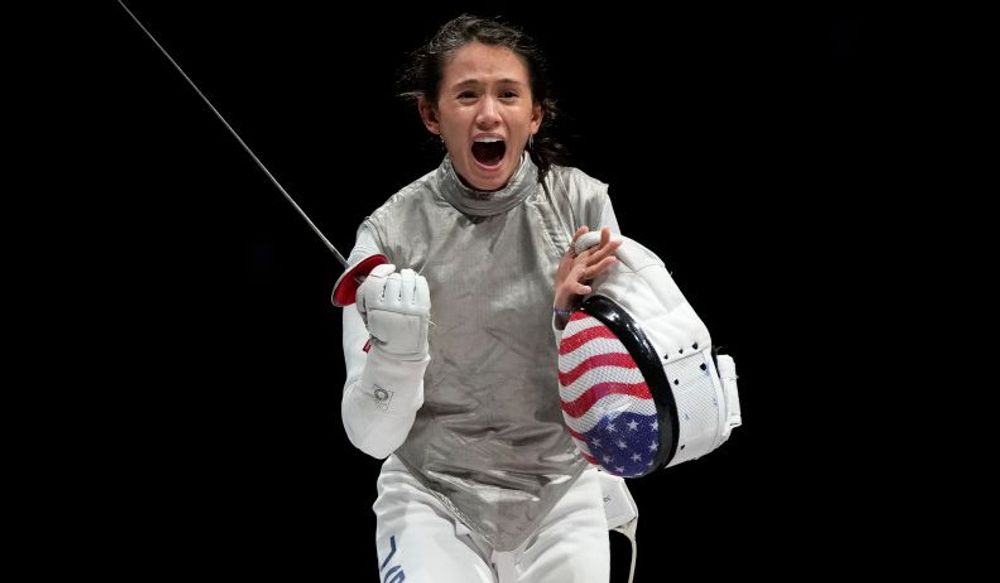 Steve Keifer was a captain of the fencing team at Duke University in the 80s. He rekindled his interest in the sport when Keifer was about seven years old. Lee and her siblings viewed fencing as 'strange and interesting-appearing.'
They learned the basics in their dining room before Steve signed them up to a fencing club. "It started as a family activity, which we enjoyed and dreaded based on the day, and developed into something that we were good at, gave us focus, helped us make friends and allowed us to see new places," Lee told NBC.
Of the three kids, Lee stood out because of her fierce competitiveness. It made her better but also led to some altercations with her parents. "My dad pushed me from the beginning," Keifer said after her win. "We used to bump heads all the time because we are both so competitive and demand excellence, but here we are. Thank you, dad."
Lee's parents recruited renowned fencing coach Amgad Khazbak to sharpen the kids' fencing skills. "His style and personality really clicked together from a young age," Lee told Southern Living. Amgad's training turned the siblings into champions.
Alex became a National Champion fencer, and Axel won multiple world championships. In 2017, Lee became the first US female fencer to top the fencing world ranking. Alex and Axel moved away from the sport, but Lee pressed on and is now an Olympic Gold medalist. She talked to Southern Living about her progression in the sport:
"There is always room to learn and grow so I think that's why I'm still doing it. It's always challenging and interesting, whether that's your mental game, studying video on people, or even just physically. It always evolves, and I think that's a very special part."
Meinhardt broke several records on his way up the fencing ladder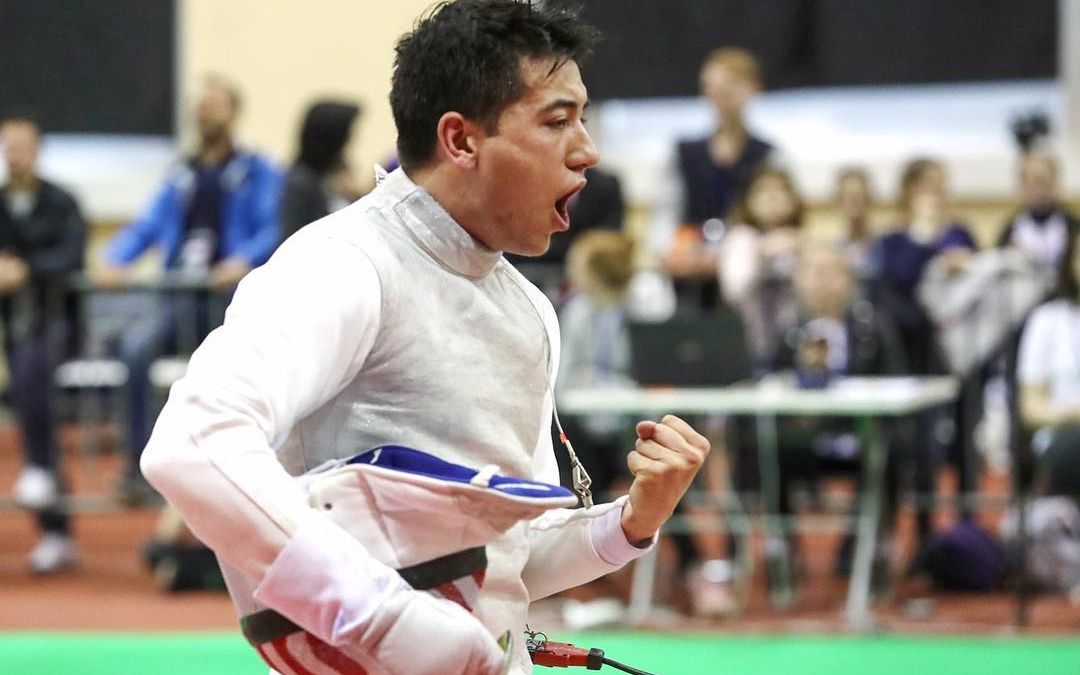 Derek was introduced to fencing through a program managed by Olympian Gregg Massialas. He also took piano lessons from Greg's wife, Vivian.
At age 10, he began participating in national fencing competitions. Six years later, he became the youngest men's national foil champion. His efforts earned him a spot on the US fencing team at the 2008 Beijing Olympics.
Derek was the youngest fencer at the Olympics and the youngest US Olympic fencer ever. Meinhardt joined the University of Notre Dame in 2009 on a full fencing scholarship.
Meinhardt's achievements include team gold at the 2019 Budapest World Championships, individual gold at the 2019 Lima Pan American Games, and team bronze at the Rio Olympics. Via a February 2020 Instagram post, Lee celebrated Gerek's longevity in the sport. She wrote:
"12 years after the Beijing Olympics, three knee surgeries, a career change, and a new wifey, Gerek is headed to his 4th Olympics! So proud – you all know there are tears in my eyes."
Gerek missed out on a Tokyo medal in the men's individual foil after falling to Vladislav Mylnikov. His focus is now on the team competition. He posted the following message on Twitter and Instagram:
"Wanted to let you all know I'm doing okay and have appreciated the encouragement. Just didn't feel it on the strip. Excited to cheer on @nick_itkin and get ready for team."
Keifer and Gerek trained in Keifer's parent's basement during the coronavirus pandemic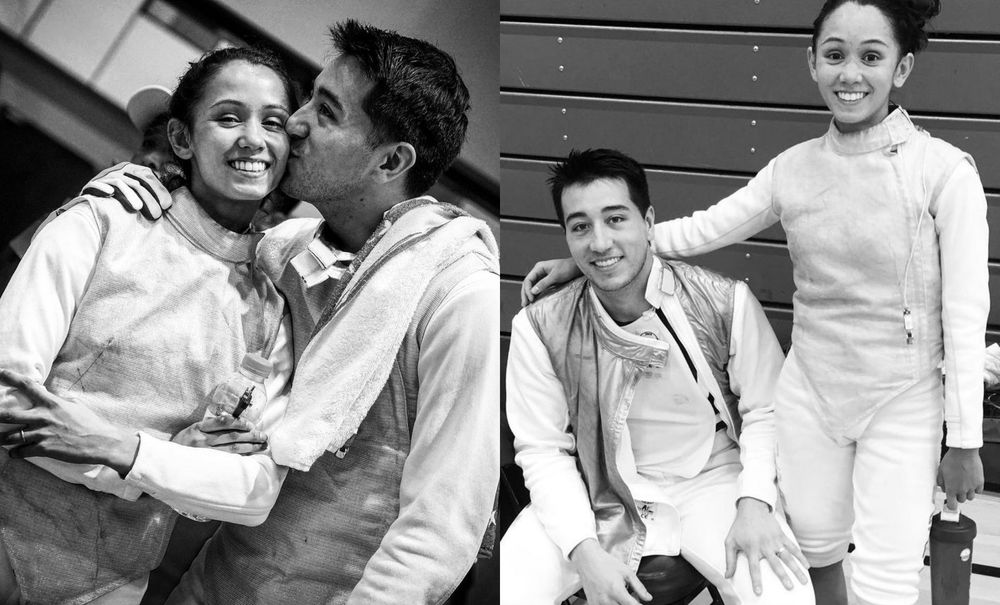 The world shut down due to the coronavirus days before Lee's final qualification for the Tokyo Olympics. In response, Keifer and Gerek set up a fencing strip in Lee's parent's basement to continue training. Lee talked to Southern Living about the couple's teamwork:
"We are very co-dependent especially when it comes to fencing, because we need each other's skills to train and get better. We both know each other's areas that we want to improve on, so there was a lot of coaching and motivation to push through the tough days."
Lee and Gerek are studying medicine at the University of Kentucky. The 2020 lockdown disrupted Lee's plans but also gave her her first break in 20 years. Keifer talked to Southern Living about the significance of 2020:
"In some ways it ended up being a bit rejuvenating because I have been go, go, go, for almost 20 years of fencing. And it was kind of my first real break. I feel at this point very grateful to have had that time to reflect on my journey in life and still be here and competing and doing what I love."
---