Amaury Guichon's career has come full circle: He gained prominence as a contestant on a pastry chef reality show in 2013, and in 2021, he served as the host of Netflix's reality series School of Chocolate. Guichon's participation in the 2013 pastry show gave him the big break in his career.
Guichon placed third, but the connections he earned from the show benefited him more than a victory could have. He moved to Las Vegas, where he developed his love for chocolate.
Guichon's chocolate sculptures have made him one of the most famous pastry chefs in the world. He has millions of Instagram followers, who he entertains with professional photos and videos taken by his wife, Fiona Bergson. 
Amaury and Fiona had a 'covid wedding' and are planning to have a bigger ceremony
Fiona Bergson gives insights into her relationship with Amaury via her Instagram stories.
She revealed that the couple met after sharing messages for a few months. They met, became fast friends, and eventually started a relationship.  Fiona described it as love at first sight. 
The couple had a 'covid wedding' – a ceremony with few guests to minimize the chances of coronavirus spread – in December 2020. Fiona wrote on Instagram that the couple plan on having a bigger ceremony:
"We did a 'covid wedding' last year around Christmas but will celebrate with all our closest friends when everything gets back to normal hopefully in Canada."
Fiona is a professional photographer and owns a tattoo parlor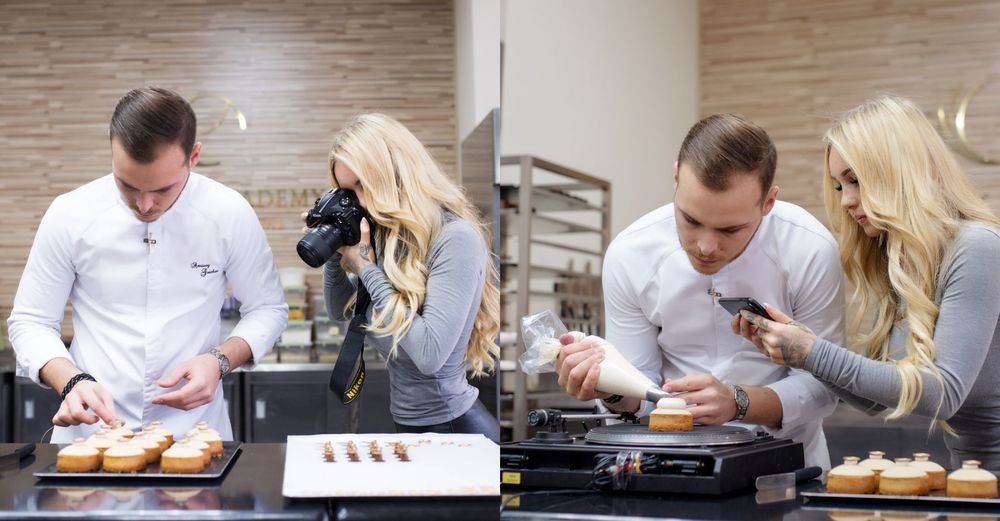 Fiona started tattooing people as a teenager. At the age of 21, she opened her tattoo parlor in Montreal, Canada. Bergson has plenty of tattoos, but Amaury has none. He has, however, tattooed some of the couple's friends.
Years later, Fiona started freelance photography by taking street photos. You need only scroll through her Instagram page to see how skilled a photographer she is. Via Instagram stories, Fiona shared her secret to taking beautiful photos:
"Combination of frustrations, overcoming problems and hours of studying professionals and still I am nowhere near as I would like to but who knows… maybe one day."
Bergson is also the director of International Operations for Amaury Guichon's Pastry Academy. She also serves as his manager.
Setting up such an extensive operation wasn't easy. Fiona shared that she had to multitask, abandon procrastination, and give up her social life for four years.
"There is 25% of instinct in every decision I have to make," she added. "So don't neglect your instinct. And most importantly, surround yourself with people you believe in and believe in yourself."
Fiona's career is still the main priority for her. She shared on Instagram that she doesn't plan on having a child anytime soon:
"It's going to sound like a statement but for those who thinks alike and like me are more career oriented I want them to know that they are not alone. We are constantly undermined by society's inability to separate women and motherhood but that doesn't mean we do not have the choice/or are in the wrong."
Amaury's international career hasn't affected the relationship as the couple travels together
Amaury's international career takes him to many locations around the world. His travels don't affect his relationship with Fiona, as the pair often travels together. Fiona wrote that she enjoys the trips because the hosts go out of their way to offer the pair memorable experiences:
"Honestly, the schools who host Amaury for his international masterclasses are always going above and beyond for him/us!"
When they aren't traveling, Fiona and Amaury reside in Montreal or Las Vegas.
---