Abby Lee Miller is an American dance instructor who gained fame for appearing on the reality show Dance Moms for eight seasons. The tough-as-nails instructor polarized fans, with some feeling that her no-nonsense attitude got the best out of her dancers and others claiming that she was too tough on the little children.
No matter what you thought of Abby, she is the main reason why Dance Moms was so popular. Other than insistently screaming at children, Abby would flirt with men, exaggerate minor situations, and generally display erratic behavior.
Abby's principal focus is managing to walk again following her cancer-removal surgery
Abby's struggles with health started after she was transferred to a Long Beach, California, halfway house to complete her sentence for bankruptcy fraud. For some time, doctors couldn't diagnose the cause of her chronic pain.
When she returned to the hospital barely able to move her arms and legs, specialists recommended surgery on her spinal cord. The surgery revealed that she had Burkitt lymphoma, a rare, aggressive form of non-Hodgkin's lymphoma that starts in the abdomen before spreading rapidly throughout the body.
Abby wondered how she'd contracted the cancer given its rarity and that it mostly occurs in children. Two days after the surgery, Abby started on a course of aggressive chemotherapy, which, as she told Survivornet, went rather well. "I really honest to God did not have that much trouble with it," she says.
As expected Abby lost her hair, but she focused on the silver lining – she didn't have to prepare her hair when she needed to go out. "I could just throw a baseball hat on and it didn't matter where I was going or what I was doing," she said. "It was much faster." By May 2019, Abby was cancer-free and able to do most basic things without help.
Unfortunately, she needed more surgeries on her back to alleviate pain caused by compressed nerves, repair two broken vertebrae, and correct a bulging disc. "All the vertebrae are so bad," she said. The surgery left her confined to a wheelchair, but Abby is determined to walk again. She told Survivornet:
"I've been given a second chance. I survived prison. I survived a very rare cancer. I survived 10 rounds of invasive chemotherapy. I survived all the needles and all the tests, emergency spine surgery, a second spine surgery. All of these things – not to mention all of the heartbreaks, and all of the sadness. I survived it all."
Miller has two 45-minute therapy sessions per week to build her strength and hopefully, get her walking again. The going is slow, but with every session, she takes a step towards walking. Abby jokes that she needs someone as tough as herself to coach her. "You know, I need someone like Abby Lee Miller to make me walk!" Abby said. She posts regular updates on her progress on Instagram and YouTube. 
Abby sometimes wished that she would have died on the operating table
"Just tell me I'm gonna see you when I wake up," Abby asked the anesthesiologist before her surgery. The answer she got was less than reassuring. "I can't tell you that, ma'am," the anesthesiologist replied. There was a real chance that Abby would pass away on the operating table – her blood pressure plummeted at one point – but the operating team managed to get her through.
"I was like, you know what, not on my watch,'" Dr. Hooman Melamed told Entertainment Tonight. "I said, 'We're going in.' I called my wife, I said, 'Honey, I'm not coming home tonight.' I said, 'This is not gonna happen on my watch. I don't care what it takes.'" Thanks to Dr. Melamed and his team, Abby made a miraculous recovery, but there are times she wished she would have died on the table. Miller said:
"This is weird but there are days that I wish that I would've died. I know there's people out there fighting every day for their lives, yes, but it's been rough. It's not easy to live in a wheelchair. It's not easy, especially in California. It's very difficult to be handicapped. That's why I need to walk."
Abby admits that it gets lonely sometimes as she has no family to support her, but her friends come through in her time of need. The participants from Dance Moms have deserted her, except for JoJo Siwa. "JoJo calls me and texts me with every exciting new thing that she has coming up," Abby told Entertainment Tonight. "It's good to be involved – to be not forgotten."
Abby Lee has several on-screen projects in the works including a new dance competition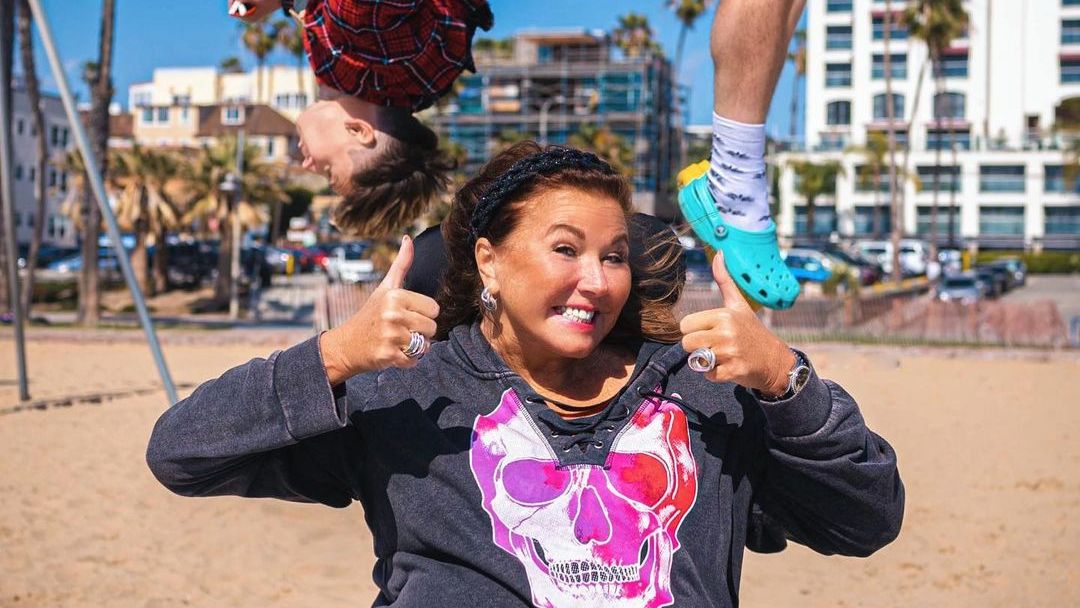 Teaching dance is still a big part of Abby Lee Miller's life; her studios in Pittsburgh and Los Angeles are open. She leaves in-person teaching to her staff, and chips in virtually whenever she can. "I teach virtually there [Pittsburgh] on Fridays and Sundays, and I have an amazing staff many of my former students that went to work professionally that are now older and in teaching mode are there running the training with my guidance," Abby told Survivornet.
On 1st January 2021, Abby Lee posted a YouTube video stating that all the projects that had been pushed back in 2019 and 2020 would happen in 2021. One of the projects is dubbed the ALDC International Dance Convention. Coronavirus restrictions have forced postponement of the Convention, but Abby remains hopeful that it will happen sometime this year.
Lee also has some behind-the-scenes projects in the works. "I have an amazing young adult show with a paranormal twist that is in the works, and I also have a new reality show, two shows," she told Entertainment Tonight. "One is more prison-related about what happens when you get out of prison, and it's just killer, it's amazing, the show. And there's nothing like it on TV."
---