Abby and Brittany Hensel are perhaps the most famous conjoined twins in the world. The sisters first appeared on television during a mid-1990s episode of The Oprah Winfrey Show. At the time, Abby and Brittany were six years old and were still learning to coordinate their one body.
Most conjoined twins arrive stillborn or die after the first day. Making it to the age of six, let alone adulthood is considered something of a miracle. We have seen doctors successfully separate conjoined twins, but Abby and Brittany's parents decided against surgery: it was just too risky. As you'll see below, it turned out to be the right decision.
Abby and Brittany are fifth-grade teachers after earning their degrees from Bethel University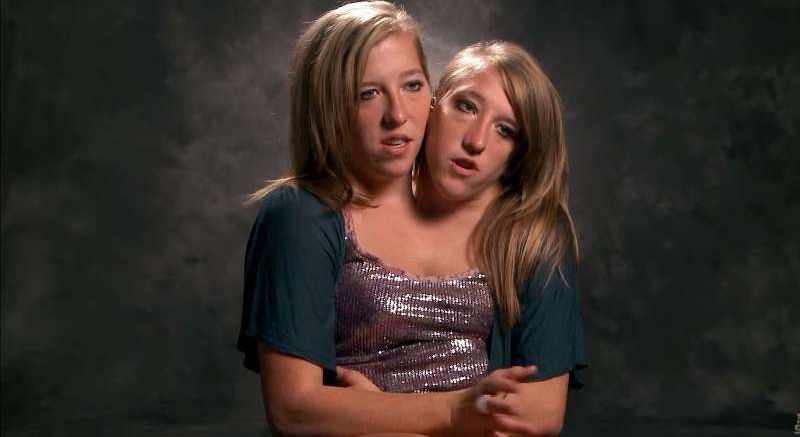 Patty Hensel had no idea that she would deliver twins on 7th March 1990. Doctors later concluded that one baby's head obscured the other's during ultrasounds, making it seem like Patty had one child in her womb.
"I went into hospital thinking I was going to have one baby," Patty said. Nevertheless, she loved her daughters from the moment they arrived. "To me, they were beautiful."
Doctors immediately suggested that Patty and Mike consider separation surgery for their children. The surgery would give the girls separate but severely disabled lives if they survived the operation.
After deciding against surgery, Patty and Mike retreated to their farm, where they adopted a private life. They purposed to shield their kids from public scrutiny as Abby and Brittany learned how to live sharing one torso.
Eventually, the pair learned how to exist and thrive with one body. "We never wish we were separated because we would never be able to do all the things that we do know, like play softball, run and do sports," Abby said, per The Mirror.
At age 16, they passed their driving test. "Abby does the pedals and the gear shifter," Brittany told The Daily Mail. "I take over the blinkers and the lights. But she likes driving faster than me."
Patty told Naked Stories that the sisters wanted to be a pilot and a dentist, but sharing one body eliminated the chances of separate careers. Fortunately, they shared a passion for teaching, which inspired them to pursue education degrees at Bethel University.
After graduating, the kids chose to teach at the fourth and fifth-grade levels. Abby and Brittany share one salary, but they plan to negotiate for a raise as they offer more than what one person gives. Abby told The BBC:
"Obviously right away we understand we are going to get one salary because we're doing the job of one person. As maybe experience comes in we'd like to negotiate a little bit, considering we have two degrees and because give two different perspectives or teach in two different ways. In that sense we can do more than one person."
School principals believe that Abby and Brittany are a great source of inspiration to young children
Before Abby and Brittany secured jobs as student-teachers, the school's supervisor asked the students to react honestly to the pair. "They are just part of our classroom now," the students responded, according to Naked Stories.
The supervisor described Abby and Brittany's condition as a non-issue, especially in the eyes of children. Mr. Moberg, the school's principal, said that the sisters offer something unique that other teachers can't provide. He explained:
"There's no question in my mind that they will really change the world for the better and influence lives in ways that those like myself as one person never really do."
Abby and Brittany completed their teaching practice and found employment at a different school. The school's principal employed the sisters because of their qualifications and ability to inspire people to chase their dreams no matter the obstacles placed before them. Mr. Paul Good said:
"I don't think there's anything that they won't try or something that they couldn't be able to do if they really wanted to. To bring that to children, especially kids who might be struggling, that's very special, that's learnt through lived example."
Abby and Brittany have refused to discuss their dating lives but have admitted to wanting a family
Abby and Brittany have individual preferences, which can make sharing a body a slight inconvenience. They've harmonized their eating schedules to avoid bothering each other. However, when one gets sick, the other also suffers the consequences.
Brittany often has a cold and suffered from pneumonia twice, forcing Abby to keep her company as she recovered. Abby described having to stay in bed without feeling ill as 'boring.'
The sisters share a desire to marry and start a family. "We are going to be moms one day, but we don't want to talk about how it's going to work yet," Abby told The Daily Mirror.
They have refused to share more details about their love lives. "The whole world doesn't need to know who we are seeing, what we are doing, and when we are going to do it," Brittany added. "But believe me, we are totally different people."
---