Cody Bellinger is an American baseball player for the Los Angeles Dodger of Major League Baseball. The Dodgers selected Cody in the fourth round of the 2013 MLB draft. Bellinger had an incredible 2017 debut season as he was the National League's and All-Star Rookie of the Year. A couple of years later, he won the National League Most Valuable Player Award.
Bellinger played a crucial role in ending the Dodgers' 32-year long wait for a World Series win. Cody was particularly influential in helping the team overcome a two-game deficit against the Atlanta Braves.
This piece will look at Cody's dating life. We can confirm that he is not married.
Cody and his current girlfriend Chase Carter have been dating since August 2020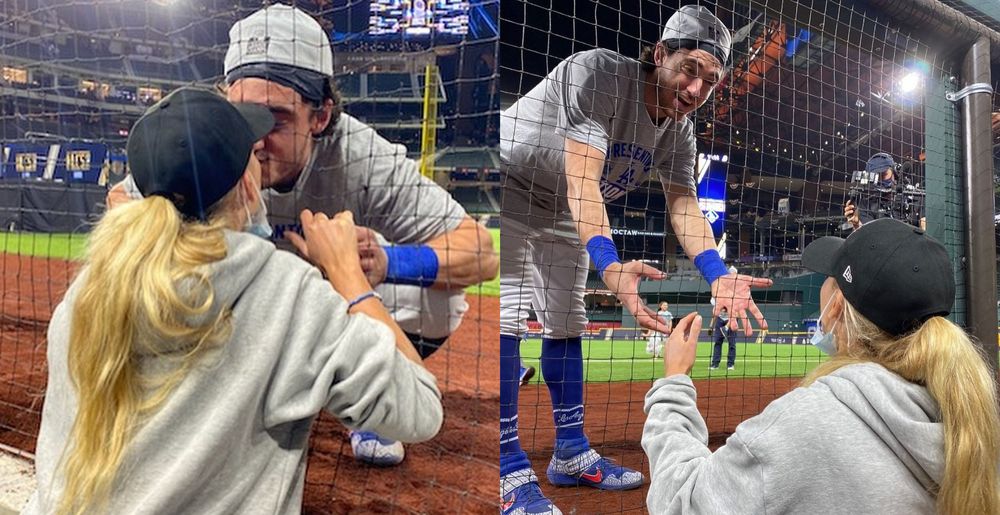 Chase and Cody sparked dating rumors after Chase shared a shirtless photo of Bellinger lying in bed. The post came several days after Chase was spotted hanging out with Cody's mother.
Carter has attended most of Cody's games since the couple started dating. She supported Cody during the Dodgers comeback win over the Braves and took to the field to celebrate with the team after the Series win. Chase, a model since the age of 13, dated Yankees outfielder Giancarlo Stanton before the couple split in November 2019.
Cody was linked with high school friend Sabrina Denham and Texas native Melyssa Perez
Bellinger kept a low-key dating life before he started dating Chase Carter, but he was nevertheless linked to a couple of women. In 2017, University of Texas alumna Melyssa Perez shared several photos of her and Bellinger hanging out after a Dodgers game. TMZ then reported that the couple had been on a couple of dates. However, the couple didn't confirm whether they were dating, and whatever relationship they had fizzled out.
In 2019, Cody sent the rumor mills into overdrive after he attended the Los Angeles Dodgers Foundation's 5th Anniversary Blue Diamond Gala with a date in tow. The lady turned out to be Cody's high school friend Sabrina Denham. There was speculation that the two were dating, but it turned out that they were only friends.
Former Bachelor star Becca Tilley denied that she was in a relationship with Cody
Becca Tilley sparked rumors that she was in a relationship with Cody after sharing a cozy Instagram photo of the pair. Tilley had just broken up with Robert Graham, and many wondered whether she had moved on with Cody.
However, she told Us Weekly that she was happy being single: "I'm not looking right now. I'm single and happy about it."
---