AJ Allmendinger was understandably emotional following his first NASCAR Cup win in over two years. Allmendinger described the victory as 'the drive of his life'. "I hate crying right now," Allmendinger continued, "but it's a freaking Cup race man. You don't know when it's ever going to happen again."
AJ Allmendinger and his wife, Tara Meador, welcomed their son, Aero James, in September 2023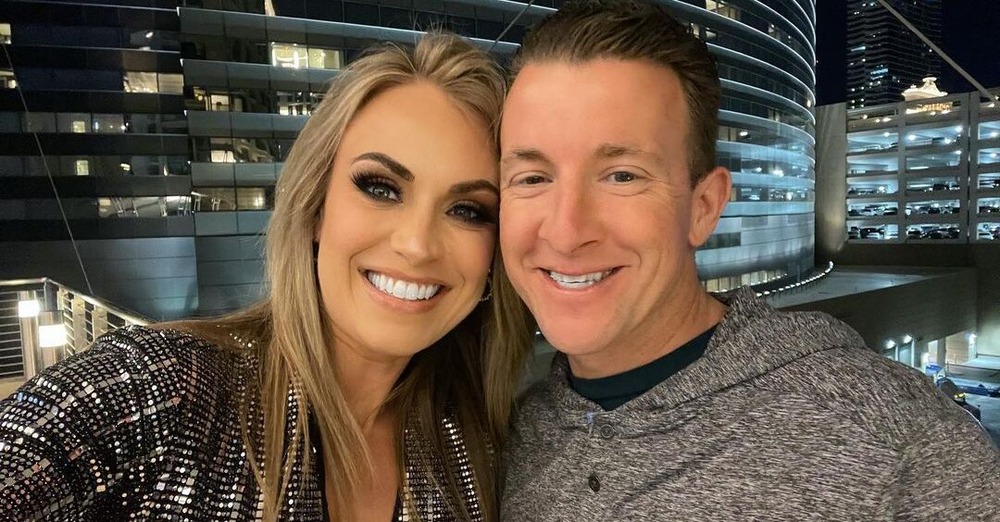 AJ Allmendinger married his longtime partner Tara Meador in 2019. "Happy Birthday to my one and only. Thank you for making 2019 unforgettable. I love ending the year celebrating you!" Tara tweeted alongside wedding photos in December 2019. 
Tara and Allmendinger welcomed their son, Aero James, in September 2023. The racing driver announced the birth on X, formerly Twitter, writing:
"It might have taken a bit longer than we expected, but @_TaraLea and I are so thrilled to have our little boy Aero James Allmendinger finally arrive into our family at 1131 am this morning. Momma and baby are doing amazing. Thank you to everyone that was so positive through this."
The couple raised a famous cat called Mr. Tickles, whom they rescued from a dumpster in a North Carolina neighborhood. Allmendinger talked to NASCAR.com about Mr. Tickles' impact on his life:
"It's been fun, you know, because with the airlines that we fly on as a team, it's not like you can bring your own dog on the plane or anything like that. So we've got a little cat backpack and he gets in it and gets under the chair and goes to sleep and it's good entertainment throughout the course of a weekend when I'm stressing myself out."
Mr. Tickles passed away, but he lives on via social media. Tara and Allmendinger occasionally update the cat's X page. On 4th June 2023, they wrote alongside photos of Allmendinger cuddling Mr. Tickles: "You know we would if we could hug Mr. Tickles. Hug your cats tight. They are angels sent from above to help us humans lead more present and compassionate lives."
Allmendinger and his ex-wife, Lynne Kushnireko, divorced in 2012 after five years of marriage
Allmendinger and Lynne met at a Champ Car World Series race in Toronto in 2005. Lynne, a former gymnast and model, was running a program to educate women about racing. Distance complicated the couple's relationship – Allmendinger lived in Denver; she lived in Toronto – but they made it work.
"We were more like friends trying to figure out what to do," Lynne told Bleacher Report. "We didn't progress until 2006 really." Allmendinger and Lynne were married in January 2007. They settled in North Carolina, where she opened a chiropractic center, Advance Spinal Fitness. 
Lynne also worked with racing drivers and their teams. "They are my patients in the office, but I'll see them on the road as well. I'm on the same schedule as them, so that works out well, too. My niche is probably athletes and people in sport. Those are my favorites because I think I understand them the most," she said. 
She was popular at races due to her medical knowledge and cooking skills. Lynne talked to Bleacher Report about her favorite meal, a combo dubbed 'Sex in a Pan'. She said: "This dish is a five layer special dessert made with a pecan crust, cheating cheese cake, vanilla pudding, chocolate pudding, Cool Whip and then it's topped with chocolate shavings."
It's unclear why Lynne and Allmendinger divorced in 2012. 
---