O.J. Simpson is a former American football running back who shot to fame in the 1970s for breaking numerous NFL records. Simpson announced himself as a future football star while playing college football for the USC Trojans. O.J. won the Heisman Trophy in 1968 and embarked on a successful decade-long spell as an NFL player.
Simpson, nicknamed 'The Juice,' hit the headlines after his dramatic arrest for killing his wife, Nicole Brown, and her friend, Ron Goldman. Simpson's arrest came after a sensational low-speed police chase in a Ford Bronco driven by his friend Al Cowlings. The pursuit paled in comparison to the subsequent nine-month murder trial, which controversially drew a not guilty verdict from the jury.
This piece will look at what O.J. Simpson is doing now.
O.J. spends his days posting football analysis videos on Twitter and playing golf
O.J. Simpson is an avid Twitter user, who doesn't pass up the opportunity to give his thoughts on the NFL. Simpson has a following of almost 1 million people on Twitter who tune in to listen to his in-depth analyses of the football league and on fantasy football. When he isn't tweeting, O.J is playing golf or signing memorabilia. He also participates in a fair share of interviews, which earn him some money.
Simpson also gets money from his personal pension fund and social security. He also receives a pension from the NFL and the Screen Actors Guild. O.J.'s personal pension is believed to be worth $5 million. Simpson's pension is safe as it cannot be taken to pay off his debt to the Nicole Brown and Ron Goldman's families.
Despite being found not guilty of the murders in criminal court, Nicole and Ron's families lodged a civil suit against Simpson. The court found Simpson guilty of wrongful death and ordered him to pay $33.5 million to the families. He is yet to pay most of that money and given that his pension can't be used to pay the debt, it's unlikely that he will ever settle that bill.
Simpson and his attorneys plan to keep fighting a court order requiring Simpson to pay $60 million in damages
Two years after Simpson's acquittal, a judge awarded the families of Nicole Brown and Ron Goldman $33.5 million in damages. The judgment remains unpaid and has risen to over $60 million.
A Nevada court recently found Simpson liable for the full amount. The Eighth Judicial District Court rejected Simpson's motion to end the civil judgment. "It is hereby ordered that Simpson's Motion for Relief is denied in its entirety as there was no basis to invalidate the properly domesticated judgment at issue herein," the court ruled.
Simpson doesn't plan to pay the amount. He insists that he lives on a pension which can't be used to offset the judgment. O.J. and his lawyers plan to fight the orders to pay, and will approach the Supreme Court if the need arises.
His attorney, Malcolm LaVergne, told The Associated Press that he plans to petition the Nevada Supreme Court to set aside the damages order. "I will be appealing both of those," Malcolm said, "and there will be motions at the trial level."
Simpson's settlement with the Cosmopolitan Hotel recently came into focus as a court can order Simpson to pay part of his debt using proceeds from the Hotel. Malcolm refuses to state whether Simpson received a payment. "They can't prove there are any settlement proceeds," he added.
Based on Malcolm's comments, Simpson and his lawyers have plenty to do in court. Malcolm told The Associated Press that he plans to litigate 'to the very end.'
Simpson spent nine years in jail for armed felony and kidnapping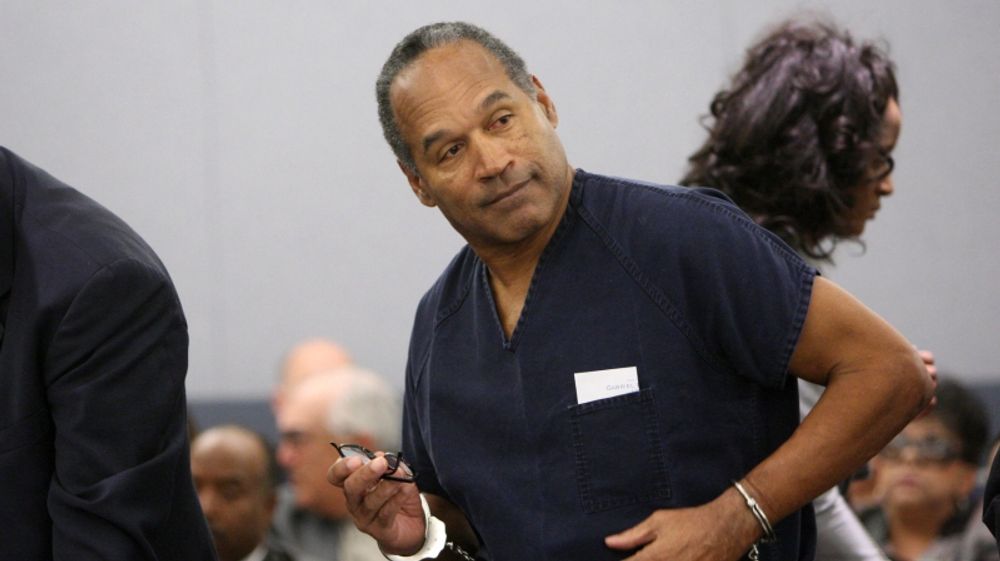 A fair share of people around the world felt that O.J. was lucky to escape a guilty verdict in his famous murder trial. O.J. wasn't as lucky when he stood before a criminal jury in 2007 on charges of armed robbery and kidnapping. The prosecution brought those charges against Simpson after he and a gang stole sports memorabilia at the Palace Station hotel at gunpoint.
The jury found Simpson guilty and sentenced him to nine to thirty-three years in prison. The judgment was handed down exactly 13 years after he was acquitted for Nicole and Rod's murders. Simpson was a model prisoner and was granted parole after nine years in prison. "I've done my time," Simpson stated at his parole hearing. "I've done it as well and as respectfully as I think anyone can."
O.J. had planned to see out his days in Florida, but the state of Florida barred him from staying there. The state's attorney general wrote a letter to the Florida Department of corrections stating that "Our state should not become a country club for this convicted criminal." Simpson moved to Las Vegas after the Sunshine State declined to offer him a retirement home.
Simpson is a free man after earning early release from parole
O.J. Simpson was originally set for release from parole in late September 2022, but in December 2021, the state board of parole approved his early release from parole. "Mr. Simpson is a completely free man now," Simpson lawyer, Malcolm LaVergne, said.
The parole board released O.J. on the grounds of good behavior. Nevada Police spokesman, Kim Yoko Smith, said:
"The Nevada Board of Parole Commissioners conducted an early discharge hearing for Mr. Simpson. A decision to grant early discharge from parole was ratified on December 6, 2021. The Board awarded credits in an amount equal to the time remaining on the sentence to reduce the sentence to time served."
---