Netflix has once again delivered a period drama for fans to obsess over: The Empress, a German production based on the drama and politics of the Viennese court in the mid-19th century. Empress Elisabeth 'Sisi' von Wittelsbach, the show's protagonist, joins the vile court after earning the affection of Emperor Franz Joseph.
The first season chronicles the first months of Sisi's unhappy life in court. She wasn't raised to become an Empress and enjoyed the freedoms of everyday life. By marrying the Emperor, she joins a hostile world tainted by self-interest, petty jealousy, and dirty politics.
The Empress tells the true story of Empress Sisi's marriage to Franz Joseph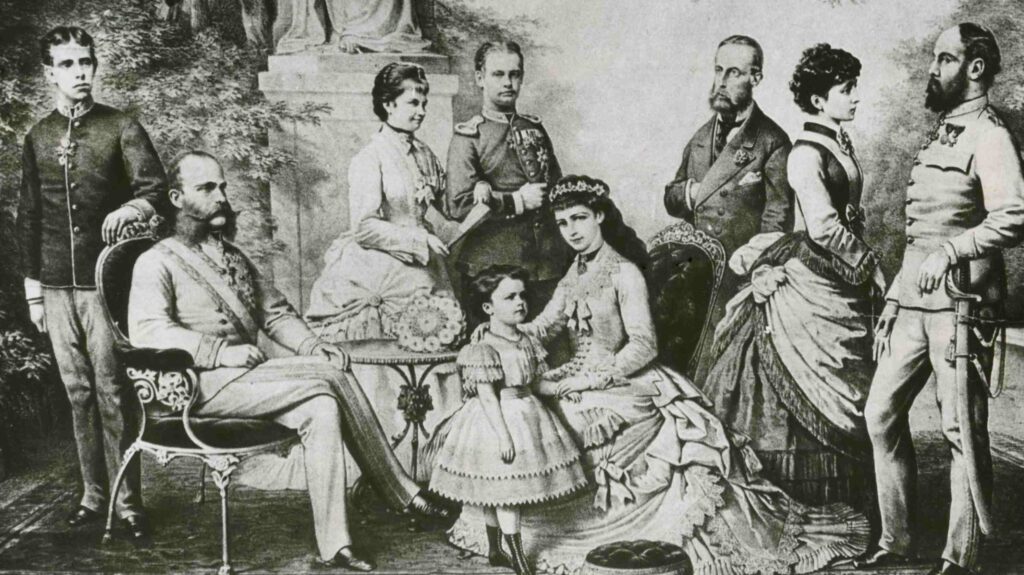 The Empress is, so far, based on the true story of Empress Sisi's marriage to Franz Joseph I. The series contains some fiction for dramatic effect but mostly follows the true story.
Elisabeth was born in Bavaria, Germany, in December 1837. She grew up alongside her older sister, Helene, who was raised to marry Franz Joseph. Helene's mother, Princess Ludovika, was the sister of Joseph's mom, Archduchess Sophie.
Ludovika and Sophie decided to wed Helene and Franz to stabilize the Habsburg dynasty. Princess Ludovika prepared Helene for life on the Royal court, declaring her ready for marriage when she hit 18.
The family traveled to the royal home of Bad Ischl for the proposal at an inopportune time. Helene and her sister were forced to wear black due to the recent passing of a relative – black didn't suit Helene, and her dark brown hair.
However, it was the perfect foil for Sisi's dark blonde hair. Polly Cone wrote in The Imperial Style: Fashion of the Hapsburg Era that Franz couldn't help but fall for Sisi:
"Franz Joseph met his cousins at afternoon tea. From the first moment he was interested only in little Elisabeth, who sat at the table, unsuspecting and unabashed."
Sophie objected to her son's admiration for Sisi but couldn't prevent him from proposing to her. Franz gave Sophie no choice – he would marry Sisi or no one.
It's unclear whether Sisi showed affection for Franz as she does in the series. After the engagement, the family spent eight months preparing Sisi for royal life and the wedding. It's reported that Sisi wept on the glass coach on the way to her wedding in Vienna on 24th April 1954.
Sisi dreaded the strict and isolating life that lay before her. Season 1 of The Empress ends several months after the wedding when Sisi learns of her first pregnancy.
It's unclear whether Sisi's tragic story will continue in season 2
Netflix hasn't announced The Empress season 2, but there's much about Sisi's tragic life left to cover. If the showrunners remain true to Sisi's real-life story, we have some idea of what to expect from potential upcoming seasons.
Sisi never truly acclimatized to life as an Empress – she rebelled by smoking, riding horses, and taking up gymnastics. The populace admired Sisi for her compassion and support of their autonomy, but Sisi's carefree attitude sparked disputes between her and Archduchess Sophie.
Sophie's meddling in Sisi's family affairs irked the Empress. For instance, the Archduchess named Sisi's first child Sophie without her permission and prevented Sisi from breastfeeding the child. Sophie died as an infant.
Sisi gave birth to another daughter, Gisela, then a son, Rudolf, and finally, Marie Valerie, her third daughter. Like Sophie, Marie Valerie died in infancy.
The Empress refused to eat for days following the death of her children. She suffered from depression, and even though she neglected her royal duties, Sisi was a popular figure among the people.
She became Queen of Hungary after the dual monarchy of Austria-Hungary was created in 1867. Rudolf's death in a suspected murder-suicide in 1889 drove Sisi into a permanent depression. She often fled the country to deal with grief and escape the vile court.
In 1898, an Italian anarchist named Luigi Lucheni stabbed Elisabeth fatally with a sharpened needle file, ending Sisi's tragic but widely celebrated life.
---