Tammy Slaton and Amy Slaton recently starred in 1000-lb Sisters season 3. Amy and Tammy have experienced contrasting fortunes on the show: Amy lost enough weight to safely have a baby, while Tammy remained dangerously overweight. Thankfully, there's still hope that Tammy will emulate her sister after she dumped her toxic boyfriend and checked into rehab.
Things looked bleak for Tammy at the end of season 2 as she gained weight. Her boyfriend at the time, Jerry Sykes, was feeding her unhealthy food due to his alleged fetish for overweight women. Tammy also dealt with her depression by binge eating and drinking.
Tammy weighs around 530 pounds as she continues her stay in rehab
At the end of 1000-lb Sisters season 3, Tammy's brother Chris Combs revealed that Tammy had lost 115lb in 30 days of rehab. "I'm overjoyed that she's ready to get on this train and start rolling down the tracks," Chris said.
Tammy likely weighs around 530 pounds. However, her weight could be lower considering the period between filming and the episode's release. Based on her first-month progress, she might have lost another 50 to 100lb.
Tammy's goal is to go below 500lb so Dr. Smith can perform weight loss surgery. She plans to spend eight months in rehab – by the time she leaves the facility, she should weigh well below 500lb.
In the season finale, Chris stated that Tammy spent some time in hospital after her lungs collapsed. Doctors placed her in a coma to give her lungs time to heal. Combs revealed that the family nervously waited for Tammy to wake up:
"They didn't know if she was going to make it through the night. Or make it through the next hour. And we stayed four days or so up there. And then the last day we were there, she woke up. And she kept telling us she loved us and wanted to go home."
After she woke up, doctors inserted a breathing tube in her throat to help her breathe easier. Tammy's recent Instagram photos show that she still uses the breathing tube.
Tammy's eating, drinking, and smoking probably caused her weight gain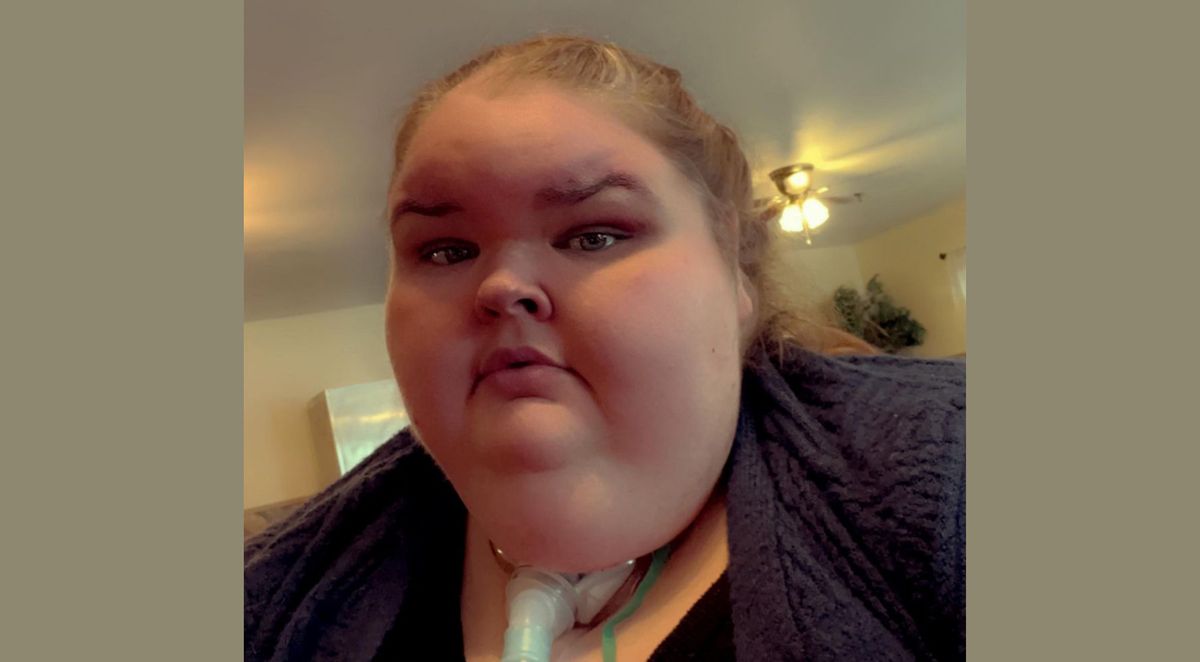 Tammy dealt with her depression by eating, drinking, and smoking. She told Dr. Smith that she took around eight liquor bottles a week to cope.
Such a party lifestyle is unhealthy, especially for someone overweight. Despite understanding the risks she faced, Tammy maintained her party lifestyle. She said:
"I'm at the point where I don't care. I'm gonna be me. We don't eat healthily. Because for me, if I eat something like pizza or pizza rolls, the bread soaks up the alcohol and the grease helps so we don't get too hungover."
As expected, Tammy's carefree lifestyle caused an increase in weight. She told Dr. Smith that she couldn't stop eating when depressed. The weighing scale showed regression, but Dr. Smith saw progress in Tammy's acceptance of her food addiction.
"You could've blamed [that] you couldn't get out of bed, you could've blamed that you had COVID and you could've blamed that you were in the hospital, and you didn't. And believe it or not, that's a step forward from where you've been in the past. So you just made progress even through your weight went up."
---