Suzanne Marie Sevakis had many aliases during her life, the most famous being Sharon Marshall. Sharon was popular, beautiful, supremely gifted, and a hard worker: while serving as a Lieutenant Colonel in the Reserve Officers Training Corps, she earned a full scholarship to Georgia Tech to study aerospace engineering.
Before joining Georgia Tech, however, she got pregnant, and her father/husband wouldn't allow her to go to school while pregnant. Marshall wouldn't live out her dream of joining NASA: she passed away following a mysterious hit-and-run in 1990.
Sharon Marshall's story will feature in Netflix's upcoming true-crime series Girl In The Picture. Consider this piece a primer for what promises to be a mind-blowing series.
Sharon crossed paths with her abductor Franklin Delano Floyd after he married her mother
Franklin Delano Floyd had a rough childhood. His father, an alcoholic, died when Delano was young, leaving Delano's mother, Della, to care for their five children.
Authorities placed Delano in a children's home where he endured all manner of abuse: he was bullied for his femininity, was sodomized with a broomstick when he was six years old, and as a teenager, a staff member dipped Delano's hand in hot water after he was caught masturbating.
Delano left the institution to stay with his sister in North Carolina but didn't spend much time there. He found Della working as a sex worker in Indianapolis, and she helped him forge documents allowing him to enlist in the Army. Six months into his service, the Army uncovered his deception and discharged him: he was too young to serve.
In 1960, police shot Floyd in the stomach as he attempted to steal weapons at a Sears department store in Inglewood, California. In June 1962, Delano abducted a four-year-old girl and sexually assaulted her. He was charged and convicted, receiving a sentence of ten to twenty years.
Floyd escaped in 1963 and soon returned to prison for robbery. His second escape attempt failed, resulting in his transfer to the United States Penitentiary in Lewisburg, Pennsylvania. He experienced constant sexual assault at the institution, which almost led him to suicide.
Prison authorities transferred him back to Georgia State Prison and released him in November 1972. He committed another crime but was released on bond. However, Delano failed to attend court and adopted life on the run.
In 1974, Frank introduced himself as Brandon Williams to a woman named Sandi Chipman. Sandi had four children from two fathers: Suzanne (Sharon Marshall), Allison, Amy, and Philip.
Floyd and Sandi married after dating for a month and moved to Dallas, Texas.
Franklin Delano groomed Sharon and eventually married her
In 1975, Sandi was imprisoned for thirty days for posting bad checks. She left Franklin in charge of the children but would regret her decision. 
Sandi returned to an empty home without furniture or children. She found Allison and Amy in the care of a social services group. Philip's whereabouts remained a mystery until 2019, when the now-adult Philip was uncovered via DNA testing. He revealed that Franklin put him up for adoption.
Chipman reported the abduction to police and the FBI, but they declined to investigate Floyd, stating that as the stepfather, he had a right to take the children.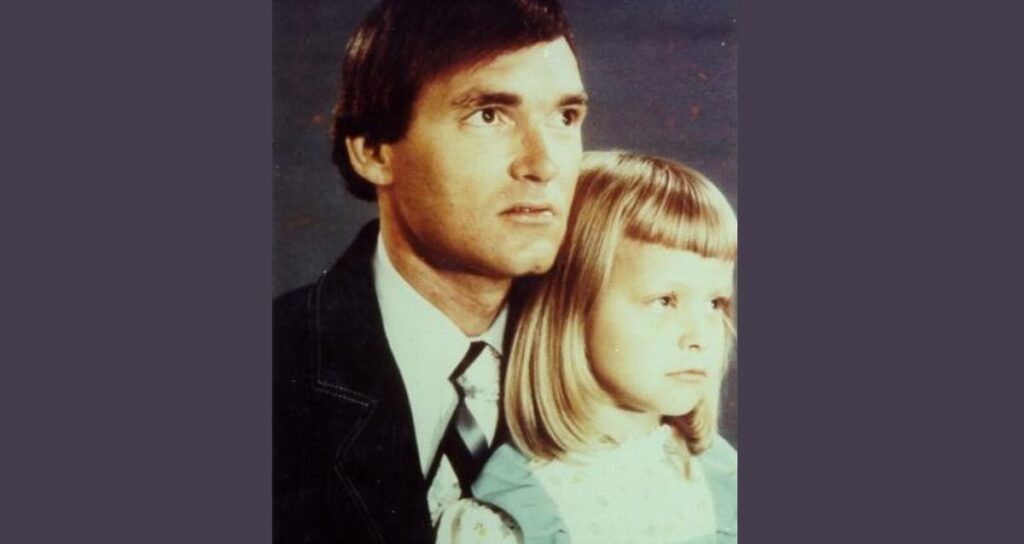 Floyd was a master at concealing his identity and used multiple aliases to remain undetected. By the late 1980s, Delano and Sharon – who at the time used the alias Tonya Dawn Hughes – were married and living in Tulsa, Oklahoma.
Sharon got pregnant with another man but didn't inform the father. Instead, she raised the boy, Michael Gregory Marshall, alongside Frank.
Delano was a person of interest in Sharon's mysterious death, but authorities couldn't link him to the crime
Sharon Marshall had a chance to capitalize on her immense promise, but Franklin prevented her from attending school. Franklin's back problems prevented him from working, forcing Sharon to become the family's provider.
She supplemented her income by working as an exotic dancer. The family also benefited from welfare checks.
Unsatisfied with her life, Sharon planned to escape with a man she'd met at the club. However, Sharon died in a hit-and-run accident before she could flee. Franklin claimed he was asleep at the time of the accident, but he remained a person of interest in the crime.
Despite appearing to recover, Sharon never regained consciousness. By the time she died five days after the accident, Franklin had banned her friends from visiting her.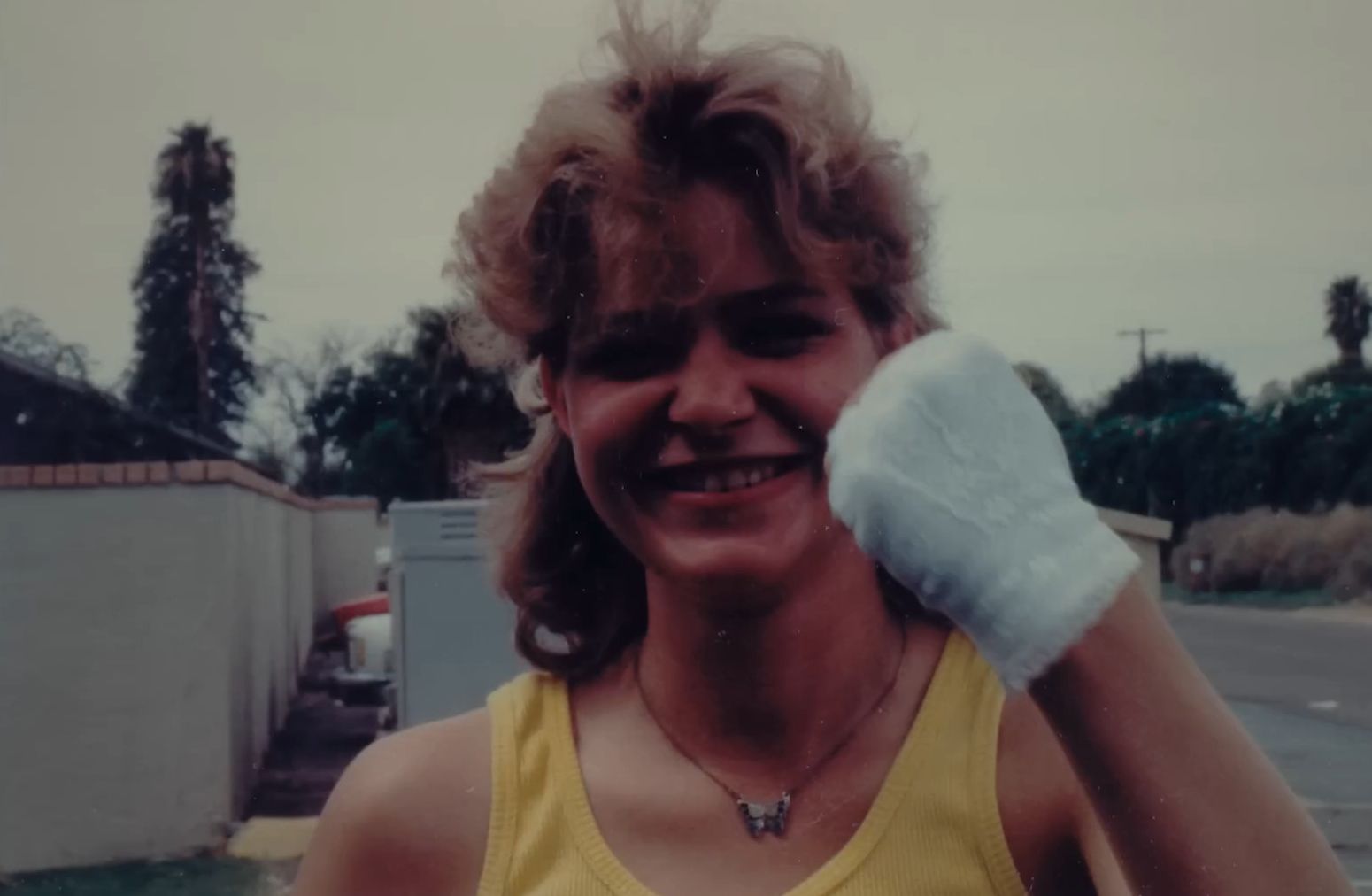 Floyd attempted to claim money from Sharon's life insurance policy but failed after the insurance companies learned that he used fake names.
Delano kidnapped and killed Sharon's son after learning he wasn't the father
After Sharon's death, Delano placed Michael in foster care and left. Police were on his trail as he'd used his real name while trying to claim Sharon's life insurance.
Michael's foster parents told authorities that he had developmental issues but had improved considerably after arriving at their home. The foster parents started divorce proceedings in 1994.
The police arrested Franklin and discovered through DNA testing that he wasn't Michael's father. After leaving prison in 1994, Delano attempted to gain Michael's custody, but authorities denied his request due to his criminal history and lack of a biological connection to the child.
Delano started stalking Michael and his foster parents. In September 1994, he visited Michael's school and forced the principal, James Davis, to take him to Michael's classroom. Franklin abducted Michael and James before dumping the principal in a wooded area.
Authorities arrested Frank following a two-month search but didn't find Michael with him. Floyd declined to reveal Michael's whereabouts, saying: "It's none of your business where he is, nor do I care how much any of you in Oklahoma miss him or love him."
Floyd received a 52-year sentence for kidnapping Michael. Several theories emerged about Michael's fate, with some claiming that Michael killed him and others alleging that Floyd placed him up for adoption.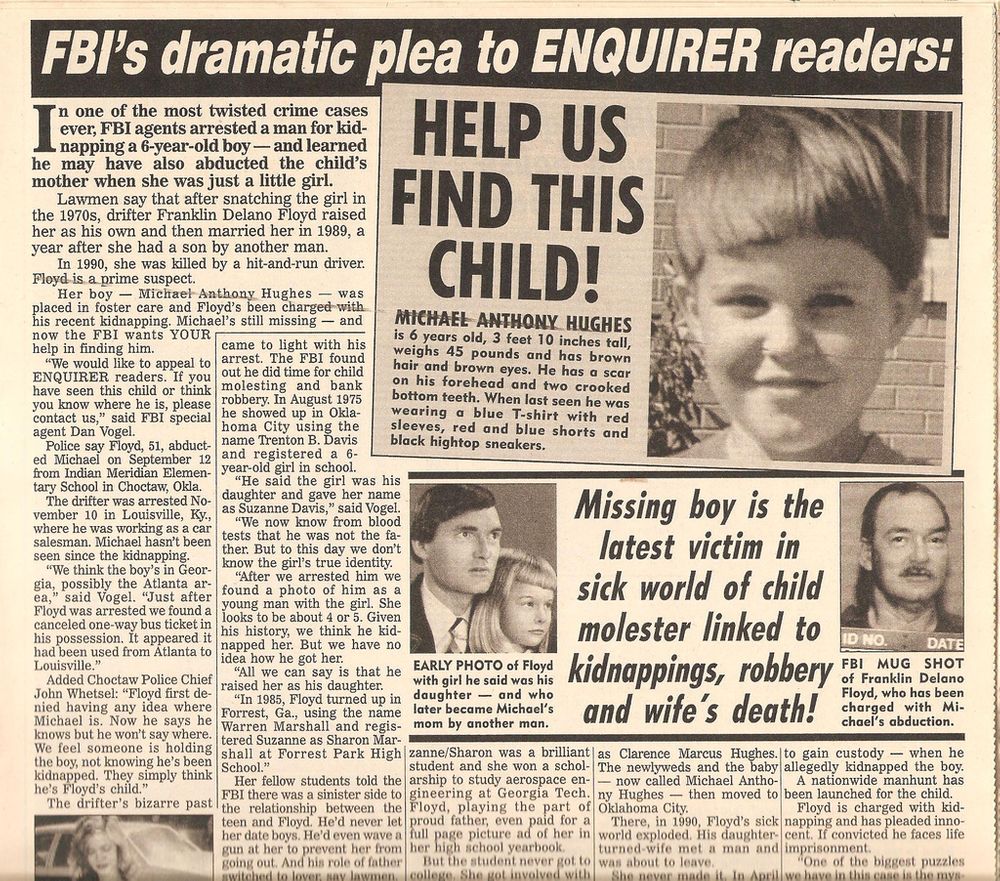 In a 2015 interview with the FBI, Floyd said he killed Michael on the day of the abduction by shooting him twice in the head.
Authorities learned about Sharon's identity after Floyd admitted to marrying her mom
Sharon Marshall remained a mystery for decades after her death: investigations by journalists and police hit dead ends. The one man who knew Sharon's identity was in prison, and in 2014, over twenty years after her death, Floyd opened up about her identity.
Authorities made the link after Floyd admitted to marrying Sandi Chipman in the 1970s. They showed Sandi a photo of Sharon sitting on Floyd's lap, and she instantly identified her as her long-lost daughter: Suzanne Marie Sevakis.
A DNA test confirmed that Sandi was Suzanne's mother, officially closing the mystery of Sharon Marshall's identity. Sandi and her family were devastated after learning about Suzanne's fate – but an unlikely silver lining softened the blow.
It turned out that Suzanne had secretly gotten pregnant and delivered a daughter in 1989 in New Orleans. She never informed Frank about the child and gave up the child to a wealthy couple in Texas. Per a 2014 update by journalist Matt Birkbeck, Suzanne's daughter had grown into a beautiful lady and had expressed a desire to meet her family.
Sharon's co-worker's remains were found several years after Franklin killed her
In the late 1980s, Sharon befriended a fellow exotic dancer named Cheryl Commesso. People suspected that Cheryl and Franklin were secretly dating.
The pair argued a lot, and following one confrontation, Cheryl reported Sharon to social services for misrepresenting her income. Commesso's report led to the cancellation of welfare checks for Sharon.
Angry due to the loss of income, Franklin confronted Cheryl at her workplace and punched her in the face. Several days later, Cheryl Commesso vanished, with police declaring Franklin and Sharon persons of interest in the case. The couple moved to Oklahoma shortly after Commesso's disappearance.
Six years later, a landscaper discovered Commesso's remains in Pinellas County, Florida. An archeologist determined that Cheryl died from assault and two gunshots to the head.
In March 1995, a Kansas mechanic found a bunch of photos in a truck he'd purchased at an auction. The images included pictures of a woman who'd been severely beaten.
Police identified the woman as Cheryl and matched her injuries to those in the pictures. They also traced the truck to Franklin and linked some of the furniture in the images to Delano. Prosecutors used the evidence to charge Delano with Sharon's murder; a court sentenced him to death for the crime.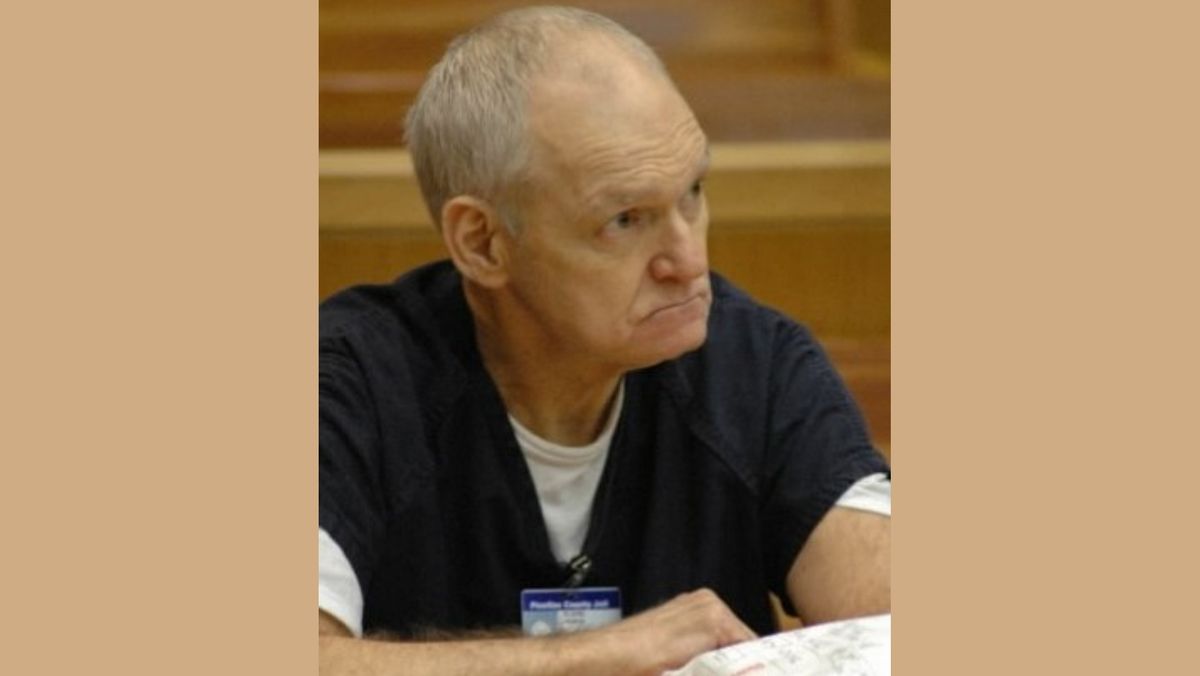 The stack of 97 photographs found by the mechanic also included images of an abused young girl, Suzanne. Delano documented the horrific abuse he inflicted on her.
Suzanne knew nothing but evil and abuse, but she persevered brilliantly. Matt Birkbeck wrote two books about Suzanne's story: A Beautiful Child and Finding Sharon. The synopsis for A Beautiful Child reads:
"This is the horrifying true story of a mysterious young woman caught in the violent web of the murderous fugitive she called her father – and a heartrending testament to the profound courage and perseverance of one woman trapped in the grip of extreme evil."
---