Rolf Harris is a disgraced entertainer who was convicted of sexually assaulting four underage girls. Harris launched his career as a singer and songwriter before achieving worldwide fame as a television personality in the UK. In 2005, Harris painted an official portrait of Queen Elizabeth II.
Harris' accusations of sexual assault emerged following an investigation by Metro police over the conduct of influential media personalities. Rolf was found guilty of twelve counts of indecent assault, attracting a sentence of five years and nine months.
Rolf was initially sent to Bullingdon prison before prison authorities transferred him to Stafford prison. He spent nearly three years in the institution before his release in 2017.
Rolf lives a secluded life with his wife Alwen Hughes in Berkshire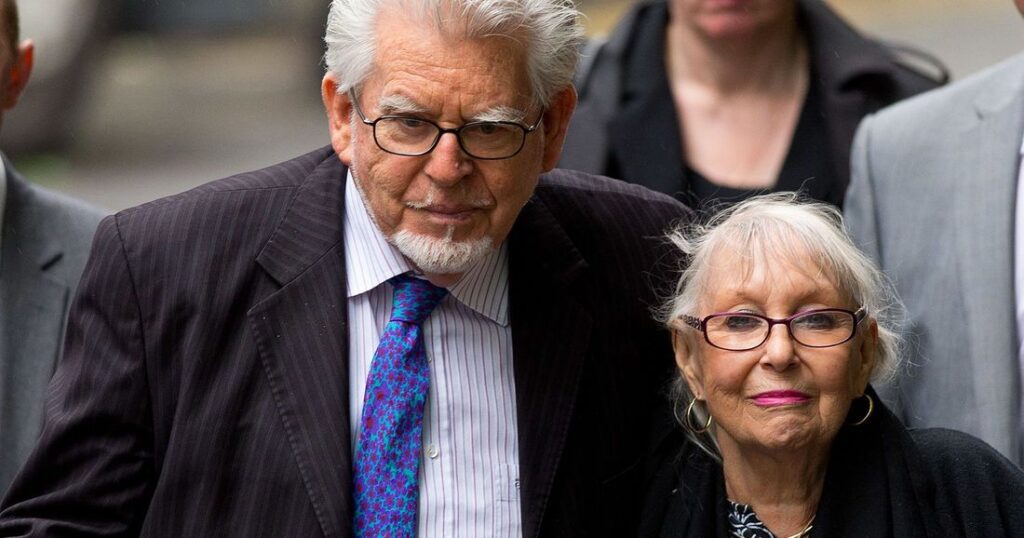 Since his release from prison, Rolf has rarely been spotted in public. He lives in Berkshire with his wife, Alwen Hughes, and according to neighbors, he rarely steps out.
Harris looked frail as he walked his dog near his home in September 2020. He used a wooden walking stick to aid his movement around Berkshire.
In 2019, reports emerged claiming Harris was spotted in a primary school. A passer-by said Harris talked to a sculptor at Oldfield Primary School and waved at children through the window. "I couldn't believe what I was seeing," a witness told The Mirror.
The school's head spotted him and asked him to leave. Police later confirmed that they'd spoken to Harris and the MoJ said they had taken 'appropriate action' over the incident.
A neighbor speaking to The Daily Mail said the incident had affected Rolf's health. "It's badly affected him; he's in poor health and has declined rapidly," the neighbor said. "He doesn't come out any more and when he does it's only ever with his carer."
Another neighbor stated that they have no qualms with Rolf living in the community. "He's an asset to the area," the neighbor said. "He's been a tremendous supporter of any charity we've been part of."
Though his career ended in disgrace, Rolf's finances have remained steady. In late 2020, RHE Investments Ltd., a firm set up by Rolf in 2012, reported a bottom line of 2.6 million pounds.
In July 2021, The Sun reported that Ralf Harris' merchandise is still available on Amazon and eBay. An apologist customer on Amazon wrote: "He may be disgraced now but he was an icon of that certain era of my life. He was best known for his art, but had got some quirky songs to his name. He was an Australian icon during my youth."
Amazon and eBay declined to comment on the report.
Rolf abandoned plans to overturn his convictions
During Rolf's time in prison, it was alleged that he'd hired a private investigator to gather information that would discredit his accusers during his appeal.
His attorney said that the prosecution brought weak and false charges against Rolf. "The problem comes when there is a drop of poison on the charge and the jury did not know that to be the case," Stephen Vullo QC said.
The appellants relied on the conflicting testimony of the father of a young autograph hunter whom Harris was convicted of groping. Two ex-cops claimed they weren't sure whether Harris was at the community center.
In his final submission, Stephen opined that he didn't have to disprove all charges for the judges to overturn the convictions.
However, prosecutor Jonathan Rees QC claimed that the evidence proving the other counts was safe and in no way related to the conviction linked to the Portsmouth girl.
The court overturned one conviction but prevented Rolf from appealing the other three convictions. Following the decision, Rolf opted not to pursue further legal action.
In May 2017, a jury failed to reach verdicts on claims that Rolf molested three young female fans. The charges had no connections to the original convictions.
Harris wrote a letter from prison suggesting his victims were after his money
As he was sentenced to jail, the judge pointed out that Rolf had shown no remorse for his crimes. Jail time did little to fill Harris with guilt or shame. After spending several months in prison, Harris wrote a distasteful letter to a friend accusing his victims of chasing after his money.
Harris said it had been challenging to write from prison, but he wasn't having a hard time at Stafford. Rolf wrote:
"Prison is no hardship really. I'm in the art room as an assistant to the tutor and basically I'm doing what I like. I'm very well accepted in here and there are a load of people, many of whom are friends."
The most bizarre part of the letter was a song accusing his victims of chasing after his money. A verse from the song reads:
"That old bandwagon you crawled out of/ Conceals a host of accusers / Twenty maybe more/ My guess is they'll slide after you/ All following your stench/ Perhaps you believe you're pretty still/ Some perfumed sultry wench."
It continued: "'Make him squirm'/ I can hear you singing/ Just imagine all of the money waiting there."
Rolf claimed that the song came from inner rage fueled by the perceived injustice of his incarceration. He planned to sing it following his parole release, prompting the victims' attorney, Liz Dux, to petition for denial of parole.
"I strongly urge that this man is denied the right to apply for parole," Dux told The Daily Mail. "He put these women through hell during the trial. He has shown them nothing but contempt and arrogance, even in the way he assaulted them."
Read Next: Did Jimmy Savile go to jail? He nearly faced prosecution in 2009
---