Statistics
Age:

54 years old

Date of Birth:

April 6, 1969

Birth Place:

Georgia, United States

Horoscope:

Aries

Full Name:

Todd Chrisley

Occupation:

Reality TV Star, Businessman

Height:

6 feet 1 inches

Nationality:

American

Ethnicity:

White

Marital Status:

Married (Julie Chrisley)

Children:

5 (Savannah Chrisley, Kyle Chrisley, Lindsie Chrisley, Chase Chrisley, Grayson Chrisley)
About Todd Chrisley
What comes into your mind when you hear of a bankrupt millionaire? Well, that is quite confusing, but it seems to be the perfect definition of the American TV star, Todd Chrisley.
Todd Chrisley is a popular face in the USA network reality series, Chrisley knows better.
The self-made billionaire nets an exclusive salary from his career but has reportedly acquired a debt of $49 million. Well, that just doesn't make sense, right?
That is not the end of his story, Todd still manages to live a lucrative life residing in a $2M worth mansion. He is also claimed to be spending at least $300,000 on family clothing annually.
Todd Chrisley life has been surrounded by a nasty divorce, financial troubles and lots of controversies.
Here is everything you need to know about him.
Early life
He was born as Michael Todd Chrisley on 6th April 1969 in Georgia and spent most of his childhood in Westminster, South Carolina. His father, Gene Raymond Chrisley, and mother, Faye Chrisley have been a big inspiration in his life.
His father passed away on 11th July 2012.
Todd grew alongside his two brothers, Randy and Derrick Chrisley. They lived a simple, small-town life and were fascinated by riding bicycles when they were kids.
Not much is known about his education. Todd claims to have built his successful life from scratch and that it was through hard work that he achieved what he has.
Todd invested in Real estate before his influential Media Career. He signed a contract with the 'Fannie Mae' that enabled him to flip distressed houses and resell them at a profit.
                                                       
He also ran his own business, Chrisley & Company that invested in retail, asset management, media, and entertainment. He was making a fortune from his businesses from an early age.
In 2008, Chrisley Asset management (CAM) made a big real estate investment which flopped when the housing market collapsed. Todd was left unable to pay the $30 million loan he had guaranteed – forcing him into bankruptcy.
Todd Chrisley: Marriage and children
Todd has 5 children from his two marriages. The first marriage was with his ex-wife Teresa Terry who he married when he was 21 years old. Teresa was only 19 when they had their first child.
In their entire marriage, they had two children, Lindsie Chrisley, and Kyle Chrisley.
The two divorced in 1996. Her ex-wife, Terry explains that Todd had been physically and verbally abusive throughout their marriage – leaving them with no other alternative but to take different paths.
Todd, however, denied all the violence claims in court.
After the separation with his first wife, Todd married his second and current wife, Julie Chrisley on 25th May 1996. They have had an eventful marriage with three kids.
The couple has two daughters, Savannah and Grayson Chrisley, and one son, Chase Chrisley.
Todd has full custody of his granddaughter, Chloe who is aged 5. She is the daughter of his eldest son, Kyle with his girlfriend Angle Johnson. Kyle has struggled with drug addiction which has affected his mental health.
Todd Chrisley told the People that Chloe was their child and family member and that nothing would make her feel less than that.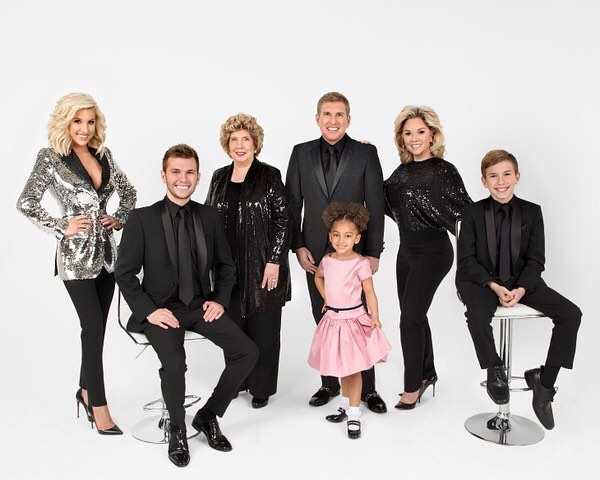 His son Kyle Chrisley didn't take it too well. On October 2014, he gave a scathing interview to the Daily Mail, branding his father as 'a bankrupt, toxic and a snake.' Kyle accused his father of gaining custody of his daughter, Chloe in order to increase ratings of his reality TV show.
In response to the claims, Todd told E! News that Kyle's allegations were false and unfortunate. He explained that Kyle was just seeking a way to self-medicate – something he has done since he was young.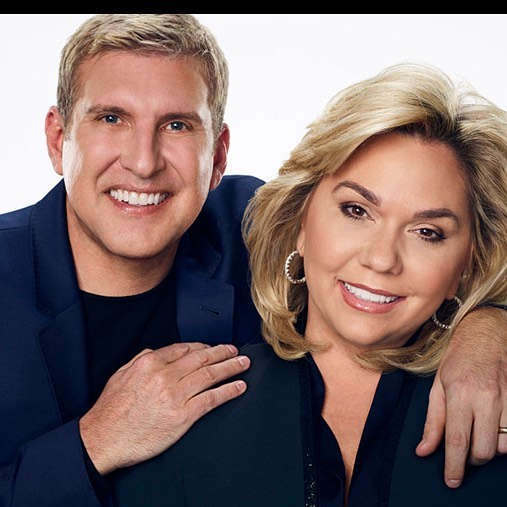 Todd Chrisley sexuality Gay rumors – are they true?
Todd dismissed all the speculations and confirmed he wasn't gay. He has a straight sexual orientation and has a wife who he loves a lot.
Julie Chrisley, Todd's wife says they are flattered that men and women alike find Todd to be attractive. Todd doesn't seem to be bothered by the speculations either. He has, however, made it clear that he is not against anyone gay.
TV Career – Premiere TV series, Chrisley Knows Best
He has appeared in several reality shows but the real source of fame has been from his TV series, Chrisley Knows Best.
The American reality TV shows revolve around his life and that of his wife and 5 children. Todd acts as a tough and strict father – who knows how to keep his family in line.
It was first released on 11th March 2014 and garnered an average of 1.16 million viewers. They have aired a total of 5 seasons, all with an average of more than 1.2 million views per season.
It was later announced in 2017 that Chase and Savannah Chrisley would land their own spinoff show. The show would regularly showcase them live giving their parents frequent headaches and potential heart attacks.
According to reports made by Todd to the US Weekly, Chrisley Knows Best is currently filming its 6th season.
Did Todd Chrisley file for Bankruptcy Protection?
Todd's business investment that went sideways left him on a hook for $30M, $12M mortgages, and $4.4M loan from his wife.
On August 2012, he filed a petition for Chapter 7 Bankruptcy protection. He claimed to have a mere $100 cash, $55 in his bank account, $4.2 million assets and a staggering debt of almost $49 million.
During the bankruptcy proceedings, it was discovered that Julie Chrisley was receiving over $700,000 in transfers from CAM corporate accounts. Julie, who has an estimated net worth of $3M is reportedly funding the family after the bankruptcy.
The case was finally settled in 2015. Todd confirmed to Radar Online that his case had been discharged, and that they were in a good place financially and psychologically.
How much is Todd Chrisley worth?
Todd seems to be having a successful career with an attractive salary. He would have otherwise been in a good financial position if his investment had not flopped.
He currently makes money from his show only and has been estimated to be having a net worth of around $5 Million. His official salary is yet to be disclosed.
Also Read: Is Jordan Schlansky Fictitious Or Real? – Is He Married?, Bio, Net Worth