Statistics
Age:

25 years old

Date of Birth:

July 27, 1998

Birth Place:

United States

Horoscope:

Leo

Full Name:

Sophie Mudd

Occupation:

Internet personality, Model

Height:

5 feet 5 inches

Nationality:

United States

Ethnicity:

White

Marital Status:

Not married
About Sophie Mudd
Social media seems to be the new method of gaining popularity with our new generation. Meet Sophie Mudd, an American model and internet sensation who has managed to scoop her own share of popularity in the social media platform. Sophie Mudd has 1.3 million followers on her Instagram page, making her one of the youngest and most popular internet personalities. All she ever did was post her first picture on Instagram, and just like that, she was a celeb!
Sophie Mudd… Who Is She?
She was born on 27th June 1998 in the United States. From quite a young age, Sophie Mudd had always been described as a very shy girl. She is very keen on keeping her personal and family life private. Apart from her brother Nicolas Mudd, there seems to be no other information concerning her parents, siblings and education.
Not much is known about her brother, Nicolas Mudd. There is nothing about his age, personal life or occupation. However, his love for travelling seems to be very clear.
Sophie seems to be very close to her parents, particularly her mother. She sometimes posts the pictures of her parents on social media expressing her love for them. In one post, she uploaded an early picture of her with her dad. Sophie Budd thanks him for helping her grow to who she is today.
On another post, Sophie uploads her mother holding the little version of her. In the caption, she wishes her mother a happy mother's day and thanks her for putting up with her. She also calls her mother BFF (best friend forever) in the same post, undoubtedly showing her love for her.
The path to her corridor of fame started way back in November 2013 after she posted her first picture online. Her first picture had been taken at the sparkle Factory in Las Vegas. She reportedly stirred the ever-busy Instagram and Snapchat platforms attracting thousands of followers. It, therefore, doesn't come as a surprise that she is a very influential figure on social media.
Sophie's Rise To Fame
After realising her online potential, Sophie decided to take social media seriously. It seems to have paid off because she is now a successful Bikini modeller. She has been working with various famous companies to advertise different slim wears and inner garments through her modelling.
With her flaunting amazing figure and her ever-rising popularity, it is not a surprise that she doesn't go unnoticed. The FHM magazine actually predicted that she might be the next famous American model.
She has sometimes been criticised for posting her close to-nudity pictures. That did not seem to slow her down. Instead, she used her photos to pave her quick path of fame.
With her independence and hard work, I don't see how she won't acquire the 'Boss lady' title in the few upcoming years.
Dating Life And Boyfriends
With her pretty face and her great body, Sophie Mudd is a typical daily crush for many people. Many men would give anything to date her. However, as you can guess, there are very few men who have managed to win her.
She is said to have been in a few relationships in the past. Conrad Hilton Jr., son of American hotel tycoon Conrad Hilton who is the founder of Hilton Hotels, was the first guy linked to her. There was no concrete evidence to prove they were dating. The two have, however, been spotted hanging out together a couple of times.
She has been linked to Austin Dash and the two have been dating since 2017. This has been sufficiently supported by Sophie's frequent postings of them together.
The two seem to be enjoying their relationship with each one of them sharing intimate photos and videos on their social media platforms.
Sophie, through social media, wished her boyfriend a happy birthday on 12th July 2017 and thanked him for making her smile and being always there for her in every thick and thin. Earlier this year, her boyfriend did not fail her either. In his video, he remembers all their memories together since they started dating.
Sophie Mudd confessed in a video posted late last year that her boyfriend makes her the happiest girl and that she loves him.
Hobbies And What She Enjoys Doing
Apart from modelling, Sophie Mudd has shown interest in a couple of other things and activities. She enjoys travelling and tourism. She also has an unmistakable love for dogs. She even considers herself capable of loving dogs more than she can love humans.
Judging from her social media profiles, it has been unclear as to whether she owns a pet dog since there have been no related posts.
How Much Is She Worth?
With her young ambitious and successful life, it would be unfair to say she is not hardworking. She has had a breakthrough in the modelling industry and achieved what most of her age mates could just possibly dream of.
Although her official net worth is yet to be released, she has been estimated to be around $250 000 in the present day. We might see an increase in these figures over the coming years due to her growing modelling career.
Sophie Mudd Height And Body Measurements
Sophie has an impressive height of 5 feet 5 inches which might change in the few upcoming years. She has managed to maintain 58 kg (128 pounds). She also has an unmistakable hour-glass shaped body measuring 38-25-36 inches and natural breasts of bra size 32DDD, 32F.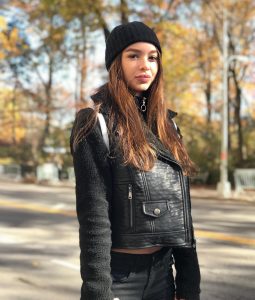 Also Read: Danielle Cohn – Bio, Family, Height, Net Worth, Facts