Statistics
Age:

24 years old

Date of Birth:

March 6, 1995

Birth Place:

Missouri

Horoscope:

Pisces

Full Name:

Tyler Steinkamp

Occupation:

Twitch streamer

Height:

5 ft 1 in (Real Height)

Nationality:

United States

Ethnicity:

White

Marital Status:

In a relationship (Macaoyla)

Education:

Central Methodist University
About Loltyler1
Online gaming is often not a common spotlight, but that is bound to change when they have a player like Tyler1. Imagine being famous for being a 'notorious' in a popular online game. Sounds hard to believe, right?
Tyler1 is a popular Twitch streamer whose notoriety grew through engaging in 'toxic behaviour' in League of Legends (LoL). His behaviour led to a two-year ban, after which he was reinstated by RIOT Games. He has been branded as 'The most Toxic Player in North America.'
He is popular for streaming his game sessions on his Twitch and YouTube channels where he has amassed himself a big audience. Here's everything you need to know about him.
Tyler1's Early Life And Education
He was born as Tyler Steinkamp on 6th March 1995 in Missouri, United States. He has grown and lived with his Family in Missouri.
Tyler developed a keen interest in playing Video games from quite a young Age. He has a brother named Eric who is also a Video game player and has also played in the League of Legends. Not much is known about his other family members.
Tyler1 attended the Mark Twain Senior School and later the Central Methodist University (CMU) where he majored in Computer Science.
He played football for his Campus team in the 2014 and 2015 seasons. His teammates nicknamed him 'Waterbug' a common name for 'a running back' which he was playing.
In the first year, he delivered 703 yards in rushing and 4 touchdowns. The next year registered a drop with him running 431 yards and giving only 1 touchdown. He withdrew from the campus to focus on his streaming and video gaming career.
Career And Rise To Fame
Tyler1 started playing League of Legends (LoL) from an early age and has since become a pro in the Game. He took seriousness in playing the game later in life and has been playing under the exclusive title 'Draven.'
Tyler is no doubt skilled in the game and at one time even emerged 13th ranked player in League of Legends. He, however, had an outstanding character while playing the game, and not a very pleasant one to be precise.
He would often get mad when he couldn't use his game character Draven in his ranked matches.
It is said a team would ban Draven from being used in a game once they saw him in the other team. This would drive him crazy, and as you can guess, he wouldn't leave things at that point.
Tyler1 built his Rap Sheet in excessive verbal abuse, trolling, player harassment, intentional feeding and account buying and sharing.
He became quite popular for 'inting' which meant that he would betray his team and intentionally allow the opposing team to kill him giving them game money and experience needed until they would finally defeat his team. It is said he would do this to 'revenge' on his teams for not meeting some of his requests.
As a result, Tyler1 was branded 'The Most Toxic Player in North America.'
While some players considered him a nuisance, a large number seemed to be quite amused by his behaviour. As a result, he was able to garner a big number of fans on his 'loltyler1' Twitch account.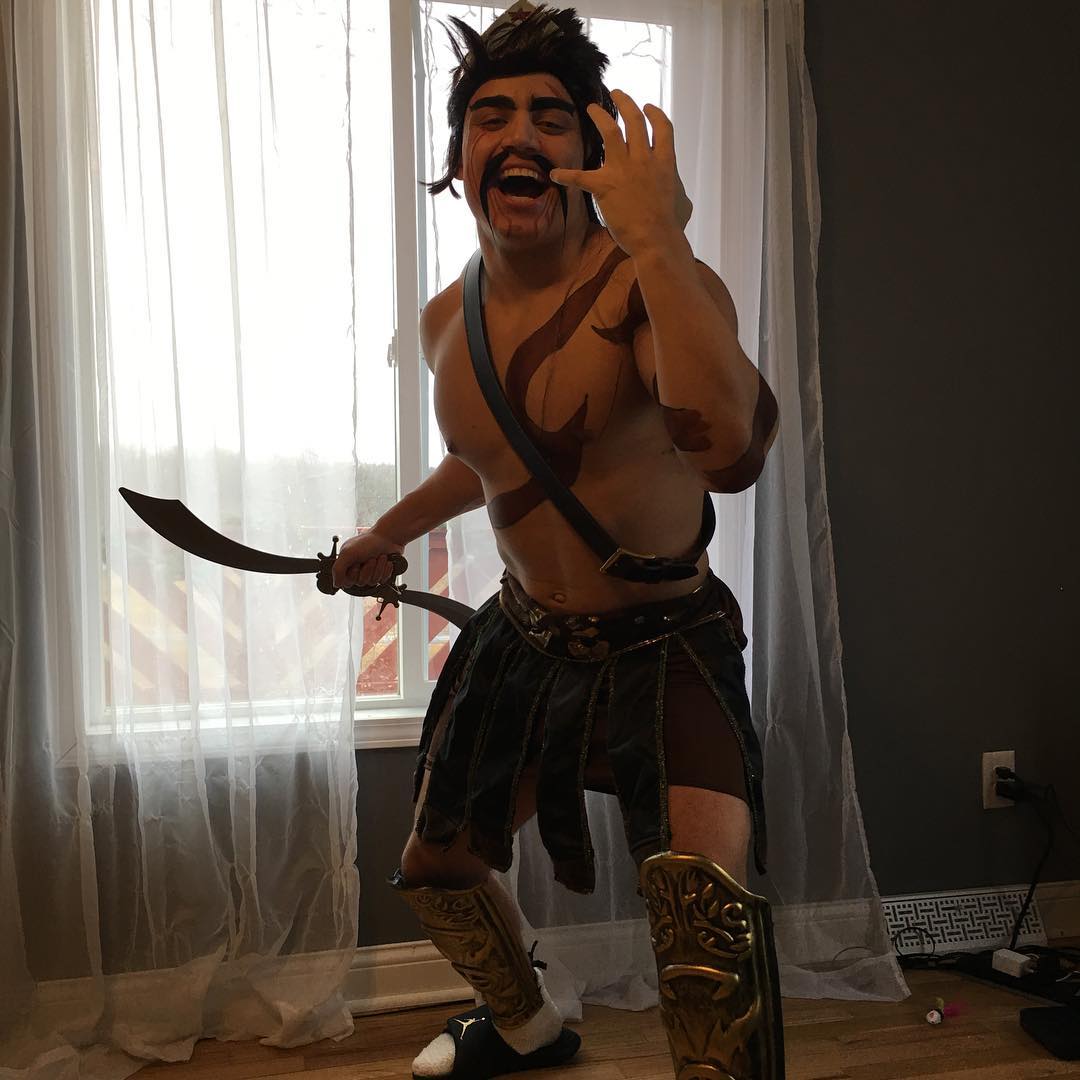 Banned from League of Legends!
Tyler1 gaming skills matched him with various Pros in League of Legends and some staff members of RIOT games. His unpleasant behaviour was hence easily noted and it earned him an indefinite ban.
But he wouldn't stop there; he would open one account after another and they were all continuously banned. Tyler made a record of 22 banned accounts! On 30th April 2016, Tyler was given a permanent ban.
This was a special type of ban and rarely happened in the League of Legends history. This ban meant that RIOT games would ban any account owned by Tyler as soon as they detected it (Ban on Sight). It didn't matter if he had committed any offence in his new account or not.
His ban brought different reactions in the League of Legends community. Whereas his fans protested against his ban, some other players thought that it was a wise move by RIOT games to ban the 'toxic' player and re-instate some order.
Twitch account also banned?
His Twitch account was banned few weeks after his League of Legends account ban. It was never quite clear why it was banned. However, there were some speculations that he violated some Twitch terms and conditions.
During the period of his ban, Tyler1 remained on League of Legends community where he said that he was working towards improvement of his toxic behaviours.
The Grand Return
Tyler's ban by RIOT games lasted for more than 600 days. On October 2017, he received an email from RIOT games saying that his account would be reinstated. But on one condition; that he be able to play 'clean' for one month. That simply meant that his account would be on some sort of probation.
On 4th January 2018, Tyler tweeted about the reinstatement of his account by RIOT games. His fans were no doubt happy for him, the tweet received over 25,000 retweets and 82,000 likes.
This was officially confirmed on 8th January by Tyler1 and RIOT games when he resumed streaming games on his Twitch account. He reportedly broke the Twitch individual streaming record during the first stream after his reinstatement.
He garnered around 300,000 views before the first twenty minutes were even over!
It is said that the website even developed some technical difficulties during this stream.
Personal and Love Life
Tyler1 is 5ft 1 inches tall and currently resides in New London, Missouri.
He has shown equal interest playing other online games such as Overwatch, Warcraft, Call of Duty and Counter-strike among others. He also owns a website where he sells his own merchandise.
Apart from his Twitch account, Tyler also runs a YouTube channel 'loltyler1' which has over 1.7 million subscribers.
Tyler is currently in a relationship with Macaiyla, a 20-year-old social media star and Instagram Idol. The two met a few years ago on the internet and seem to be enjoying their blissful relationship. The two moved together and apparently have 3 cats named Theo, Emmitt and Nelson.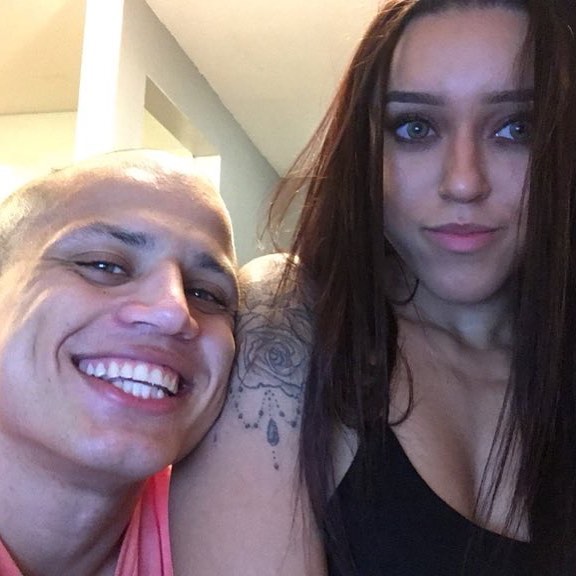 Interesting facts you didn't know about Tyler1
1: He is considered one of the highest earning streamers on Twitch. A Subscription on Twitch TV goes for $5 per month and Tyler has over 30,000 subscribers. He is still left with a considerable share after Twitch takes its 50% share.
2: His online gaming account for the Overwatch game has apparently been muted for 10 years. He, therefore, can't interact via voice while playing. Sounds quite harsh, right?
3: His girlfriend also has a record of banned accounts. Macaiyla has recorded two banned Twitter accounts after 'scrumming' users on the platform. Her second account was suspended after she jokingly tweeted a bomb threat to a New York City school. What an ideal couple they make.
Tyler1's Net Worth
Not many people get paid for something they enjoy doing. Tyler is very good at what he does and has no doubt been making a fortune. He is currently worth about $750,000 and still growing with his increasing fan base.
Also Read: Pokimane – Bio, Dating, Facts, Net Worth, Early Life