Statistics
Age:

41 years old

Date of Birth:

April 19, 1978

Birth Place:

Kansas, United States

Horoscope:

Aries

Full Name:

Joanna Stevens Gaines

Occupation:

Author, Television presenter

Height:

5 ft 7in

Nationality:

American

Ethnicity:

half-Lebanese, half-German & Korean

Marital Status:

Married (Chip Gaines)

Children:

5 ( Ella (Daughter), Emmie (Daughter), Drake (Son), Duke (Son), Crew (Son).)
About Joanna Gaines
Joanna Gaines is a co-founder, co-owner, and lead designer of Magnolia Homes. She is, however, best known for the HGTV's Fixer Upper TV program in which she co-starred with her husband, Chip Gaines.
In the reality TV series about home design and renovation, the duo would start by showing a respective couple a set of three potential homes out for purchase in central Texas, requiring a varying degree of repair and renovation.
Once the couple settles on their 'dream' home, Joanna Gaines alongside her husband would go ahead refurnishing it –Chip acting as the lead contractor and Joanna as the designer.
Based in Waco, Texas, US, the Fixer Upper became such a sensation drawing recognition to the two.
Although she would in late 2017 reveal that they were airing their last season of the reality TV series, Joanna did admit that they were in-line for even bigger projects. This time their reality TV show!
Interestingly, it is not only about being a media sensation that has made Joanna a household name. Most of her fans draw a great deal of inspiration from her rather die-hard nature. It is a surprise how a mother of five is able to balance between motherhood and such a demanding professional life.
Read on to uncover more about the mystery of Joanna Gaines life –including her family, early life, rise to stardom, net worth, and much more!
Bio; Early Life, Family, Ethnicity, & Education
Joanna Gaines was born on 19th April 1978 in Kansas, Texas, US. She harbors a mixed ethnicity, which can be explained by her parents, who hail from different ethnical backgrounds. Reportedly, her father is half Japanese and half German, whereas her mom is Korean.
It is no secret that she is a beauty and is sometimes mistaken to hail from Native American roots –but it is clearly not the case.
Although not much information is available about her siblings, she does have two known ones –all sisters. One is identified as Mary Kay McCall and the other one, Teresa Criswell. The bond that the three shares is, undoubtedly a close one as she is seen working on a home for her sister in season five of the Fixed Upper show.
To overview her education, Joanna got through her high school in Texas, where she primarily grew up. Upon her successful completion, she enrolled at Baylor University situated in Waco, also in Texas where she pursued a degree in communication.
Rise to Stardom and Professional Life
Incidentally, Joanna Gaines had not always grown up expecting to be a designer. As she explains, it was during her New York internship program that she got inspired and decided to venture in the field. After all, her university degree in communication would have led to her to the path of a broadcast journalist.
Her father ran a Firestone Tire store where she would go and help her when at home. As fate would have it, Joanna met with her husband to be, Chip after his car had a brake failure. After the meetup, the two would start dating and later fall in love.
However, one thing was quite distinctive between the two. Whereas Joanna was quite a hard worker, Chip had an entrepreneurial mind –a combination that would eventually lead to their professional flourish.
Joanna's burning desire to own a boutique soon came true during her first year into marriage -2003. This was followed by multiple other business ventures, product to her collaboration with Chip. Their most notable one, however, was remodeling and flipping homes –which would put them into the limelight, drawing recognition from Fixer Upper TV show produced by Scott Feeley and Jim Berger.
Their flipping and redesign passion also led to the rise of Magnolia Market, a shopping complex situated in downtown Waco, Texas.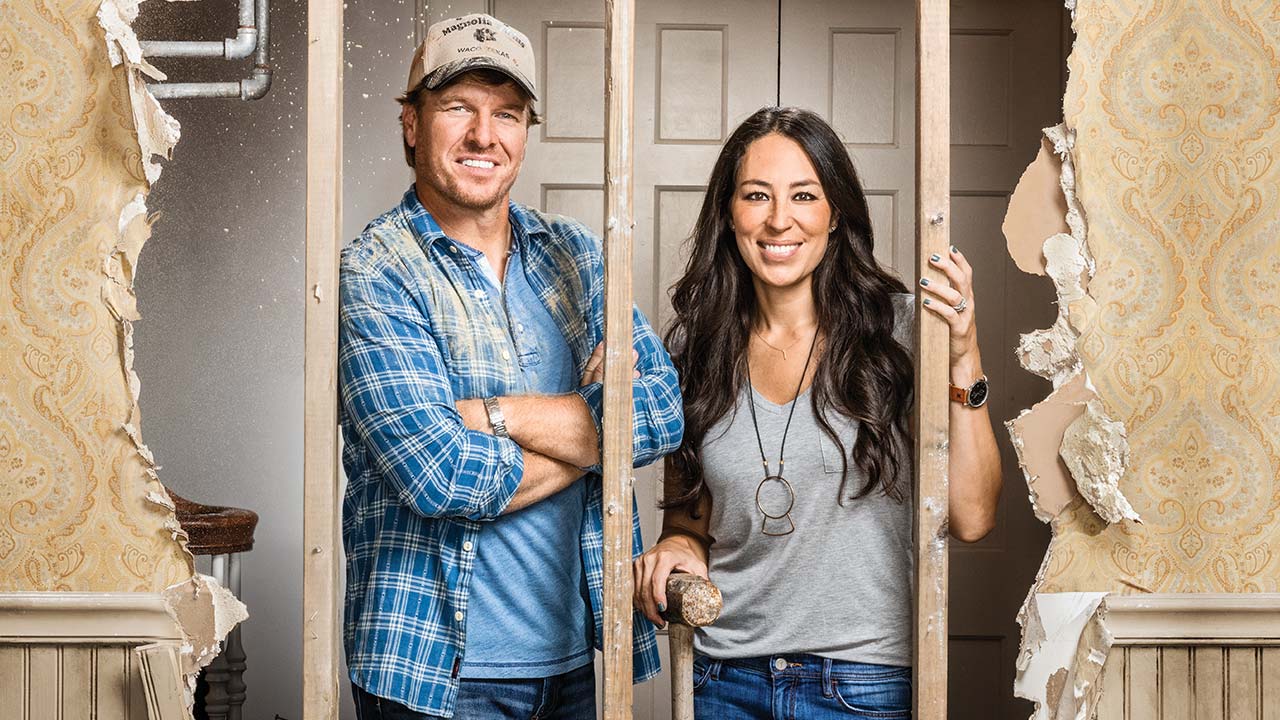 Upper Fixed Reality Television Program
Prior to her absorption into this HGTV network program, it was revealed that Joanna Gaines, alongside her husband, had worked and redesigned a total of 100 homes.
Starring as a co-host alongside her husband Chip, the first season of the Waco, Texas-based show premiered its first season on May 23rd, 2013, spreading to July 2014.
The second, third, fourth, and fifth seasons aired on January 2015, December 2015, November 2016, and November 2017, respectively.
In the show, Joanna and Chip would show their buyers, who typically had an overall budget of less than $200,000 (with roughly $30k for renovations), three potential houses for purchase in central Texas.
The houses had varying degrees of repair and renovation, and once the buyers made their choice, the couple would embark working on the project –Joanna as the designer, and Chip as the lead contractor.
The show was an instant hit with its popularity rocketing each consecutive year. By 2018, Zillow made a report that homes specifically with architectural designs featured on the show sold at a 30% average above the expected value.
Moreover, the show was reported to lead to increased tourism and economic development in Waco, Texas –from where it was filmed and based. As far as the show success goes, the influence Joanna Gaines and her husband had while the hosts is quite unmistakable.
She, however, announced in late 2017 that season 5 would showcase their last appearance in the show.
Magnolia Market
Located in Waco, Texas, Magnolia Market is a shopping complex encompassing two city blocks situated downtown and is marked by two 120′ high silos. Initially built in 1950, Joanna Gaines and her husband currently own the property.
Applying their magical touch to the redesign of the property, they eventually opened the grounds to the public on October 2015.
Among its features include a 12,000 sq. Ft. retail store, a food truck park with picnic areas, a lawn area, a garden store, and a bakery. Reportedly, it is free entry to the ground –except when there are special events.
A product of Joanna Gaines and her husband's work, the project has been a significant success and was reported to have attracted an estimate of 1.9 million visitors during 2016, the first year of its operation.
Other Projects
Recently in April 2019, Joanna Gaines and her husband announced the launch of a new media company. Serving alongside her husband as the chief creative officers, the new joint venture (which will have Allison Page, current HGTV president also acting as the joint's president), will include a TV network and a streaming app.
It was also in the same year announced that the Magnolia Market would be undergoing a $10.4 million expansion.
Last but not least, Joanna is also a published author and has a couple of books under her name. Among her publications is The Magnolia Story published in 2016, in which she co-authors with her husband and Mark Dagostino.
Well, it is no secret that when it comes to entrepreneurial ventures, we will surely be seeing more of Joanna Gaines!
Personal Life –Joanna Gaines' Marriage, & Kids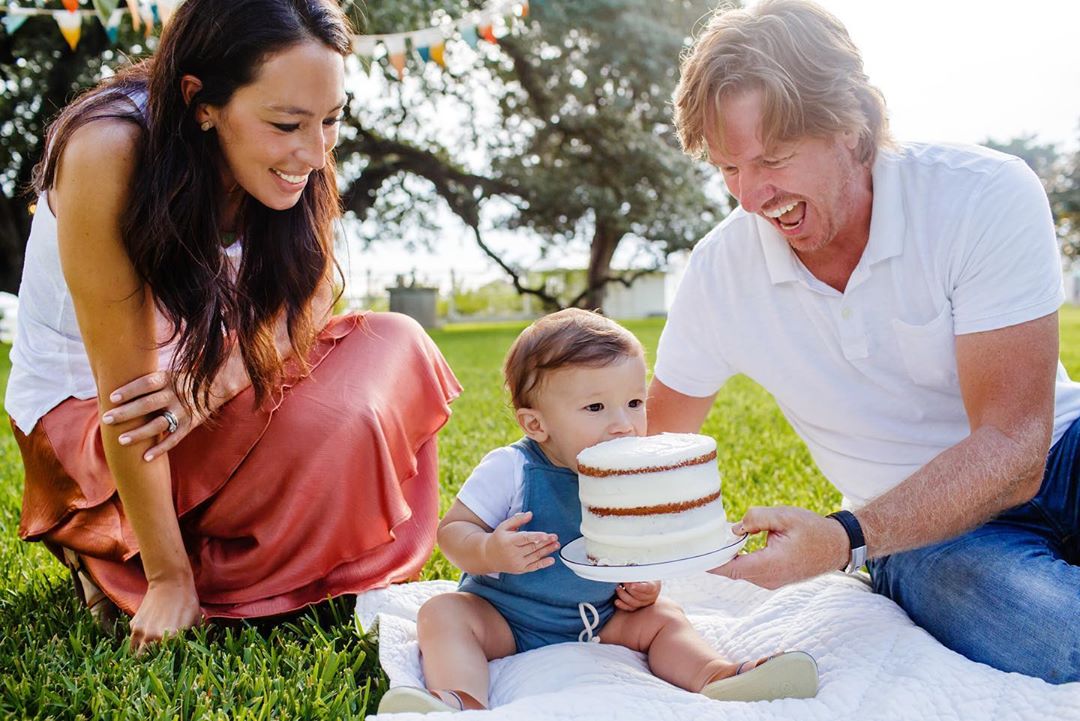 As aforementioned, Joanna met her husband, Chip, while helping her dad in his Firestone Tire Store. That was way back in 2001, and the two started dating almost immediately. In 2003, they tied the knot, and the rest, as we know, is history.
In the course of their marriage, the couple has been blessed with a total of five kids –which is quite a shocker to many considering how much of a professional life the duo leads. That alone is one of the reasons why the couple, most specifically Joanna Gaines, is much adored by her fans.
The family of seven encompasses of 3 sons; Drake Gaines, Duke Gaines, and Crew Gaines –born in the years 2005, 2008, and 2018, respectively, and two daughters namely Ella Rose Gaines and Emmie Kay Gaines born 2006 and 2012, respectively.
Ironically, the kids are entirely grounded –something you wouldn't expect with kids of celebrities.
Speaking to PEOPLE, Joanna explained that they weren't aware that their parents were famous, and adds stating: "They just don't get it."
The family lives in a real definition of a country home which includes a 40-acre farm with over 60 animals. But that's not all… the kids are being brought up old school –which means that they have been cut off almost entirely all technology.
Joanna went ahead to confess that when it came to video games and TV, they were kind of strict. She also adds that until college, none of her kids would be getting any cell-phone.
Well, it is no shocker why her parenting challenges other parents, thus her idolization.
Joanna Gaines' Net Worth
Although she does confess that it was not a straight shot success (which we can almost all agree), Joanna has no doubt amassed herself a great deal of wealth.
Over the past few years, their Magnolia brand has expanded and grown from being just a little storefront to an entire business empire.
In addition to that, the couple raked in a reported $30,000 per episode when they were faces of HGTV's Fixer Upper — not forgetting that they have a new media company in line!
As of 2019, Joanna Gaines has an estimated net worth of $9 million.