Patricia Roosa is trending on the internet following her plea for clemency via Change.org. "Hello, my name is Patricia Roosa and I'm currently serving life in prison for a murder I didn't commit," the petition posted by Yuri Antoine reads. "I am in prison in Florida due to the 'Felony Murder rule.'"
Roosa's case might not seem familiar because a Florida court sentenced her over a decade ago. Her co-defendant, Cornelius Baker, is more famous due to his publicized battle against the death penalty.
This piece details Patricia's story – her relationship with Baker, her crimes, her conviction, and her plea for justice.
Patricia met her ex-boyfriend Cornelius Baker after her family moved from New York to Florida
Patricia met Cornelius Baker after her family moved from New York to Florida. The impressionable 14-year-old fell for Baker due to her desire for validation. Her petition reads:
"I met a boy at that time and fell in love. I thought it was love but it became an unhealthy type of love that some young girls experience, the type that seeks approval, the kind that leads to poor choices and in my case the type that [leads] to a tragedy."
Baker was a criminal, Patricia says, who manipulated her. "He was a criminal and I was a young girl that had never experienced this type of 'love' before but he knew that and used that to his advantage," Roosa adds. "It wasn't until many years later that I could identify this."
Patricia regrets that she participated in the crime that led to her incarceration and wishes she had been assertive when rejecting Baker's ideas. "I tried to be strong before and walk away but it always ended up with me getting black eyes from him," Roosa said. She added:
"I regret ever going along with my then boyfriend. I never thought that one wrong choice would ever lead to me spending the rest of my life in prison."
Roosa begged Cornelius not to kill Elizabeth Uptagrafft before he fatally shot her
In January 2007, Baker and Roosa planned to move to New York. To get extra cash for their move, they patrolled Daytona beach looking for a house to rob. Baker told police that they chose the Uptagrafft residence due to the 2004 Ford Crown Victoria parked outside the home.
Three generations of the family were in the house that morning: Charlene Burns, her daughter Elizabeth, and Elizabeth's adult son Joel Uptagrafft. The lovebirds barged into the house after Elizabeth responded to the doorbell.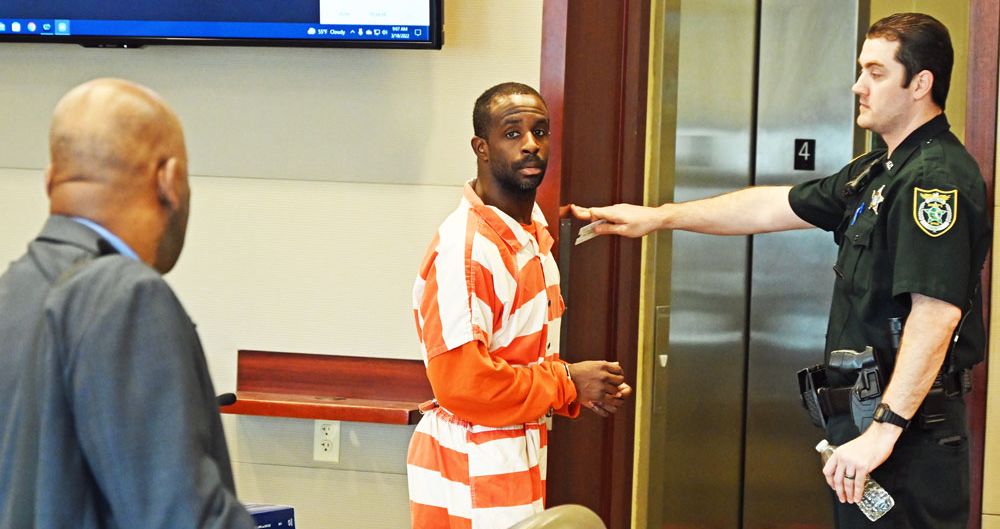 Cornelius hit Elizabeth with his pistol, discharging the firearm. The bullet grazed Elizabeth's head, causing a nasty but non-fatal wound. Baker held the family at gunpoint in the living room as Roosa searched the house for valuables. The pair found jewelry but no money.
Elizabeth offered them her Bank of America ATM card and the pin so they could leave and withdraw the money. Worried that Uptagrafft had given them the wrong pin, Baker kidnapped her so she could withdraw the money.
The pair tried two ATMs before Baker drove to Mondex, a rural part of Flagler County. Baker said he intended to drop Uptagrafft off in an area where she would experience difficulty getting a phone.
Cornelius dropped Elizabeth off and drove a few feet before stopping the car and alighting. Baker said that Patricia told him: "Don't do it. Don't do it." Baker then pursued Elizabeth, and after she tripped into some bushes, he fired two fatal shots at her.
The couple was apprehended shortly afterward, and Baker agreed to show them where to find Elizabeth.
Dr. Terrance Steiner, a forensic pathology expert, testified that the first bullet penetrated her neck and fractured three ribs before exiting her lower back. The fatal shot struck the left side of Elizabeth's forehead, killing her instantly.
The unburned gunpowder near the wound suggested that the weapon was within eighteen inches of her head when Baker shot her.
Roosa was sentenced to life without parole under the felony murder rule
Baker told police that Patrica Roosa had nothing to do with the murder. He then told the police:
"Only thing I care about in life, I care about my daughter, and I really care about my – my girlfriend. If I can just get to kiss my girlfriend, and I swear to God, I tell you [sic] anything you want to know."
Despite Cornelius' assertions, the law held Roosa accountable for Elizabeth's murder under the Felony Murder law. The legal rule applies when someone commits a felony and someone dies during the crime.
Intent doesn't matter – the accused is guilty even if the death happens accidentally. The doctrine is applied chiefly to crimes that are foreseeably dangerous to human life, including burglary, robbery, rape, and arson.
Every participant in the felony is equally responsible if someone dies, including those who didn't cause the death. The Felony Murder law has imprisoned people who weren't present when the death occurred.
For instance, in 2004, Ryan Holle, a Pensacola, Florida resident, lent his car to a friend. The friend and others had discussed raiding the house of Christine Snyder to steal money and beat up Christine's daughter.
Holle handed the car to his housemate, William Allen Jr., who drove three men to Christine's residence. They stole a safe, and one of the men, Charles Miller Jr., uses a shotgun to bludgeon Jessica Snyder to death.
Charles Miller Jr. confessed to the killing and was sentenced to life without parole. The two men who entered Christine's home and William Allen Jr. received similar sentences.
Holle told The New York Times that he thought William and his friends were going to get food – he thought the burglary was a joke. Nevertheless, the prosecutors convinced the jury: 'No car, no murder.' Holle was sentenced to life without parole but had his sentence reduced by Governor Rick Scott to 25 years.
Patricia Rossa actively participated in the kidnapping, robbery, and burglary, so she couldn't escape the felony murder charge. Per The Daytona Beach News-Journal, the judge sentenced Roosa to three concurrent life terms following a non-jury trial.
Patricia says she has reformed in prison and is seeking a change to the law that will earn her freedom
Patricia Russo said she has reformed in prison: she's obtained her GED and is the only lifer in Cosmetology striving to become a licensed cosmetologist. Roosa noted that she struggled to earn enrolment in the class:
"Getting into this class was not an easy task I had to fight very hard to be considered for this class because as a Lifer the chances to higher education are very slim. We are always the last option to be ever be considered for a class."
Under the current system, Patricia will never leave prison. However, she hopes that changing the felony murder rule would offer her a chance at freedom. She wrote:
"There are so many young adults who committed the same mistake as I did and are in prison for the same crime as myself. We should not be held responsible for the actions of another person."
Minor participants in a crime shouldn't get the same life-in-prison sentence that the perpetrators of the crime receive. When Governor Rick Scott reduced Ryan Holle's sentence, he told The Tampa Bay Times:
"I believe that the purpose of commutations is to undo such obviously inequitable results. Because Ryan Holle's responsibility for [the victim's] death is clearly less than [his co-defendant's], I believe his sentence should likewise be less."
Most developed nations have ditched the felony murder rule, including Ireland, Canada, and England. Some states have amended their felony murder laws: In California, a felony murder charge can't stand unless the defendant is the killer or acted with the intent to kill.
For Patricia to have a chance at freedom, any changes to the current Florida law would have to be retroactive. That way, Roosa can apply for resentencing. Roosa can also gain pardon from the governor if her Change.org petition gains enough traction. 
"If this rule shall change there are so many lives that can be changed by this," Patricia wrote.
---