Renée Zellweger looks unrecognizable playing Pamela Hupp in the limited series The Thing About Pam. Hupp's diabolical plan to earn insurance money after allegedly murdering her friend Elizabeth 'Betsy' Faria worked for nearly a decade. However, the pressure got to her, prompting her to commit another murder; however, despite her best efforts, she failed to avoid conviction.
Pam's greed also claimed another victim: Betsy's husband, Russ Faria. Pam framed the murder scene to make it look like a domestic dispute caused Russ to stab his wife to death. Despite Russ having multiple alibis and hardly any physical evidence linking him to the crime, Russ was convicted of killing Betsy. 
Pam Hupp's husband, Mark Hupp, filed for divorce after years of standing by Pam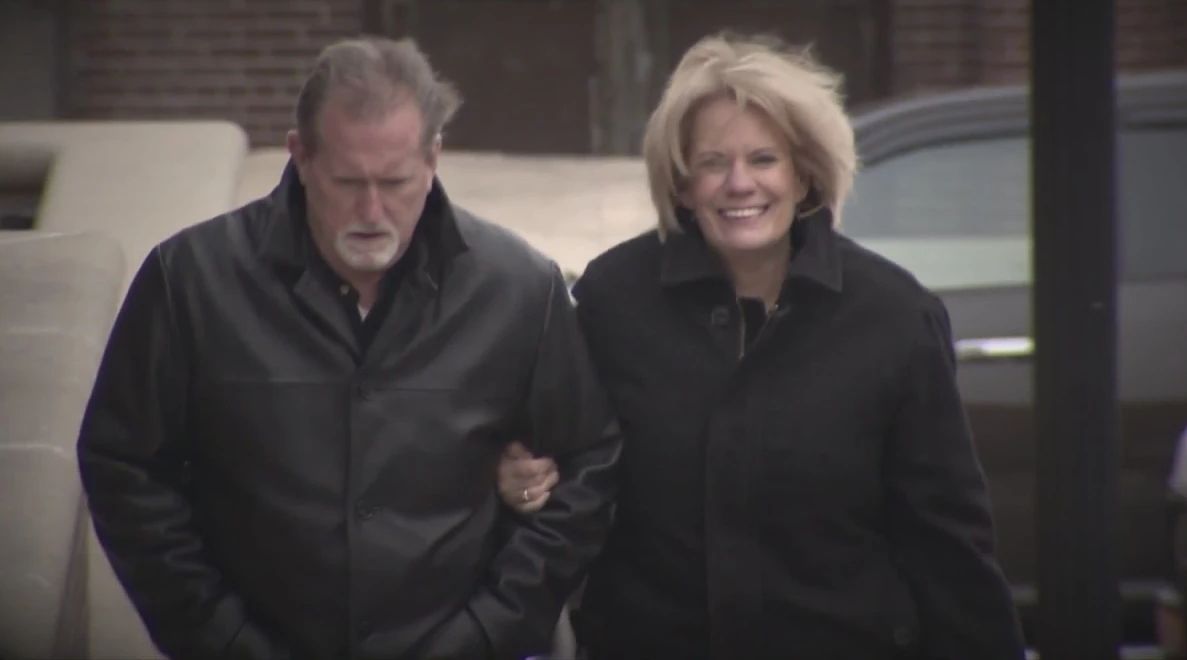 Mark Hupp believed in his wife's innocence. During court proceedings, he testified in Pam's favor to determine her right to Betsy's life insurance policy. Mark seemed to believe that Pam was innocent.
Hupp and Pam married following the end of her first marriage. Pam married her high school sweetheart following an unplanned pregnancy after senior prom.
In 1989, the couple moved to Naples, Florida, for 12 years. Alongside Pam's daughter from her previous marriage and their son, the couple settled in O'Fallon, Missouri, in 2001.
Mark was an athlete in the 1980s, playing minor league baseball for the Texas Rangers. He became a carpenter after falling short of major league draft selection. Mark and Pam supplemented their income by flipping houses.
Hupp testified that Pam didn't divulge why Betsy named her as her life insurance policy beneficiary. Mark added that he didn't recall Pam saying that she intended to use the money to pay her mom's and friend's medical bills.
He said that though Pam had back problems, he wasn't aware she was diagnosed with memory issues. Mark also expounded on the logistics of the couple's house flipping business.
The court found that Pam had liberty to use the proceeds from Betsy's life insurance policy as she wished. Pam had no obligation to share the money with Betsy's daughters. This ruling must have reinforced the notion in Mark's mind that Pam was innocent.
Facing mounting evidence pointing to her as Betsy's murderer, Pam resolved to shift the attention back to Russ. She lured and killed Louis Gumpenberger, a man suffering from mental and physical ailments, and pleaded self-defense.
Pam planted a note alleging that Russ sent Louis to collect his money from Pam. Eventually, Pam gave in and entered an Alford plea, allowing her to evade the death penalty and sentencing her to life in prison.
Mark believed that the plea was the best option for Pam and often communicated with her via phone calls. However, he later filed for divorce, claiming the marriage was 'irretrievably broken.'
Pam faces trial for Betsy's murder nearly a decade after it happened. Mark can testify against Pam, but the prosecution can't compel him to do it: spousal immunity applies even after divorce.
---