The trial for the alleged murder of Natasha Ryan took a bizarre turn when the supposedly dead victim testified in court. During the trial of serial killer Leonard Fraser, prosecutor Paul Ruttledge announced that Fraser no longer stood accused of murdering Natasha Ryan.
"I am pleased to inform the court that Leonard John Fraser is not guilty of the murder of Natasha Anne Ryan," Ruttledge told the court. "Natasha Ryan is still alive."
For four years and eight months, nobody other than Natasha's boyfriend, Scott Black, had seen or heard from Natasha. Her family and the Rockhampton community believed she was dead and even held a memorial service for Natasha on her 17th birthday. 
Authorities initially assumed Natasha Ryan had run away and would return
Natasha Ryan was a troubled teen who experimented with drugs, attempted suicide, and faked being pregnant. Her parents, Jennifer and Robert, had divorced; Robert remarried, with Natasha serving as a bridesmaid for her stepmom, Debbie.
On 12th July 1998, Natasha vanished when taking the family dog for a walk. Authorities found her days later at the Rockhampton Music Bowl and charged Scott Black with abduction. Scott paid a $1,000 fine for obstructing the investigation into Natasha's disappearance. 
When Natasha disappeared again on 31st August 1998, authorities assumed she would return after several days or weeks. The data backed up their assumption: statistics from the Australian Bureau of Criminal Intelligence showed that 95% of the 30,000 people reported missing were found within a month, with half of them making contact or returning home themselves. 
Witnesses reported seeing Natasha smoking a cigarette and talking to an older man outside a cinema. The sighting supported the assumption that Natasha had indeed run away. Police waited for nearly a month before publicizing the news of Natasha's disappearance. 
Without an indication that Natasha was alive, the authorities, aided by more than 100 local State Emergency Service volunteers, undertook an extensive search for the missing teen. 
"I don't believe Natasha would have let me go through all the pain if she was out there," Jenny Ryan, Natasha's mum, said. The possibility of finding Natasha diminished by the day as the murders of local Rockhampton women piled up.
Beverly Leggo, Sylvia Benedetti, and Julie Turning were killed after Ryan's disappearance, fueling speculation that Natasha was also a victim of the serial murderer.
"It's unusual for a teenage girl and two women to go missing in such a small city in such a short space of time," Bond University criminologist Professor Paul Wilson noted at the time.
Natasha Ryan lived a recluse life with her boyfriend, hiding in a cupboard when people visited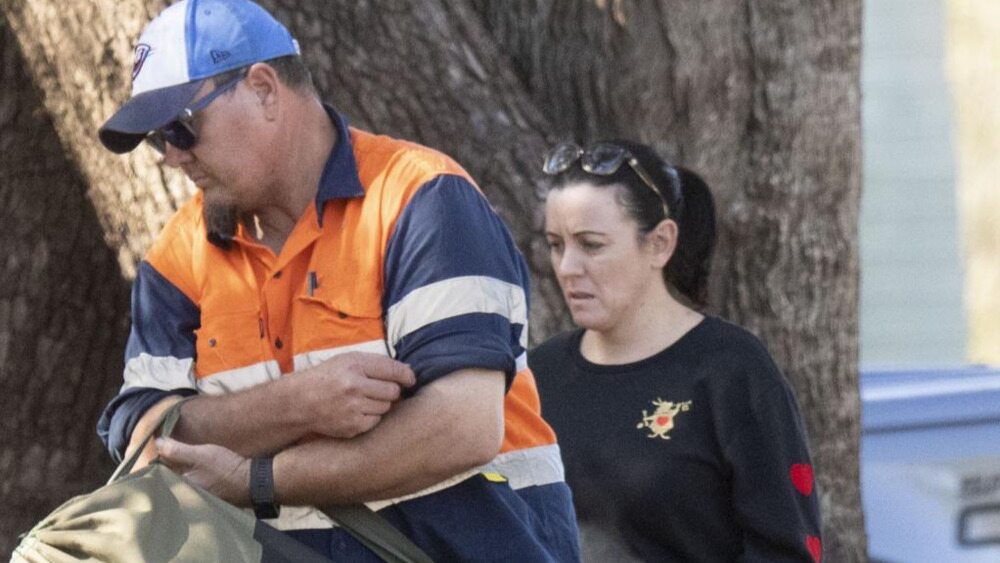 Natasha lived a recluse life with her boyfriend, Scott Black, for five years. The couple stayed in various properties in Rockhampton and the coastal town of Yeppoon. The house Natasha was found in was a short drive from her family's residence. 
Initial reports suggested that Natasha spent most of her time in a cupboard. However, Natasha moved around the house with the blinds firmly shut. The New Zealand Herald reported that she spent her time surfing the internet, reading, cooking, and sewing. 
The outlet reported that for nearly five years, Natasha went outside only six times. Natasha and Scott went to great lengths to hide her whereabouts: her washing never appeared on the line, and she made sanitary towels using bath towels to prevent Scott from buying them for her and raising suspicion. 
Scott's neighbors knew him as a secretive milkman who lived alone. Natasha told the police she contemplated returning home, but 'the lie had become too big'. The authorities raided Scott's home after receiving an unsigned note claiming Natasha was still alive and providing a telephone number for her. 
Several weeks before Fraser's trial started, Natasha had called the Kids Help Line counseling service claiming to be a runaway named Sally living with a boyfriend, but that a man was to be tried for her murder.
Fraser had confessed to Natasha's murder, revealing he'd met Natasha at a cinema and attacked her. He said: "Well, I hit Natasha and she was unconscious. I drove her to the showgrounds and that's where I murdered her. I took her body out to the pink lily pond near the airport."
Though Natasha's body wasn't recovered, the police believed Fraser as he'd led them to the remains of other victims. However, the confession turned out to be a sham. Upon raiding Scott's home, the authorities found Natasha in a cupboard, her favorite hiding spot when people visited Scott's house. 
Natasha reportedly didn't want to leave with authorities. A police spokesman said: "She made it very clear that she did not want to be found and she did not want to come with us when we found her."
Natasha and Scott married after her discovery and live a secretive life
"I know why I left," Natasha said. "I'm not sure my mum and my sister completely know all the reasons. I'm not sure it would make any difference saying why I left – I feel whatever I say wouldn't be good enough for the pain I've caused my family."
Ryan's family was traumatized by Natasha's reemergence. "Mrs. Ryan was in shock," family lawyer Ross Lo Monaco said. Ryan's family had conceded that Natasha was dead, holding a memorial service for her on her 17th birthday. "I could go to the grave never knowing what happened to my beautiful girl," Robert said. 
Natasha told New Idea that she, not Scott, was to blame. "He was protecting me and I caused him to do it – it was my fault he did that," she said. "It was my decision to run away. He was doing something really lovely and protecting me and I felt like I should have been, or deserved to be, punished."
Natasha and Scott profited massively from the media frenzy sparked by her story. Local and international outlets paid hundreds of thousands of dollars for exclusive rights to her story and photos. The authorities recovered only a fraction of the money they spent searching for Natasha and investigating her supposed murder. 
The couple reportedly received $200,000 from Woman's Day for exclusive stories published before and after their wedding.
"We were sitting at home… and suddenly he pulled out the ring," Natasha said. "It caught me off guard and the emotions were overwhelming."
The pair married after Scott spent 12 months in jail for perjury. They married in 2008 in a small ceremony at Byfield, Queensland, attended by close friends and family. Woman's Day reportedly prohibited guests from taking any photos during the event.
News.com.au reports that Natasha Ryan now goes by Tash Black. Per the outlet, Tash works as a nurse after studying nursing at Central Queensland University. Natasha and Scott reportedly have three children and enjoy a secretive life. 
The couple's most recent appearance on the news came in 2011 when they stood before a Magistrates Court in Rockhampton.
Natasha's brother blamed her disappearance as one of the reasons why he abused her partner
In 2021, Natasha's story inadvertently resurfaced after her younger brother, Jason Ryan, stood trial for domestic violence. Jason was a toddler when Natasha vanished and six years old when she reappeared.
Jason allegedly assaulted his pregnant wife and child several times between 2017 and 2020. He pleaded guilty to 14 counts of domestic violence. 
Nick Larter, Jason's attorney, told the court that Jason suffered family trauma and never received counseling to deal with it. Part of the trauma stemmed from Natasha Ryan's disappearance, Larter claimed. Larter added that Jason coped poorly with the media attention surrounding her sister's reemergence. 
While sentencing Jason to four years in prison, Judge Michal Rackeman described his conduct as 'disgraceful' and 'rightly to be abhorred'. 
---