For years after his maiden Olympic triumph, Sir Mohamed Farah lied about his heritage. Farah insisted his father was a UK citizen named Muktar, who grew up in London and worked as an IT consultant. Muktar allegedly moved to Mogadishu and met Mo Farah's mother. The family moved to the United Kingdom when the Somali civil war worsened.
Sir Mo opened up about his true origin in a mid-June 2022 documentary by the BBC. In a nutshell, Farah said he was trafficked to the United Kingdom when he was nine to work as a slave.
Mo's father was killed while herding cattle during the Somali civil war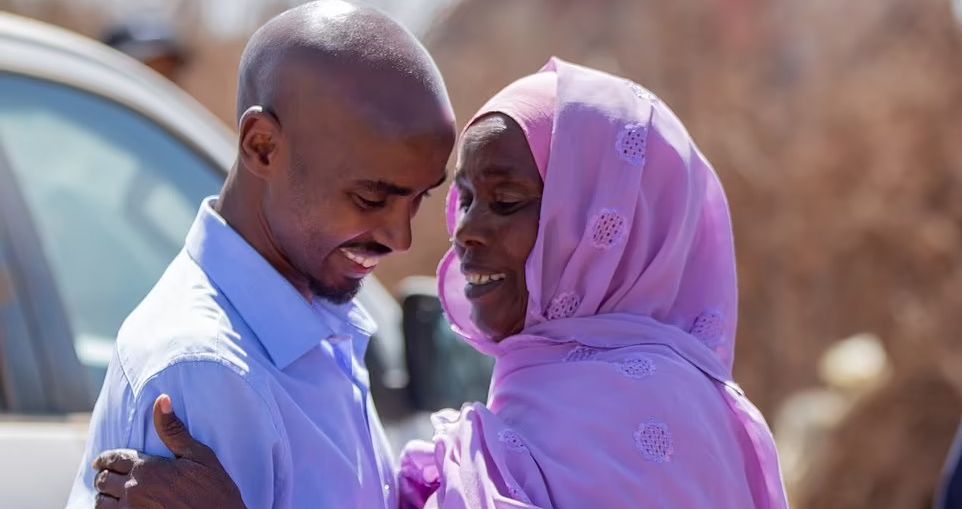 Mo Farah was born Hussein Abdi Kahin to Abdi and Aisha on 23rd March 1983 in the Somali Democratic Republic. "The real story is I was born in Somaliland, north of Somalia, as Hussein Abdi Kahin," Mo said. "Despite what I've said in the past, my parents never lived in the UK."
Abdi passed away when Mo was four years old. He was caught in the crosshairs of a battle between warring factions and killed by bazooka fire. Sir Mo said he doesn't remember his father's face:
"There was a massive bazooka shot. It hit the ground and flew into pieces and one piece hit him on the head and just straight off, off the head there. To me the hardest thing is, till this day, is like, I don't even know what he looked like."
Aisha sent Mo to neighboring Djibouti for his safety. "We all thought we were dying," Aisha said. "'Boom, boom, boom' was all we heard. I sent you away because of the war."
Mo's mother was supposed to travel with him, but she woke up to find the future Olympian gone. "I wondered why they left me behind that night," she said.
Farah suspects one of his family members helped traffic him to the UK
"The hardest thing is admitting to myself that someone from my own family may have been involved in trafficking me," Mo said. 
Sir Mo spent some time in Djibouti before a mystery woman, likely with help from one of Mo's relatives, trafficked him to the UK as one of her sons. Hussein Abdi Kahin was now Mohamed Muktar Jama Farah. "I was brought into the UK illegally under the name of another child called Mohamed Farah," Sir Mo said.
Farah said he thought he was moving to Europe to live with relatives. He had the contact details of the relatives he was to meet, but the lady who got him through costumes destroyed the documents. Farah continued:
"I had all the contact details for my relative and once we got to her house, the lady took it off me and right in front of me ripped them up and put it in the bin and at that moment I knew I was in trouble."
Sir Mo said he had to clean and cook for the lady's children if he wanted food. She kept Mo quiet by informing him authorities would transport him back to the warzone. Sir Mo coped by running. He explained:
"So she told you don't talk about anything, otherwise I was in big trouble and I guess for me the only things that I could do, in my control, was to run away from this was get out and run."
A Somalian woman named Kinsi posed as Farah's aunt and took him in
Farah eventually gathered courage and opened up to his teachers about the situation. Social services intervened and placed him in the house of a Somalian woman named Kinsi, who posed as Mo Farah's aunt.
Kinsi was the aunt of the real Mo Farah, but she sympathized with Sir Mo and decided to raise him. She said:
"You were not happy. You're crying. Then I tried to find out what is going on with you. The lady, she always make you do the housework, to have the kids, to give them their milk, to change their nappy and all these things.'
Kinsi said the mysterious trafficker didn't view Mo as a human being. She and Mo's former PE teacher Alan Watkinson helped him get UK citizenship. Alan said the process took longer than expected due to questions about Farah's immigration status. Alan Watkinson said:
"So, we started that process of getting him the British citizenship as Mohamed Farah. Getting Mo to the point where you know he had his British citizenship was quite a long process."
Sir Mo and Kinsi contacted the real Mohamed Farah; the Olympian told Farah that he thought about him every day:
"I can't believe that I'm speaking to you. I carry your name and for many, many years, I carry that with me and I'm proud you know what I have achieved. But as a person I always wonder where's Mohamed, is he okay, what would life have been like for him? I think about you all the time."
Mohamed said he would love to travel to the UK to meet the Olympic champion.
Mo reunited with his mother and twin brother after decades of separation
Mo learned his mother was still alive via a customer at a Somalian restaurant where he worked. The customer showed Mo a photo of his mother and gave him a cassette with recordings made by his mother.
"I would listen to it for days, weeks," Mo said. "The side of the tape had a number on it and it said, 'If this is a bother or causing you trouble, just leave it. You don't have to contact me.' And I'm going, 'Of course I want to contact you.' That's when I first called my mom."
Aisha said she felt immeasurable joy when Mo contacted her. The pair reunited in their home village and visited Abdi's grave.
"Never in my life did I think I would see you or your children alive," Aisha told Mo. "We were living in a place with nothing, no cattle, and destroyed land."
Mo also reunited with his twin brother, Hassan, who remained in Djibouti as Mo went to the UK. Farah said he feels a strong connection with Hassan and often feels it when something is wrong. Sir Mo said on Joe Wicks' podcast:
"When he's going through a bad patch or when he is thinking of something, I can feel it. I ask him what happened and he'll tell you, because I can just feel it. It was tough. I have twins myself and I couldn't separate them."
A relative of the abusive lady who trafficked Mo denied Mo's story
Sir Mo told Amol Rajan on BBC Radio 4 that the production team tried to involve the woman who trafficked him, but she didn't want to participate in the story. "I'm not in touch with her and don't want to," Sir Mo added. 
The Telegraph tried to track down Nimco Farah, the woman who trafficked and enslaved Farah but didn't find her. The outlet spoke to a person claiming to be her relative who said Mo wasn't trafficked.
"In Somaliland, there's nothing called trafficking or child abuse or stuff like that," the man said. Mukhtar Farah, Nimco's ex-husband, said he was too unwell to participate in an interview. He said: "I am not ready for an interview. Maybe next time. I am not feeling well."
By opening up about his heritage, Sir Farah risked having his UK citizenship stripped. However, the Home Office said it would take 'no action whatsoever' against him.
During his interview with Amol, Farah thanked his wife for giving him the courage and strength to speak about his identity. He said:
"It was always my story. I wasn't even comfortable enough to talk about it with my family. I couldn't talk about it publicly. It has taken me a long time to come to this, but I'm glad I've made this documentary to show people the reality of what really happened to me as a child."
---