Christmas has come early for a family in Fort Worth, Texas, following a successful five-decade search for their long-lost daughter Melissa Highsmith. Melissa was abducted as a toddler by a woman posing as a babysitter. Melissa grew up 20 minutes away from her mother's apartment, yet it took over 50 years for the family to find her. 
"I'm just elated, I can't describe my feelings," Alta Apantenco, Melissa's mother, told WFAA. "I'm so happy to see my daughter that I didn't think I would ever see again." Melissa described the reunion as 'the most wonderful feeling in the world,' despite feeling slightly overwhelmed.
Melissa was 22 months old when she was abducted by a babysitter
In mid-1971, Alta Apantenco moved to an apartment in Fort Worth with her toddler Melissa Highsmith. She'd separated from Melissa's father, Jeff Highsmith, and needed someone to take care of the child as she worked as a waitress.
Apantenco placed an advertisement in the local daily for a babysitter. A woman responded, agreeing to meet Alta at the restaurant where she worked, but she never appeared. Later, a woman expressed interest in the job, saying she cared for other kids and had a big yard.
Alta hired the woman without meeting her, instructing her to collect the child from Apantenco's roommate. The roommate handed over the baby as instructed. It would take over 50 years for the child to return home: the alleged babysitter abducted Melissa.
The roommate described the woman as wearing sunglasses, white gloves, and a bonnet. Apantenco reported the child's disappearance to authorities.
Alta felt responsible for the disappearance, and as the years wore on without a positive update on Melissa, Apantenco faced accusations that she possibly killed her daughter and hid the body. Sharon Highsmith, Melissa's sister, said:
"My mom did the best she could with the limited resources she had – she couldn't risk getting fired, so she trusted the person who said they'd care for her child. I'm grateful… we have vindication for my mom."
The case gained national attention after a tip led the family to Charleston, South Carolina
Melissa's family never gave up on finding their daughter, despite lacking leads or evidence leading them to her. They threw birthday parties for her every November and solicited help in finding Melissa.
In September 2022, the National Center for Missing and Exploited Children (NCMEC) received a tip of a potential sighting in Charleston, South Carolina. The caller claimed they'd recognized Melissa's image from the center's digitally age-progressed faces. The Highsmith family followed up on the tip, but it turned out to be a dead-end.
However, the tip gave Melissa's case national attention for the first time in five decades, renewing hope that the family would find her.
A DNA test linked Mellisa's children with Jeff Highsmith, her father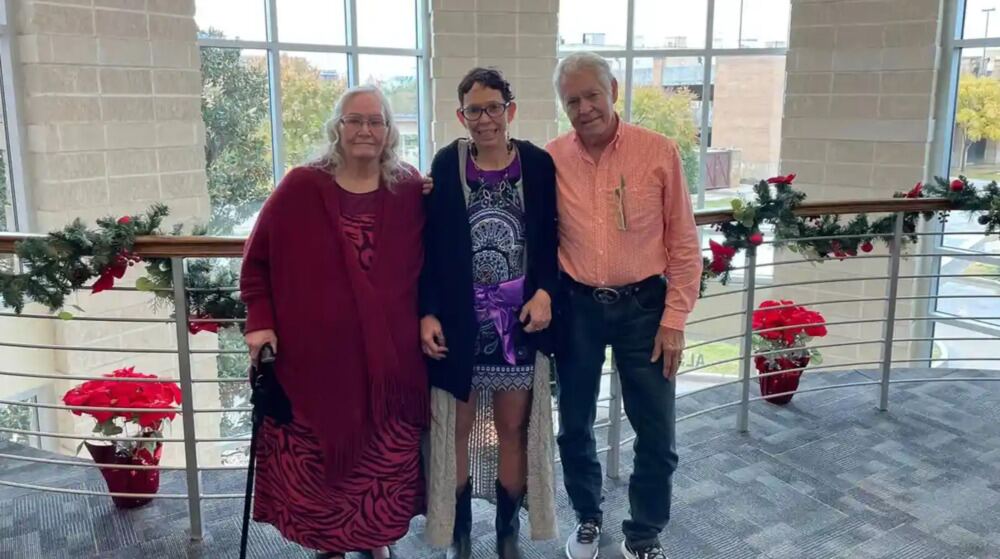 Jeff Highsmith carried out a 23andMe DNA test that linked him to three people he didn't know – they were Melissa's children. The family reached out to Melissa through her youngest daughter.
Apantenco said that her son, Jeffrie., informed Melissa that she was his sister. Perhaps expectedly, Melissa denied being the long-lost Highsmith sibling. However, she agreed to take a DNA test to confirm. She said (per The Independent):
"He [Jeff] asked me, I don't think I'm that girl I'm so sorry. He said wouldn't you like to be 100 per cent sure? He said I'll pay for the DNA test and I told him I'll take the test but I really didn't think I was that girl. Once I saw the baby picture, and I put my baby picture against it, it's like my twin."
The family didn't have to wait for the DNA test to know they'd found Melissa – the baby photos and a unique birthmark assured them she indeed was Melissa. "They said 'Dad, she's alive,' and I started crying… after 51 years, it's so emotional," Jeff said.
Melissa confronted the person who raised her and confirmed her identity as baby Melissa. She told CBS News: "The person that raised me, I asked her, 'Is there anything you need to tell me?' and it was confirmed that she knew that I was baby Melissa so that just made it real."
Melissa said she grew up in an abusive household, forcing her to run away at 15. "I did what I had to do to get by… I worked the streets," Melissa said. The identity of Melissa's kidnapper hasn't been released. 
Sharon Highsmith, Melissa's sister who lives in Spain, said law enforcement provided no help in the search for Melissa. She praised clinical laboratory scientist Losa Jo Schiele for helping the family interpret DNA results and scour public records to locate Melisa. "Our family has suffered at the hands of agencies who have mismanaged this case," Sharon said.
"Our finding Melissa was purely because of DNA, not because of any police or FBI involvement, podcast involvement, or even our family's own private investigations or speculations," Sharon shared on Facebook. 
Melissa plans to remarry her husband so her father can walk her down the aisle
"Right now, we just want to get to know Melissa, welcome her to the family and make up for 50 years of lost time," Sharon added. The Highsmith family is looking forward to getting to know Melissa after such a long time.
Melissa reunited with her father, mother, and two of her four siblings at the family's church in Fort Worth. Victoria Garner, Melissa's sister, described it as an emotional occasion (per The Guardian): "I couldn't stop crying. I was overjoyed, and I'm still walking around in a fog trying to comprehend that my sister [was] right in front of me and that we found her."
Jeffrie, Melissa's brother, said he couldn't stop gazing at Melissa as she looked 'just like' their mother. "We had coffee with her on Thanksgiving night, and when I looked at her, I just knew," Jeff said. 
Melissa, who was living as Melanie Walden, plans to change her name to Melissa. She also plans on remarrying her husband so her father can walk her down the aisle. "It's a Christsmas miracle," Melissa told WFAA.
As reported by The Guardian, the Highsmith family had the following message for people searching for loved ones: "Never give up. Chase every lead."
---