The mood at Notre Dame couldn't have been more electric following the appointment of Marcus Freeman as the Fighting Irish's new head coach. Brian Kelly's shock departure to LSU created an air of uncertainty at Notre Dame: The team had just lost a hugely successful coach at a crucial point in the season.
With no outside option readily available to take the job, Notre Dame recruited from within, promoting defensive coordinator Marcus Freeman to head coach. The 35-year-old coach brought his family with him as he gave his first press conference as coach. Marcus couldn't resist getting emotional as he thanked his wife, Joanna Freeman, for her support.
Marcus married his wife, Joanna Freeman, in 2010, and they have six children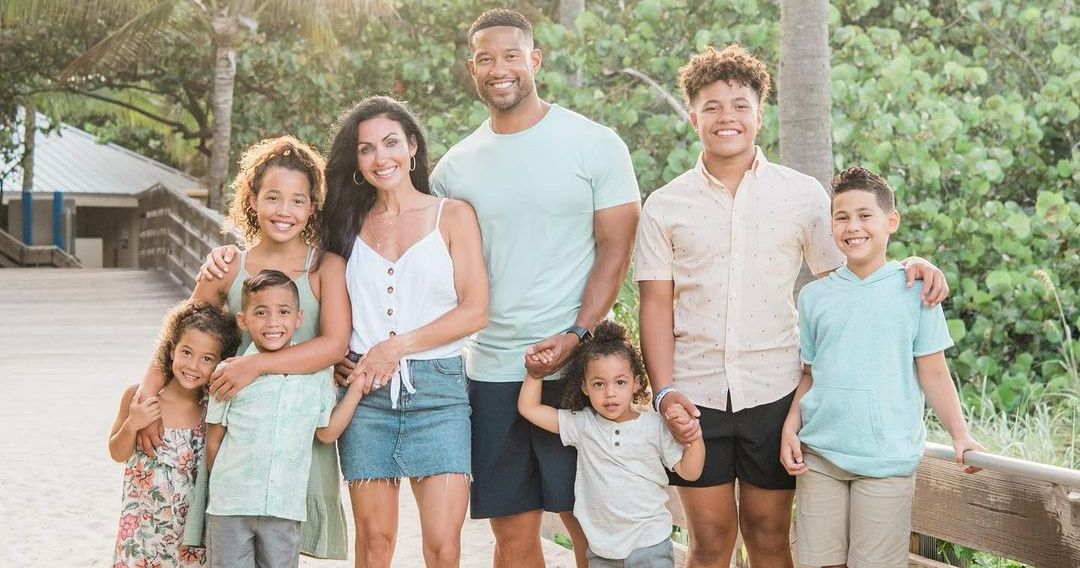 Marcus and Joanna Freeman were college sweethearts at Ohio State. The pair married in February 2010. "Celebrating 10 years of being married to the love of my life and the glue to the Freeman family," Freeman captioned a February 2020 post. "Happy anniversary Jo!"
Joanna and Marcus have welcomed six children: Rocco, Vinny, Capri, Gino, Siena, and Nico. Marcus' voice cracked with emotion as he thanked his wife for her support. He also apologized to his kids for taking such a demanding job. Marcus said:
"My wife, my partner, thank you for your unselfishness. Thank you for always being there and your support, most of the time. You can be my toughest critic. To my kids Vinny, Siena, Geno, Rocco, Capri, Nico. You didn't ask for his. You didn't ask to share your dad. But you have to. And I love you."
Marcus also posted a photo of the family on Instagram, thanking the Notre Dame community for its support. "My family and I want to thank everyone for their overwhelming support," Marcus wrote. "This is a special community and we're blessed to remain a part of it."
Joanna helped Marcus choose and stay with Notre Dame
Marcus's first opportunity to join Notre Dame came when the team recruited him after high school. Notre Dame ticked many boxes for Marcus, but he chose Ohio State to play under beloved coach Tyrone Willingham.
Nearly a couple of decades later, Notre Dame offered him a job as defensive coordinator. Like the last time, Marcus faced two choices: Louisiana or Notre Dame. Marcus wrote on The Players' Tribune that he and Joanna leaned towards Notre Dame:
"I can't tell you exactly what it was that told us to come to Notre Dame, but there was something. We all know there's something different about Notre Dame. We all know it's something special. And I just thank God that I didn't make the wrong decision twice."
When Brian Kelly left for LSU, he requested Marcus to join him as defensive coordinator. "I said, 'I need a job, but can I talk to my wife?'" Marcus told ND Insider. "That's all I said, 'Can I talk to my wife?'"
Joanna and Marcus considered the fate of the players in Notre Dame if he took the job at LSU. The couple decided that it would be selfish to abandon the team. Therefore, Marcus decided to stay and fight for the top job. Joanna told ND Insider:
"(Marcus said) We've got this bowl game coming up, we can't – 'I don't want to leave these kids.' And so that's the first time I really looked at him and thought, 'He really loves Notre Dame. He really loves these kids. He loves Notre Dame, and he wants to be here. And so I just kind of took a deep breath, and I knew he's going to go after this job. Not for himself – but for these guys."
---