Maegan Hall is at the center of a scandal that has rocked the La Vergne Police Department, leading to the termination or suspension of around 12% of its workforce. An internal investigation, sparked by an anonymous report by one of the fired officers, found Hall guilty of having sexcapades with several officers on and off duty.
The probe, conducted by Director of Human Resources Andrew Patton, also found that Hall shared explicit images with multiple colleagues. Patton recommended the termination of Maegan Hall and four officers and the suspension of three officers without pay. 
Hall, who dreamed of becoming an actress, reportedly drank heavily and struggled mentally
The Daily Mail reports that Maegan Hall grew up in Tennessee, dreaming of becoming an actress. She joined law enforcement in her 20s and reportedly started sexual encounters with officers before her admission to the police force. Patton's report reads:
"[Sgt. Henry Ty] McGowan struggled to share that when Hall was a candidate and in process of being hired, Hall and her husband [Jedidiah]. McGowan, and another female met up at her house. During that meeting, Hall was naked, the other female got naked, and Hall's husband got upset."
Hall's colleagues on Second Shift expressed concern for her stemming from alleged heavy drinking and mental health struggles. Patrol officer Patrick Magliocco told the investigative team that Hall once emptied her weapon and dry fired the gun at her head 'so she could hear what it sounded like'.
"Magliocco also reported knowing that Hall voiced 'harmful thoughts' and on multiple occasions said that she should not be alone," the report stated.
Most officers involved with Maegan Hall initially denied the allegations but eventually confessed
La Vergne Mayor Jason Cole asked Andrew Patton to investigate allegations of sexual misconduct in the town's Police Department after receiving an anonymous tip about Hall's sexual escapades. The information reportedly came from Sgt. Henry Ty McGowan, one of the fired officers.
Maegan Hall and Sgt. Lewis Powell, a married father, denied having any sexual relationship. The pair eventually confessed that she performed oral sex on him while on duty. Sgt. Powell, who was also found culpable of trying to interfere with Patton's investigation, was fired from the department. 
Detective Seneca Shields, the third terminated officer, also denied the allegations before admitting that Hall gave him oral sex in the police gym and the pair exchanged nudes.
When Sgt. McGowan sent information about Maegan Hall to the Mayor, he failed to mention that he was involved in the sexcapades. Hall said she had sex with McGowan twice. The investigation uncovered Hall's texts to McGowan, asking him to come 'fuck her and drag her around by her hair'. 
McGowan was also found guilty of trying to intimate a female HR officer by putting his hands around her neck. The disgraced officer defended himself by saying he was playing around, the report stated. Patrol officer Juan Lugo-Perez, the last of the terminated officers, had sex with Hall in a hotel. 
Patrol officer Patrick Magliocco, who is married, attended a 'girls gone wild' party with Hall on Sergeant Eric Staat's houseboat on Memorial day. Magliocco said she poured vodka down Hall's throat and had drunken sex with her. Magliocco and Hall confessed to having multiple sexual encounters. 
Magliocco was suspended alongside K-9 officer Larry Holladay, who reportedly had sex with Hall at hotels and at his house. The Mayor also suspended Patrol officer Gavin Schoeberl, who confessed to showing people a photo of his private parts and receiving an erotic video from Hall.
Maegan Hall's husband stood by her and expressed his desire to save their marriage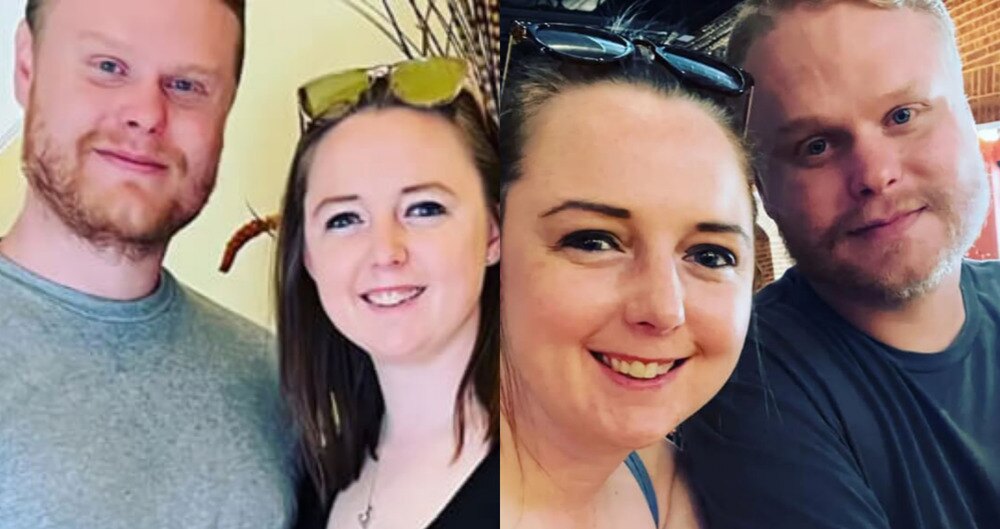 Maegan and her husband, Jedidiah Hall, were college sweethearts who married in November 2018. Their purchase of a family home in Manchester in March 2022 suggested that the pair had a stable marriage. However, the troubling truth was that Hall's sexual escapades threatened the union.
Maegan Hall told her sexual partners that she was in an open marriage. However, Patton's report suggested that Jedidiah, the son of a pastor, had a different view. Patrol officer Patrick Magliocco, in an open marriage with his wife Amy, said the couple and Hall tried and failed to coax Jedidiah into bed-swapping. The report stated:
"Magliocco told Patton that at one party, Hall and Magliocco's wife started kissing and Hall's husband [Jedidiah] came in the room and seemed upset."
"The next day on‐shift, Magliocco asked Hall about the husband's reaction, since Magliocco was under the impression from Hall that her marriage was open as well. Hall said, 'He really wasn't on board.'"
The internal investigation stated that Jedidiah confronted his wife for cheating. It's unclear whether Jedidiah knew the full extent of Hall's sexual deviancy. Most marriages wouldn't survive such a scandal – Sgt. Lewis Powell's wife has reportedly filed for divorce and custody of the couple's children – but Jedidiah is determined to make his union with Maegan Hall work. 
"I don't know how he's doing it, he's more of a man than I am, but he's trying to salvage his marriage," Jedidiah's boss, Coffee County Sheriff Chad Partin, told The Daily Mail. Partin said Jedidiah pulled out of training for the Tennessee Highway Patrol to concentrate on saving his marriage.
"I have offered and extended to him any resource that he needs. And all he says is, sheriff, I just want to work for the citizens of Coffee County and I love what I'm doing," Partin added. Partin insisted that Jedidiah was a victim of the scandal:
"I don't condone what went on at the La Vergne Police Department but he sure hasn't broken any laws. He's the victim here. There's not a blemish on his record. He is doing a phenomenal, phenomenal job."
Maegan Hall said that she wants to move on
When The Daily Mail asked Maegan Hall for a comment on the saga, she said, "I don't want to discuss it. I'm just going to move on and live my life."
The fiasco has left the department understaffed and in disarray, ruining public confidence in the police. "Shocked and overall disappointed with our police department and what's happened," Alderman Kara Hobbs told News Channel 5.
La Vergne Police Chief Burrel Davis said the termination and suspension of the officers had created 'a difficult situation' for La Vergne and its PD. However, he assured citizens that the department had enough staff to protect the community and cover patrol shifts.
Davis insisted that the actions of the culpable officers didn't represent the entire department. He continued:
"This situation is being addressed internally with our staff, we are bringing in counselors to help our officers work through these circumstances, and we will continue to provide the most professional protection as possible for this community."
"Our top priority moving forward will include rebuilding the public's trust," Mayor Cole said. "We will be retraining all of our employees in the rules, regulations, and expectations set forth by city leadership."
---