Thanks to Lisa McVey, authorities arrested Bobby Joe Long, a serial killer, and rapist accused of sexually assaulting and murdering at least ten women in the Tampa Bay Area in Florida. Bobby Joe spent 34 years on death row before being executed by lethal injection in May 2019.
Believe Me: The Abduction of Lisa McVey is a crime drama television film that tells Lisa's story. It was released in 2018 on Lifetime in the United States and on Showcase in Canada and has recently made its debut on Netflix. The film's appearance has reignited interest in Bobby Joe's case and the woman who helped bring him to justice, Lisa McVey.
Lisa McVey works as a master deputy in the Hillsborough County Sheriff's Office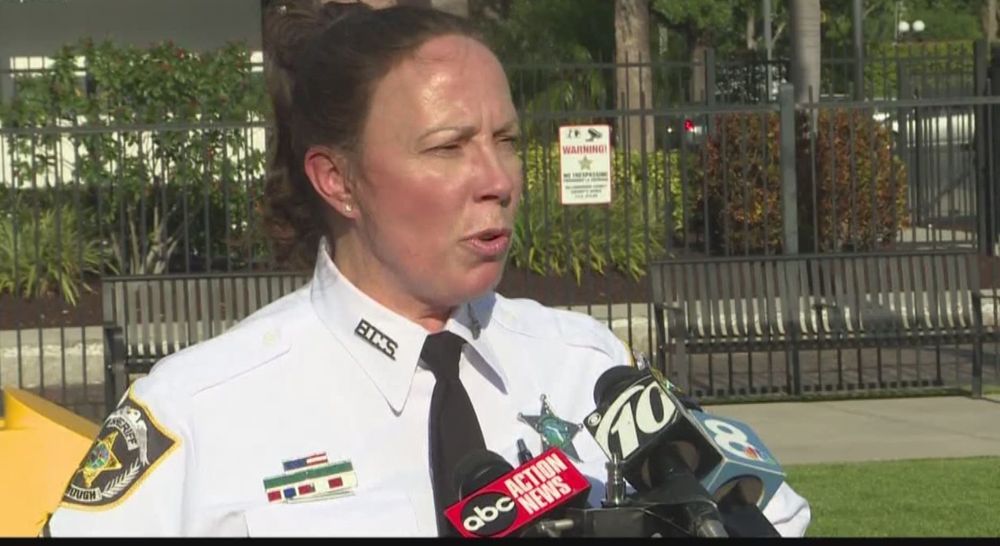 If Lisa McVey had made it home the day Bobby Joe Long abducted her, she would have committed suicide. She was living with her grandmother and her boyfriend, who'd molested her repeatedly for three years. McVey had already prepared her suicide note and 'was going to put a bullet in my head' when she got home.
The suicidal thoughts vanished when Bobby threatened to shoot her. "I had stopped feeling suicidal right then, and I wasn't going to let someone else kill me either," McVey told A&E. After somehow convincing her murderous captor to let her go, Lisa made it to her grandmother's apartment.
Her grandmother's boyfriend inflicted further abuse on her and refused to believe her story. Lisa's grandmother told police that Lisa had returned home and was making up some story about being kidnapped. Regardless, the police stated that they would investigate. "If it weren't for that, I think I really would have killed myself," she said.
Lisa's frustration deepened when a female police officer interrogating her seemed not to believe her story. Sgt. Larry Pinkerton believed her, however. She provided information that helped authorities located the elusive Bobby. Lisa also talked to the police about the abuse inflicted on her by her grandmother's boyfriend, who police placed into custody.
Authorities placed Lisa in a runaway center to keep her safe. As her time to leave the center drew closer, her Aunt Carol and Uncle Charlie agreed to take her in. "They were the only people who ever showed me love and, after that, there was no holding me back," Lisa said. She felt an attraction towards a law enforcement job, but she didn't want to risk getting shot and killed.
However, she eventually found herself in the Hillsborough County Sherriff's office as a dispatcher and a reserve deputy. Upon realizing that she was made for law enforcement, Lisa enrolled in the police academy. She explained:
"I paid for it myself, which made me appreciate it all the more. I've been in the Hillsborough County Sherriff's Office for 17 years and a School Resource Officer for seven years. I'm at a middle school now."
Lisa McVey is married to a police officer and goes by the name Lisa Noland, her married name.
Lisa uses her story to teach children how to deal with potentially dangerous situations
"Nobody messes with my kids, and my kids know that," Lisa told A&E. Lisa didn't have anyone to protect her on that fateful night she got abducted. However, she'd gotten so used to her grandmother's boyfriend threatening her with a gun that she didn't panic when Bobby threatened to 'blow her brains out.'
Instead, she kept calm and embarked on a fact collection mission. If she survived, she would help catch the perpetrator, Lisa resolved. Despite being blindfolded, Lisa knew that her abductor drove north via the interstate. She'd clenched her jaw when Bobby put the blindfold on her, so when she unclenched, she could see through the space created.
Lisa saw some aspects of his face, and when he let her touch his face, she made sure to keep in her mind important details about him. To convince Bobby to let her go, she told him that she was her ill father's primary caregiver. She even offered to be Bobby's girlfriend. Lisa told ABC:
"He had mentioned that he had raped other women. I said 'why are you doing this to me,' and he goes 'because just to get back at women in general.' I said, 'I'll be your girlfriend. I'll do whatever you want. It's unfortunate how we met we don't have to tell anyone how we met; let's do this.' He said 'no, I can't keep you.'
At this point, Bobby Joe Long murdered his victims. However, Lisa had convinced him to let her live. Lisa pretended to tug at Long's heartstrings, and fortunately, he believed her concern to be true. Even with Lisa's help, it took nearly two weeks to catch Bobby. In that period, he'd murdered two more women. Lisa uses her story to teach kids how to behave in an abduction. She told A&E:
"I'm not embarrassed to say I was raped. I tell kids if somebody tries to grab them, scream as loud as you can. And if they get taken anyway, they should mind their Ps and Qs and do whatever they can to survive. I tell them to be strong and draw on their own sense of self-preservation."
Lisa wed two years after her abduction, but the marriage ended after five years
Lisa McVey married a police officer two years after her abduction. "I didn't allow my past abuse to hinder my romantic life," Lisa told the Mirror. "I blamed those that hurt me. I didn't transfer the hurt onto my male relationships."
The pair welcomed a daughter before their five-year marriage ended.
"I protected my daughter like a mamma bear," McVey said. "You could say I was overbearing, but I was determined my daughter would never have the type of life I had."
---