When Linda and Lou Pelletier took their daughter, Justina Pelletier, to Boston Children's Hospital in February 2013, they didn't expect to lose custody for over a year. Several months prior, doctors had diagnosed Justina with mitochondrial disorder, a rare illness. Linda and Lou suspected that her severe stomach pains were caused by somatoform disorder.
However, Boston Children's Hospital claimed that Justina had Munchausen syndrome by proxy – that Justina's parents were inducing illness in the child. To protect Justina, the hospital blocked contact between her and her parents and denied discharge requests.
Justina Pelletier's story features in the Peacock docuseries The Battle for Justina Pelletier.
Justina is recovering from a stroke she suffered in October 2021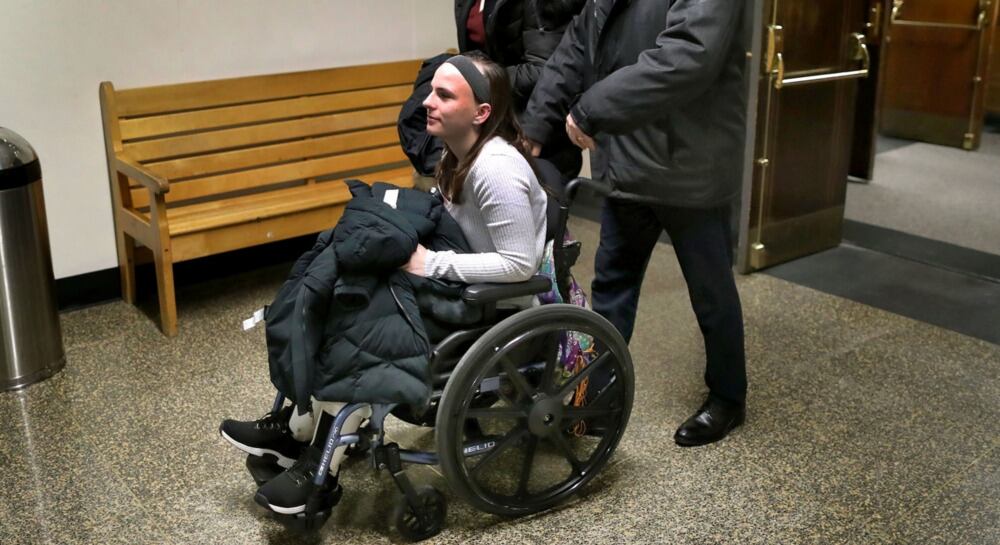 Sixteen months later, Linda and Lou reclaimed custody of Justina. Lou said in the documentary that after returning home, she rode horses, returned to school, and focused on making art. Justina graduated from high school in June 2020.
Unfortunately, Justina Pelletier suffered a stroke in October 2021. Lou revealed that the stroke impacted her speech and left her unable to walk. Pelletier's recovery from the stroke involves physical therapy; Linda said Justina hopes to walk again.
David Metzler, the documentary's director, interviewed Justina for the documentary months after her stroke. Metzler spoke to Newsweek about Justina's condition:
"It was wonderful to have Justina; we find Justina to be a real inspiration. She's got a lot of health struggles and struggles to speak now, but I always felt like she communicated a lot with her eyes, and I always felt like she's just such a resilient person."
The documentary's final episode focuses on Justina. Metzler said the production team wanted her to have the final say because she was the victim in a battle she didn't fight. David said:
"So we wanted to make sure that the last episode was focused squarely on her, and how she felt and how she's doing and what she's doing, because she really is a pretty remarkable person. It was very important that she be the last thing you see in the documentary because it's really about her."
Metzler gave a positive update on Justina's recovery: "We were glad and inspired that the last time we saw her she was doing better than when we had seen her previously. That was nice, she was having a lot of physiotherapy, her hair had come back a bit. So it was great to see her doing well."
A jury cleared Boston Children's Hospital of mishandling Justina's care
A day after taking Justina to the hospital, Lou attempted to have her discharged, but the facility denied the request. Lou called authorities, accusing the hospital of 'kidnapping his daughter'. The police eventually expelled Lou, Linda, and Justina's sister, Jessica, from the hospital.
Boston Children's Hospital filed a report stating they would take over Justina's custody. The hospital argued that Justina needed protection from her parents, whose medical negligence had allegedly caused Justina's illness.
After nearly a year, Boston Children's Hospital transferred her to a ward in Framingham, Massachusetts. By this time, the case had made national news. The Anonymous group attempted to help the family by hacking Boston Children's Hospital's computer system.
Meanwhile, Justina's parents waged a custody battle in court. In June 2014, a judge restored custody over Justina to Linda and Lou. In February 2016, the Pelletier family lodged a medical malpractice lawsuit against the Boston Children's Hospital.
During the suit, Pelletier recalled her isolation from family: "I was able to talk to them for a little bit but someone was listening. If [my parents] said something about how I was feeling, they would stop it. Hang up…It was really hard to be away from my family."
After a five-week trial, a jury cleared Boston Children's Hospital of medical malpractice. The hospital said: "The jury's decision affirmed what we have always believed: that our clinicians provided Justina high quality, compassionate care, and acted in the best interest of her health and well-being at all times."
Lou protested the decision (per Boston 25 News): "This is unbelievable pain, and, really, no family should ever have to go through this. We are extremely disappointed with the jury's decision today. It was really hurtful, I guess, ultimately for Justina."
David Metzler opined that the documentary's viewers should view the series objectively, trying to understand the points of view of each party in the dispute. Metzler told 10 Boston:
"It would be my hope that people can watch it and see it with empathy – empathy towards everybody involved. And hopefully what comes through is that there's a lot more to a story that sounds wild in the news. There's a lot of very human pieces to it."
---