Juju Watkins ended her high school basketball career as the Gatorade National Girls Basketball Player of the Year. Watkins' parents knew she would receive the accolade, but they kept her in the dark. "This is one of the most prestigious awards you can get," Watkins told The Athletic. "Just to get it and end it off the right way is really special for me."
Juju's parents wanted her to play tennis, but she chose basketball
Juju Watkins was born on 15th July 2005 to Sari and Robert Neal-Watkins. She grew up alongside three older siblings in Watts, California.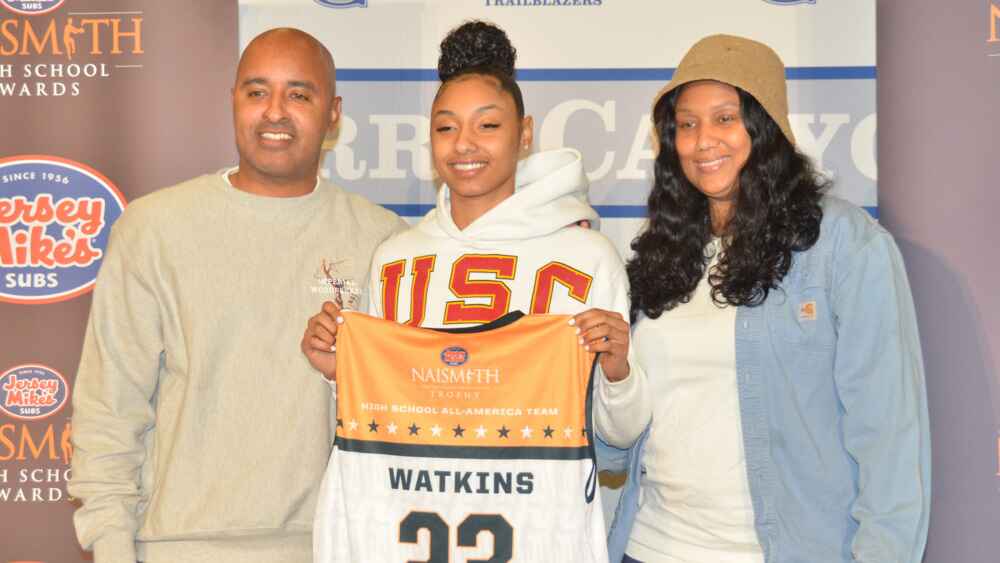 Watkins' grandfather, Ted Watkins Sr., was a civil rights activist in Watts. He responded to the 1965 Watts riots by founding the Watts Labor Community Action Committee to provide jobs and social services. Juju practiced basketball at a gym in Watts named after Ted.
Sari and Robert played basketball in her school but wanted Juju to play tennis, like the Williams sisters. Juju insisted that she wanted to play basketball. She told ESPN:
"I had to go to my mom and be like, 'I want to do this.' For her to be like, 'OK, well now let me put you in something.' They really forced me to really want to be serious about something because their whole thing is, 'Don't do nothing if you're not going to be fully in it.'"
Watkins' lack of foundational skills almost ended her career before it truly began; she barely played during her first year of travel ball. Watkins didn't give up: she begged her parents to coach her into a better player, and they obliged. Robert told ESPN that Watkins responded brilliantly to his instructions:
"When we started in the backyard, it was always about the foundation and the repetition. The one great thing about Juju was whatever we worked on in the backyard, she would implement immediately in the game. She wasn't afraid of taking risks."
Through persistence and dedication, Watkins unlocked her potential. "I realized I was good when I was 12," Watkins told ESPN. "It's also when I saw my hard work pay off and saw a glimpse of how far basketball could take me."
Sari and Robert aren't concerned about fame and Watkins' celebrity status
Sari told ESPN that the key to Watkins' rapid improvement was consistency. "Be consistent in life," Sari said. "It was because once she wanted to be serious about it, we just invested so much energy into helping her build that. It was a priority of ours."
With every point scored, Watkins' popularity went up a notch. In middle school, fans started approaching her after games. Watkins said she used the recognition as motivation to keep improving her game.
"I took that as more fuel to just even grow even further and have that impact on people where they're knowing my name and knowing what I do," Watkins said. Sari and Robert weren't concerned about Watkins' fame; they focused on improving her game and attitude. Watkins' mother stated:
"When people started to come up to her, we didn't want to really focus on that because we were looking at it from the perspective on improving her game and making sure she was a good person. The other stuff wasn't on our minds."
Robert and Sari moved the family from Watts to northern Los Angeles when Watkins transferred from Windward School to Sierra Canyon, her dream school. Watkins' parents said they endeavored to make the right decisions for her.
"We were just looking at it from the perspective of, 'What's the best decision for her to be happy?'" Sari stated. "It was just about supporting our daughter and making sure she was happy. The other stuff didn't matter."
---