During his unveiling as head coach of CSU, Jay Norvell teared up as he mentioned his wife, Kim Norvell, referring to her as his soulmate and best friend. "She [Kim] is the most important person in my life," Norvell said. "We are very proud to make your home our home."
Jay Norvell and his wife, Kim, share one son, Jaden, a talented rapper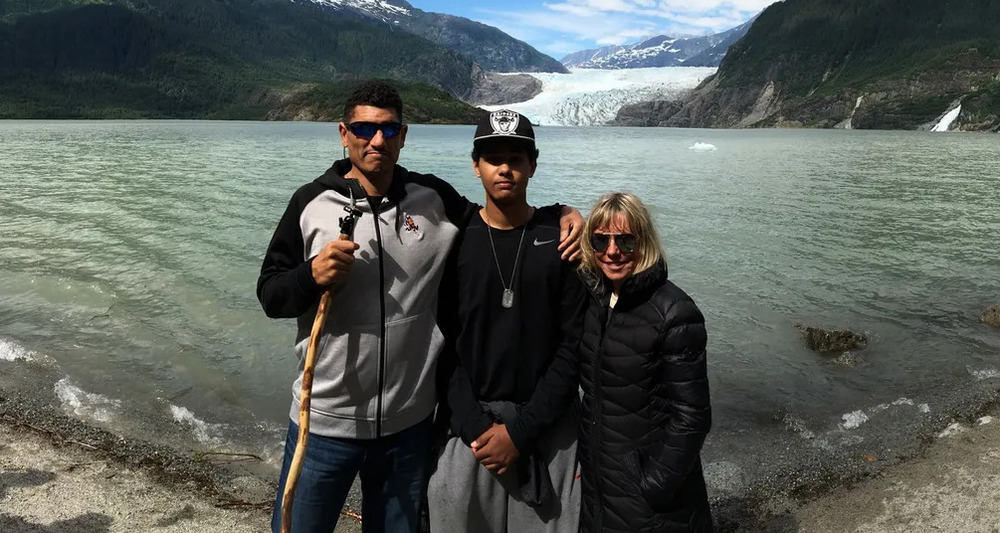 Kim was a student at the University of Wisconsin when she met Jay Norvell. Fresh from a brief NFL career, Jay was an assistant coach for the university's football team. 
He teased Kim over their respective high schools' rivalry. Norvell's Madison Memorial and Kim's Sun Prairie High School were rivals. The CSU head coach told the Reno Gazette-Journal:
"When we first met, I used to tease her about how her high school used to cheat us when we went over there to play basketball. We kind of had this rivalry and we got to know each other and fell in love and she ended up coming with me when I went to Iowa State to coach and we got married."
Jay and Kim share one son, Jaden. Kim told the outlet that she's proud of her son's rapping skills but doesn't like some of the words he uses in his music. She added that as a fan of the rap group NWA, she took Jaden to watch Straight Outta Compton. "Those [NWA] were my guys," she said. 
Kim Norvell beat colon cancer and has battled cystic fibrosis all her life
Kim was six years old when doctors diagnosed her with cystic fibrosis (CF), a chronic condition that damages the lungs and other organs. Specialists predicted that Kim wouldn't make it past first grade. However, despite the struggles involved in managing CF, Norvell thrived. She made it into high school, becoming a cheerleader for two sports. Bob, Kim's father, said:
"We had really good friends, good neighbors, good people around us. She would play with the neighborhood kids and nobody would say, 'Oh, my God, what's wrong with Kim?' Even when she did feel bad, she would say, 'Don't boo hoo me, Dad. I'm fine.'"
Kim has to cough and wear a special vest every morning to clear her airway. She then takes a concoction of pills and starts her day. She's careful not to overwork herself as it can cause complications. It's a difficult challenge for her as she likes being active. 
Norvell considers Kim the star of her family as she's raised a kid and thrived as a football coach's wife while battling a chronic condition – and she's done it without complaining. He said: "She's a fighter and she always will be. She never complains about anything. I think being around a lot of people who have gone through what she's gone through has made her stronger."
Kim's CF has caused several other conditions. She told 9News, "So, it hits everybody really differently. For me, it's been my lungs, my digestive system, I'm diabetic, I have osteoporosis, arthritis, asthma, a liver disease, so there's many things that go on with it besides just the lung thing."
Perhaps the most severe condition Kim developed was colon cancer. She was diagnosed with the disease in 2007 and considered hiding the news from Norvell. "I actually wasn't going to tell Jay until after the season, but my friend said, 'Kim, you have to tell your husband you have cancer,'" Kim said. She's been cancer-free since surgeons removed the disease and 13 inches of colon from her digestive tract. 
Kim organizes events to raise money for the Cystic Fibrosis Foundation
The hardest thing about living with cystic fibrosis for Kim has been watching the disease claim her friends. "I sometimes almost feel bad. I've lost a lot of friends to CF. A lot – in very painful, hard-to-watch ways. For whatever reason, I'm still here. I'm so grateful to God for that. I know that I'm really lucky, but sometimes I feel guilty that I have what I have," Kim said. 
Her mission is to fund research into finding a cure for the disease or discovering treatments that can prolong the lives of CF patients. Kim organizes events to raise money for the Cystic Fibrosis Foundation in every city where the Norwell family settles. 
In Norman, Oklahoma, Kim hosted a Zumba competition to raise funds. In 2022, Kim organized the Grit Run 5K in Fort Collins, Colorado, to spread awareness about CF and raise funds for research. She told 9News:
"People might know what cystic fibrosis is but it's an orphan disease, so a lot of federal funding doesn't go to cystic fibrosis, so we have to raise all of the money. Hopefully there will be a cure in my lifetime, but we've come so far in a short time. I'm just so grateful for that."
Kim is grateful for every community that has supported her and her efforts. She is also thankful for her husband's love and encouragement. Kim said:
"If I didn't have that support from him, and if I didn't have the love that he gives me constantly…because I'm not easy. Just the fact that he loves me so much, he always makes me cry. When he talks about me, it's not often, but when he does, he means what he says. And that is everything to me."
---