On the 18th anniversary of Dimebag Darrell's death, the band members of Pantera, which Dimebag founded, led tributes to the former guitarist. "Remembering Dimebag Darrell today and everyday," Charlie Benante, Pantera's drummer, wrote alongside a photo of him and Darrell.
Rex Brown, Dimebag's ex-bandmate, wrote: "It's been 18 years since Dimebag Darrell was tragically taken. Thanks to all of you for keeping his memory alive! Make sure you do a blacktooth or three in his honor."
The blacktooth was Darrell's signature cocktail, containing Coca-Cola, Seagram's 7, and Crown Royal.
Darrell was shot in the head while performing by a mentally ill military veteran
Nathan Gale enlisted in the Marines in 2002 but left the Corps eighteen months later. Gale worked various jobs in Marysville and played offensive guard for Lima Thunder, a semipro football team. Nathan's favorite band was Pantera, which had dissolved due to bandmate issues.
After failing to reconcile Pantera bandmates, Darrell and his brother, Vinnie Paul, formed Damageplan. On 8th December 2004, they traveled to Columbus, Ohio, to perform at the Alrosa Villa nightclub, a familiar venue to the Pantera bandmates.
As the brothers watched the opening band, Nathan Gale stood in the club's parking lot in a hooded sweatshirt and a Columbus Blue Jackets hockey jersey. When a fan asked him why he wasn't watching the show, Gale said he was waiting for Damageplan.
Rick Cautela, the club's manager, viewed Gale as a crazy fan with no ticket trying to talk to band members. Gale was eventually instructed to leave, which he did, but he remained in the club's vicinity.
When Damageplan started their performance, Gale jumped a fence and rushed into the club via a side door. Witnesses speaking to Rolling Stone said Gale wore a determined look as he made his way to the left side of the stage. 
"He was on a mission," Billy Payne, the singer for Volume Dealer, said. "He looked angry. He was walking like he was going into battle."
Nathan Gale drew a handgun, aimed it at Dimebag's head at point-blank range, and pulled the trigger. A nurse performed compressions, but she couldn't save Dimebag. He passed away from gunshot wounds to the head. Gale also killed Nathan Bray, a fan; Jeff Thompson, a crew member; and Erin Halk, a club employee. 
Nathan put John Brooks, a drum tech, in a headlock and took him hostage. Responding to a 911 call, officer James Niggemeyer arrived at the scene and killed Gale with his shotgun. "I knew from that distance I could shoot the suspect, as long as I aimed high enough and wouldn't hurt the hostage," Niggemeyer told MTV.
Unfortunately, James was another victim of the shooting. He suffered from severe PTSD and anxiety, eventually quitting the force.
After Dimebag's shooting, fans were banned from accessing the stage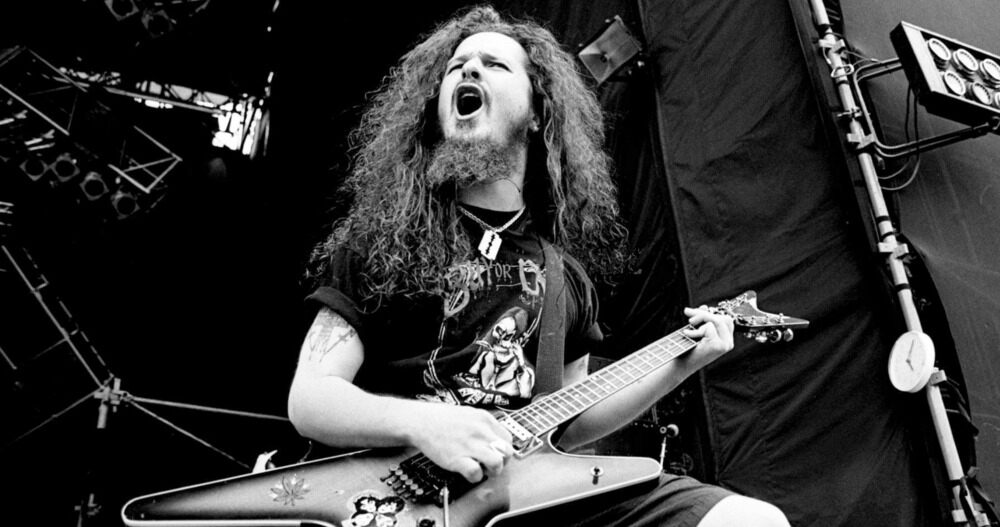 Gale wreaked havoc in December 2004 because stage diving was allowed – bands allowed fans to rush to the stage to jam with the band. However, fans were banned from accessing the stage after Dimebag's shooting. 
Anthrax guitarist Scott Ian told Loudwire: "To me, everything changed after Dime was killed. The stage became off-limits for everyone but musicians. I don't give a fuck how much fun you're having. Stay the fuck off the stage."
Vinnie Paul opined that Philip Anselmo, Pantera's former vocalist, inadvertently contributed to the shooting. Gale was a troubled schizophrenic who believed that Pantera bandmates were stealing his songs. Still, Paul believed Anselmo's statements to the press could have inspired Gale to shoot Darrell.
Anselmo had frustrated efforts to get Pantera back together, causing a rift between him and the brothers. The warring parties exchanged insults in the press, with Anselmo telling Metal Hammer that Dime deserved to be 'beaten severely.' Paul speculated that the statement could have inspired the shooting:
"I saw what happened, and I knew exactly that the dude was on a mission, man, for whatever reason. And the kind of shit [Philip] said [to Metal Hammer] is the kind of shit that might incite the guy that did this to do the kind of things that he did."
---