Caylee Marie Anthony's remains were found in December 2008, six months after she was last seen live. Prosecutors placed Casey Anthony, Caylee's mother, on trial for Caylee's murder, turning her into 'the most hated woman in America.' Most people expected the court to find Casey guilty of murder, but the jury acquitted Casey.
Many productions and publications have covered Caylee's murder and Casey's trial. The latest one, Peacock's Casey Anthony: Where The Truth Lies, tells the story from Casey's perspective. 
The prosecution's lack of concrete evidence linking Casey to Caylee's alleged homicide led to her acquittal. Crucially, due to the condition of Caylee's remains, nobody could conclude with absolute certainty about her cause of death.
Experts couldn't figure out how Caylee Marie Anthony passed away
In December 2008, former Orange County meter reader Roy Kronk discovered Caylee Marie Anthony's skeletal remains. Kronk testified that he'd called the police three times in August 2008 to report something suspicious in the woods, but a deputy dismissed his claims.
Had authorities found Caylee's remains in August, the autopsy team would've had a much higher chance of finding out how she died. Experts couldn't deduce from the skeletal remains how the two-year-old died.
"This was a dry-bones case," Lawson Lamar, a state attorney, said. "The delay in recovering little Caylee's remains worked to our considerable disadvantage."
The local medical examiner, Dr. Jan Garavaglia, noted there were no indicators that Caylee died of physical injury or asphyxiation. They concluded 'that the exact cause of death cannot be determined with certainty.'
Dr. Garavaglia cited the duct tape found on the skull and on the mouth of the skull as one of the reasons she determined the death was a homicide. The prosecution contended that Casey administered chloroform to Caylee to knock her out before applying duct tape to the nose and mouth to kill her.
The defense posited that Caylee drowned in the family's swimming pool. Neither party backed their allegation with scientific proof.
A report by Florida's Department of Children and Families concluded that Casey killed Caylee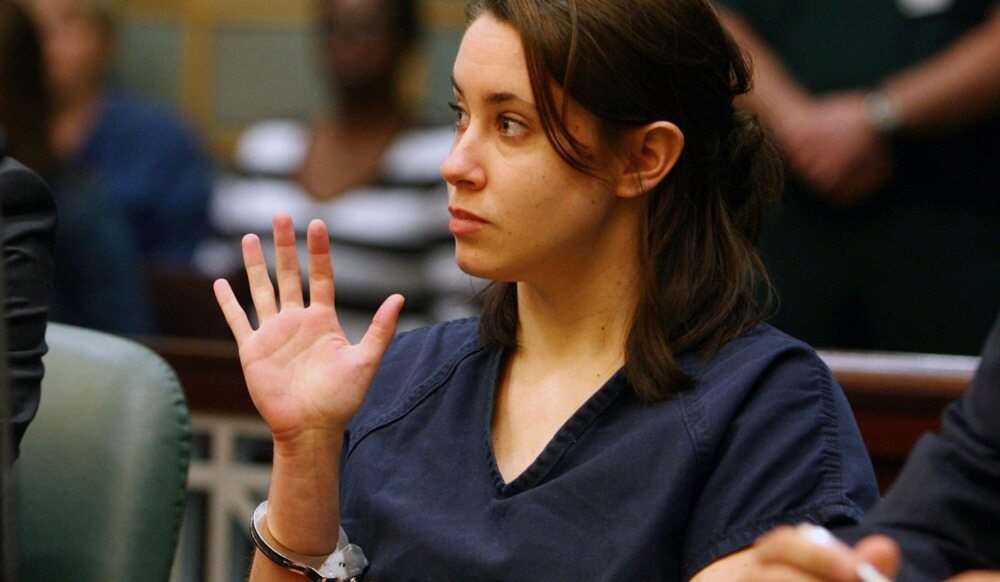 The court found Casey not guilty of murder. A male juror talked to People in 2011 about the jury's reasoning:
"Generally, none of us liked Casey Anthony at all. She seems like a horrible person. But the prosecutors did not give us enough evidence to convict. They gave us a lot of stuff that makes us think that she probably did something wrong, but not beyond a reasonable doubt."
Many were convinced about Casey's guilt, leading to widespread national outrage after the jury rendered its verdict. Following Casey's acquittal, Florida's Department of Children and Families concluded that Casey was responsible for Caylee's death. The report read:
"The Department of Children and Families concludes that the actions or the lack of actions by the alleged perpetrator ultimately resulted or contributed in the death of the child."
The lack of physical evidence connecting Casey to the crime contributed to her acquittal. Her car smelled of rotten flesh, sparking an allegation that she carried Caylee's body around before dumping it.
"I found my daughter's car today and it smells like there's been a dead body in the damn car," Cindy, Casey's mother, told a 911 operator. However, authorities couldn't prove that Caylee's dead body was in the vehicle.
Casey couldn't explain how she lost contact with her daughter and why it took her a month to report Caylee missing, fueling suspicion that she contributed to her death. However, the prosecutors failed to convince the jury of her guilt.
The male juror speaking to People said the acquittal haunts him: "I think now if I were to do it over again, I'd push harder to convict her of one of the lesser charges like aggravated manslaughter. At least that. Or child abuse. I didn't know what the hell I was doing, and I didn't stand up for what I believed in at the time."
---