Mark Wahlberg's latest film, Father Stu, tells the story of a boxer with a broken dream who found his purpose in life as a Catholic priest. Father Stu was successful in nearly everything he tried, but he's remembered chiefly for his short stint as a priest. Wahlberg told Catholic News that one archbishop admitted that Mark did more in four years than the archbishop had in forty years.
Stu passed away due to body myositis, a rare autoimmune disease. Even as his body failed, he continued serving his flock: people usually lined up outside his room at the rehab center to go for confession. This piece looks at Father Stu's real story.
Father Stuart Long successfully directed his energy toward boxing
Stuart Long was born on 26th July 1963 to Bill and Kathleen Long. Long graduated from Capital High School in 1981 and joined Carroll College, a private catholic university. The huge and physically fit Long didn't care much about religion and focused on playing on the school's football team.
"I wasn't Catholic," he told the Diocese of Helena in 2011. "I always felt like kind of an outsider." Stuart often questioned his teacher and stirred up trouble, attracting the attention of Father Jeremiah Sullivan.
Father Jeremiah introduced Stuart to boxing, giving Long a place to direct his misplaced energy. Stu abandoned football, directing all his attention to boxing. "The individual sport fit with my personality better than the team sport," he said. "I was a little rambunctious back then."
During his third year in college, he won the Golden Gloves heavyweight title in Montana. He was runner-up the next year and hoped to pursue a boxing career after graduating with a degree in English Literature and Writing.
Unfortunately, fate conspired to rob Stuart of what appeared to be a promising career. He suffered a jaw injury during a fight, requiring him to get surgery.
Stuart may have returned to the ring, but his family convinced him to quit boxing. With his sports dream dead, Long set his sights on Hollywood.
Stu turned to priesthood after surviving a nasty road accident
Stuart appeared in several commercials and minor roles but failed to blow up. He became a bouncer at comedy clubs and bars before finding steady and fulfilling work at the Norton Museum in Pasadena.
On the ride to work one day, Long rammed into a car in the next lane. "The witnesses told the sheriffs and reporters that I was rolling down the road and another car ran over the top of me," he said. "And here I am."
Stuart's connected with religion following his miraculous escape. He resolved to help others find their faith by accepting the call to priesthood. He served in California and New York before earning a master's degree in philosophy at Franciscan University.
Before his graduation, Stuart was diagnosed with body myositis, a rare and incurable autoimmune disease mimicking ALS. Despite his diagnosis, Father Stu immersed himself in the service of others. Father Bart Tolleson, Stuart's friend, told The Catholic Telegraph:
"That cross of his disease was the most powerful way to serve people. He was tireless in his service and the Lord gave him many beautiful gifts, of counsel, of providing the sacraments. He was fearless even though he was limited."
Bishop George Thomas, the priest who ordained Long, described him as 'stunningly effective' even as he struggled with illness. Thomas told Patheos:
"I'd go to visit him at the rehab center, which was really a rehab nursing home. And it would not be unusual to have six or eight or 10 people lined up outside his room waiting to go to confession."
Father Stu passed away on 9th June 2014 at Big Sky Care Center, with his mom and dad at his side.
Wahlberg was so invested in the project that he funneled his money into the film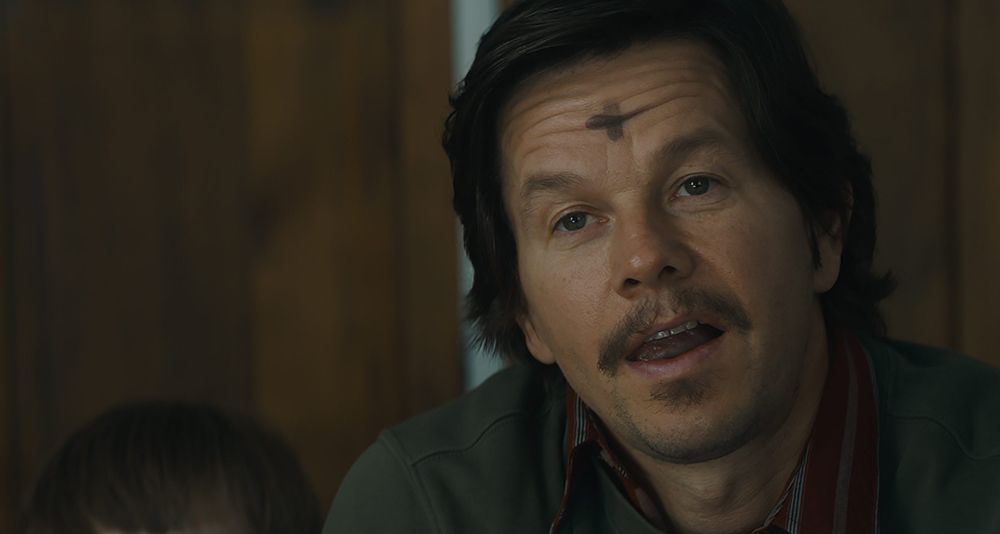 Mark learned of Father Stu's story via two priests who pitched the movie idea to him. He was initially reluctant, but something about the story resonated with him.
"I said, 'Why do you keep pitching me this movie? You know nothing about movies in Hollywood.' And then something just caught my attention about the story," Wahlberg told Raymond Arroyo. "When I started to hear the story, it's like everything happens for a reason."
Like Long, Mark Wahlberg had a tumultuous young life and was set straight by religion. "Obviously, having a troubled past and really turning to God and to my faith to find direction, and to really turn my life around," Mark told WCVB.
Mark also told Arroyo that he saw similarities between his and Father Stu's story. He talked to Raymond about his need to identify with the roles he plays:
"Do I always try to find some sort of personal connection to a role? Absolutely. I need to identify with it some way. Is this something that I identify with more than anything else? Absolutely."
Mark was so invested in the film that he broke a cardinal Hollywood rule: he helped finance the project. "I said, 'You know what? I'm just going to do it on my own,'" Mark said.
Wahlberg hopes to carry on Father Stu's good work
Thanks to Mark, the world will learn of Father Stu's remarkable life. Mark revealed that everybody, religious or not, can learn something from Father Stu's 'uplifting and inspiring story.'
Wahlberg hopes to carry on the excellent work Father Stu did and push for the recognition of his efforts through canonization. He told Catholic News:
"I've made a movie about a remarkable man, and I know that they had campaigned to get him ordained and petitioned to have him canonized. I'll push and campaign for Stu, absolutely."
Mark opines that Father Stuart long would enjoy Father Stu: "I think he'd have a big smile on his face."
---