You season 3 finally revealed the new object of Joe Goldberg's fascination: his high-roller neighbor in Madre Linda, Natalie Engler. Natalie first appeared in season 2, but a book and a sunhat hid her face. We saw Joe peeking at her and knew that she would be his new obsession. 
Season 3 introduced Natalie as a willing participant in Joe's game. She encouraged him to step up his pursuit and eventually invited him over. Natalie talked about her unhappy marriage, and right on cue, she started kissing Joe. The couple didn't have sex, but Joe took a box of intimate items belonging to his new fascination.
The actor playing Natalie Engler is Michaela McManus.
Michaela is a celebrated television actor with many appearances in popular shows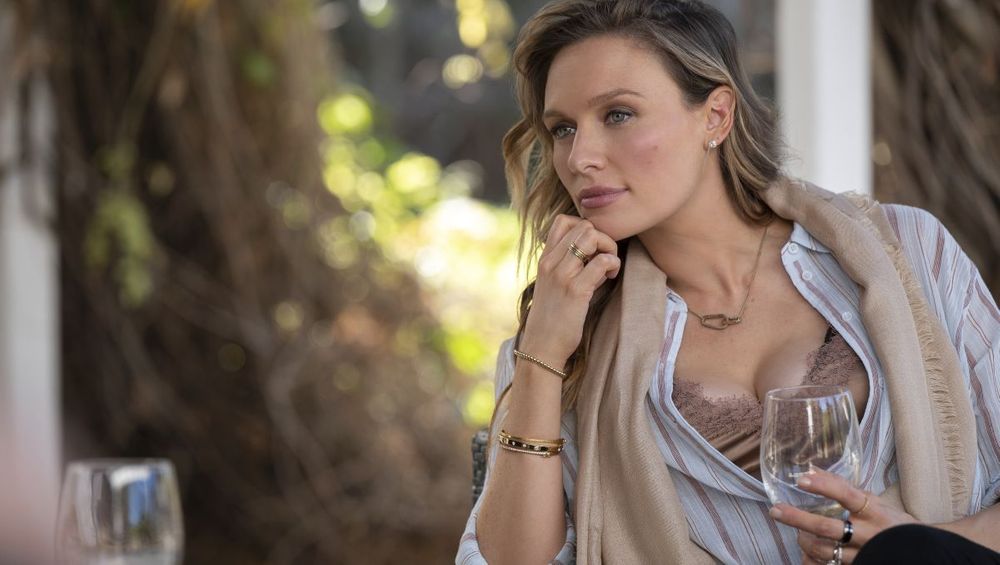 Michaela McManus launched her acting career after attending NYU's graduate acting program.
She appeared in several short films before landing the recurring role of Lindsey Strauss in One Tree Hill in 2008. Since then, she has appeared in a slate of television shows, including CSI, Law & Order: Special Victims Unit, The Vampire Diaries, and The Orville.
Despite her extensive experience and evident expertise, Michaela has struggled to land a leading role in a television series. Her luck seemed to change when she secured a leading role in The Village, but the series ended after one season.
When we learned that Natalie was Joe's new fascination, we thought that she would last for the entire season at least. However, the showrunners killed the character in episode one, limiting Michele's time on You to one episode.
Joe and Natalie didn't have sex due to his commitment to avoid obsessing over another person. However, he took home a box of Natalie's items, including an underwear and a tampon.
Love stumbles upon the box and vows to remedy the situation… by killing Natalie. That's You for you. She invites Natalie to a one-on-one meeting to talk 'business,' but as the camera pans to an axe in the corner, we decipher Love's true intention.
The episode ends with Love standing over Natalie's lifeless body. What a start to the new season.
Showrunner Sera Gamble talked to TVLine about Natalie's surprisingly short stint on You:
"The conversation at the beginning of Season 3 was 'What do you think would happen if you were a viewer?' And it's that Michaela would be in the whole season, so we were like, 'She's got to go in Episode 1.'"
Michaela's role in You turned out to be one of her shortest but arguably her most popular.
McManus is married to producer Mike Daniels, and the couple has three children
Michaela McManus was born on 20th May 1983 in Warwick, Rhode Island, to James and Patricia McManus. James and Patricia recently celebrated their 45th wedding anniversary. Michaela attached the following caption alongside a photo of her parents:
"Happy 45th anniversary to the best of the best. Your love is the stuff dreams are made of."
She married producer Mike Daniels in June 2011. The couple raises three children: Gabriel, Declan, and Indigo Irene.
---