Elvis Presley died precisely 19 years after burying his mother, Gladys Love. Presley and Gladys had an exceptionally tight bond fostered by Glady's overprotectiveness of Elvis. After realizing that the chance of getting another child appeared bleak, Love decided to protect the one she had fiercely. Elvis's father, Vernon, told biographer Peter Guralnick:
"He [Elvis] never spent a night away from home until he was 17. The three of us formed our own private world."
Elvis never truly recovered from the death of a woman she called my best girl. "She was all we lived for," Elvis said after learning of Love's death. "It broke my heart. She was always my best girl."
Elvis' mother died from a heart attack and liver failure caused by excessive drinking
Elvis Presley grew up in a poor household, so when the money started flooding in, he introduced Gladys to a luxurious life. Presley gave Gladys a pink Cadillac and moved her to the Graceland mansion.
However, for Gladys, luxury was a curse. "After Elvis became famous, Gladys was never happy another day," her best friend, Lilian, said. "She never had peace no more."
During one of Elvis' tours, a family friend dropped by Graceland and told Gladys: "I guess you must be the happiest woman in the world!" Elvis's mother replied:
"You got it wrong. I'm the most miserable woman in the world… I'm guarded. I can't buy my own groceries. I can't see my neighbor."
The stresses of fortune coupled with paranoia that her only child would meet disaster pushed Gladys to drugs and alcohol. Gladys needed pills to sleep, speed to wake up, and increasing amounts of Vodka to tolerate life.
Elvis' drafting for military service was the final nail in Gladys' coffin. Gladys remembered how her cousin had lost his mind and massacred innocents in North Korea and begged Presley not to go. Elvis, feeling duty-bound, went to Germany.
In August 1958, Elvis received a call saying his mother was dying. The Army granted him a seven-day emergency leave to be with his mom. He arrived just in time, as his mother died hours after his arrival in Memphis.
Gladys died of a heart attack and liver failure caused by excessive alcohol consumption.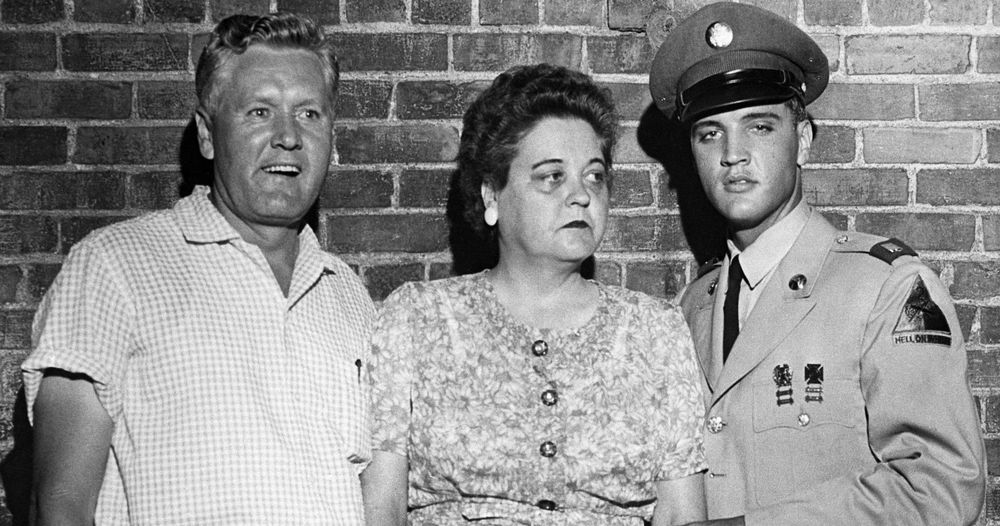 Elvis was inconsolable following his mother's death
After Gladys passed away, Elvis reportedly sank to his knees and wept. Vernon worsened his despair by suddenly saying: "You worried your mama right into the grave!"
"Elvis broke down and cried," his cousin, Billy Smith, said. "It about killed him." Biographer Charles L. Ponce de Leon wrote that Elvis threw himself over her coffin and refused to let go. 
As she was lowered into her grave, Elvis said: "Goodbye, darling. I love you so much. I lived my whole life just for you!" Presley needed help to get back to the black limo that carried him during the ceremony. Judy Spreckels, Elvis's friend, described Elvis's grief during the funeral:
"I have never seen anyone as sad as Elvis was. He cried continuously. We were in the front hall at Graceland, and he stood there hugging me for a half-hour. He was crying and crying and crying. It was the saddest thing I'd ever seen."
---