DreamWasTaken (Dream) and GeorgeNotFound (George) are two of the most popular Minecraft streamers in the world. Dream is more famous, with over seven million subscribers across his YouTube channels. His main YouTube channel has 6.54 million subscribers, while his Twitch page has over 550K followers.
George's YouTube channel has 1.81 million subscribers, and his following will likely keep growing as he posts more entertaining gaming content. Dream and George regularly collaborate on Minecraft as teammates and sometimes as opponents.
This piece will look at George and Dream's relationship, Dream's astronomical growth on YouTube, and the pair's personal lives.
Fans are shipping Dream and George due to their numerous flirts on Minecraft and Twitter
According to some fans, Dream and George are more than just collaborators on YouTube. They suspect that the pro Minecraft players are in a relationship, and they have plenty of evidence to back up their claim. 
Dream and George flirt in almost every video that they do together. In Beating Minecraft with One Inventory Slot…, Dream gave George flowers in the game and spent the rest of the time trying to get George to say 'I love you.' In a 23rd April Minecraft stream, Dream lost a $1,000 bet to George. George's winnings also included Dream's mom's mobile number. He sent the following message to Dream's mother, "Hi this is your son's boyfriend."
It is also clear that they share a deep affection for one another. In November 2019, Dream gave George $5,000 to use on Amazon. That sum was ten times more than what he gave his other friends Sapnap and BadBoyHalo. 
The pair's flirting thrives on Twitter as much as it does on Minecraft. On 1st April 2020. George tweeted that he and Dream were going to get married. However, he later jokingly tweeted that the wedding was off. At the start of Pride Month, George replied to one of Dream's tweets with, "Love you Dream."
In late July 2020, Dream deactivated his second Twitter page, protesting George's flirting with Maia (mxmtoon). It was a joke, but it added to the rumor that George and Dream are a couple. The pair's fans are hopeful that we will get a 'DreamNotFound' confirmation soon. 
Dream's Minecraft YouTube channel gained 5 million subscribers in six months
Dream first posted content on YouTube a few years ago. His content consisted of vlogs and random videos he took with friends. YouTube was a fun thing for him to do rather than something he saw as a potential career. 
Dream started playing video games at a young age, and as he grew up, he specialized in Minecraft. He told Butch Hartman that in middle school, he spent up to eight hours a day playing the game. As he progressed in school, he had less time to play Minecraft, but he dedicated sometime daily to sharpening his craft. 
When Dream started his YouTube channel, he was an instant hit. The gaming skills he had acquired over the years came in handy, and he supplemented his content with sprinklings of entertaining commentary. Furthermore, Dream had experience with coding, and so he could create unique challenges on Minecraft that other creators couldn't come up with.
The result of Dream's year's long experience and effortless rapport with fans was that his channel gained 5 million followers in six months. Dream is appreciative of his success, and he is willing to support people who want to grow their channels on YouTube using his content. On 1st August 2020, he announced via Twitter that he won't copyright anyone who wants to react to his videos. He wrote: 
"For the record, I won't copyright any reaction videos, highlight videos, or otherwise, AS LONG as complete full credit is given, and is not just a re-upload of my content."
Dream is intent on keeping his face hidden but George has no qualms about revealing his identity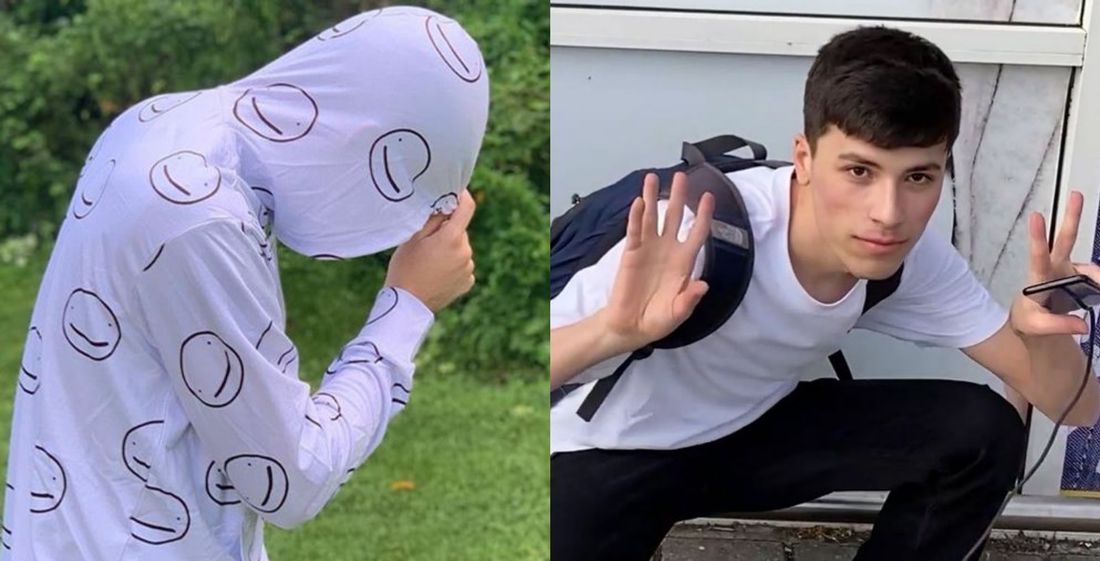 Despite his success, you cannot find Dream's face on the internet. Dream refuses to show his face in his live streams and on social media. He even showed up to online interview with Butch Hartman as his gaming avatar. George, on the other hand, has shown his face on multiple occasions during live streams and on social media. 
Dream and George have largely concealed their private lives, but we can tell from Instagram that they have a shared love for cats. Unfortunately, George announced via Twitter that he was forced to put down his cat, Luca, after vets discovered that he had a rare, untreatable disease. George wrote:
"They found out he had a very rare disease and it's basically untreatable. There wasn't really anything they could do so we had to let him go. His name was Luca and he was only 1 year old. Thank you all so much for the support."
---