Jacoba Ballard knew that she was conceived via a sperm donor and wanted to see whether she had half-siblings. She conducted a 23AndMe DNA test and discovered, much to her surprise, seven half-siblings. Ballard didn't expect that many half-siblings, as Dr. Donald Cline had stated that he used one donor for three pregnancies.
She launched an investigation into the irregularity and found she had close to 100 half-siblings fathered by Dr. Donald Cline. Dr. Cline lied to the patients he inseminated, using his sperm rather than the sperm requested by the patients. 
Dr. Cline is still alive and lives free in the Indianapolis area
Dr. Donald Cline opened his fertility clinic in 1979 following a stint in the United States Air Force. He allegedly used his sperm to inseminate patients from 1979 to 1986. The Netflix documentary claims that he fathered 94 children and, potentially, many more.
Jacoba and her half-siblings swiftly uncovered Dr. Cline's actions but, frustratingly, discovered that they had no legal recourse. At the time, the law didn't criminalize the act of a doctor inseminating a patient with his sperm or lying about the source of the sperm.
However, Dr. Cline was charged with obstruction of justice for lying to the AG's office about his role in the crime. "I can emphatically say that at no time did I ever use my own sample for insemination," Dr. Cline wrote to the Indiana Attorney General's office after it informed him he was under investigation.
Dr. Cline pleaded guilty to obstruction of justice and received a one-year suspended sentence and a measly $500 fine. To his children, the punishment seemed like a slap on the wrist.
"It was always about you," Jacoba said during Cline's hearing. "You lied. You still lie. You even have your family believing you, and that sickens me."
Dr. Cline surrendered his medical license to the Medical Licensing Board of Indiana, which voted to prevent Dr. Cline from applying to have his license reinstated. He'd long-retired by the time he gave up his license, so the penalty didn't cause him much harm.
"It's particularly egregious," Laura Iouse, supervising deputy attorney general, said. "The important thing is that Dr. Cline doesn't practice anymore."
Liz White, one of Dr. Cline's former patients, told The Atlantic that the disgraced doctor 'lives down the street over there. I live down the street over there, and my mom lives in town here.'
Lucie Jourdan, Our Father's director, and Ballard told The Guardian that Dr. Cline lives free in Indiana. They said:
"Some people online have said he's dead. He's not dead. He's active around his community. He's going to grandchildren's swim meets and things like that. There's no hiding. That's the thing, he's still out and about. In his head, I don't think he thinks he's done much wrong."
Dr. Cline reportedly tried to stop the creation of Our Father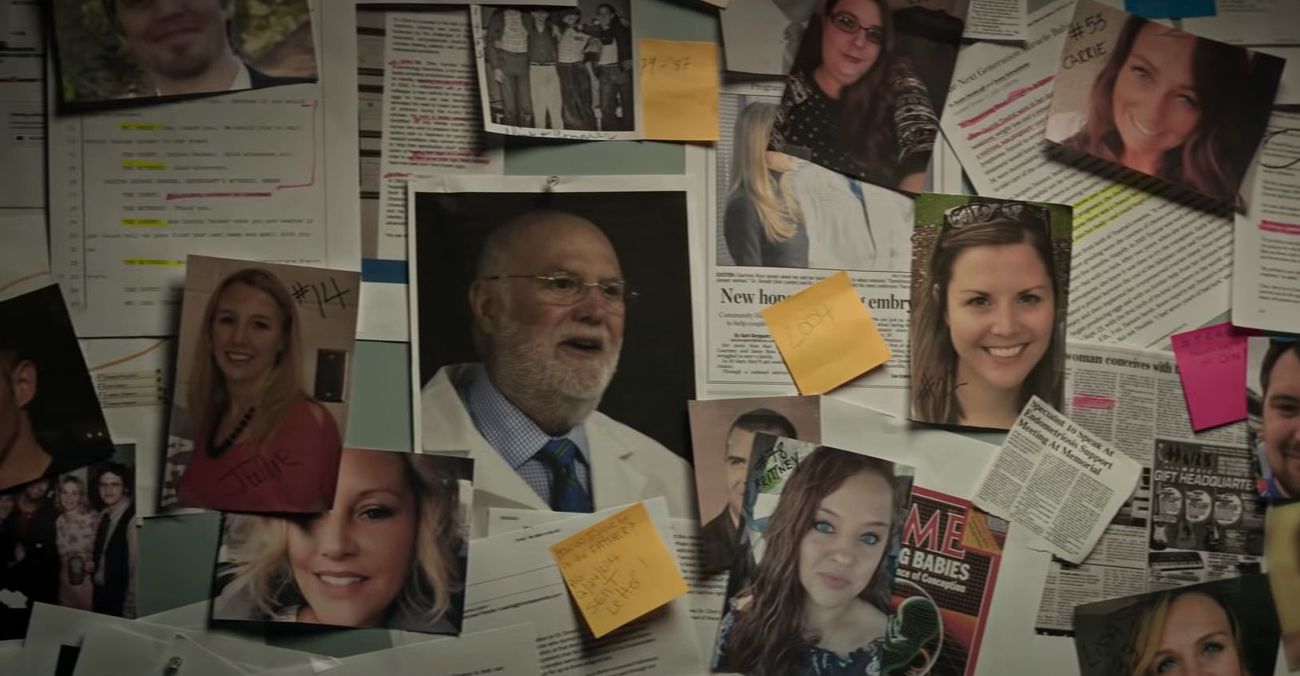 Before he finally admitted to the accusations against him, Dr. Cline had adopted a stance of staunch denial. He wrote to one of Jacoba's half-siblings:
" I almost always used resident physicians and most were married with children of their own. Also, their family history was entirely negative for any familial illnesses. This many years later, I could not possibly remember anything else."
He also told the Indiana Attorney General's office that he hadn't used his samples for insemination. Dr. Cline eventually came clean but didn't seem remorseful for his actions.
"Did you really think… that we wouldn't meet?" one of the half-siblings told The Atlantic. "That we wouldn't maybe date? That we wouldn't have kids who might date? Did you never consider that?"
Dr. Cline may not have cared about the futures of his children, but he worried about his story featuring in Lucie Jourdan's documentary. Lucie said (per Newsweek):
"Cline did everything in his power to silence them and the making of this film. 'The world doesn't need to know,' he said. Well, we disagree. May their voices reverberate across the globe as the depravity of his actions is finally brought to light."
In 2019, Indiana's Governor passed a law prohibiting fertility fraud. The law criminalizes misrepresentation of a drug, device, or medical procedure and directly references human reproductive material. Texas also passed a similar law.
---