Babe Ruth is one of the most celebrated sports personalities in the United States. Nearly every aspect of Ruth's life is in the public domain, yet there's a feeling that there's a lot about Ruth that we don't know. "Some 20 years ago, I stopped talking about the Babe for the simple reason that I realized those who had never seen him didn't believe me," sports writer Tommy Holmes said.
Babe Ruth was accused of killing his first wife, Helen Woodford, but his accusers had no proof
Babe Ruth's first wife, Helen Woodford, died in January 1929 in a house fire in Watertown, Massachusetts, in Edward Kinder's house. Helen had moved in with Kinder, a longtime friend, in 1927. Kinder's neighbors thought she was Kinder's wife; Kinder considered Helen his wife, as he told the medical examiner, "She is my wife. Her name is Helen Kinder."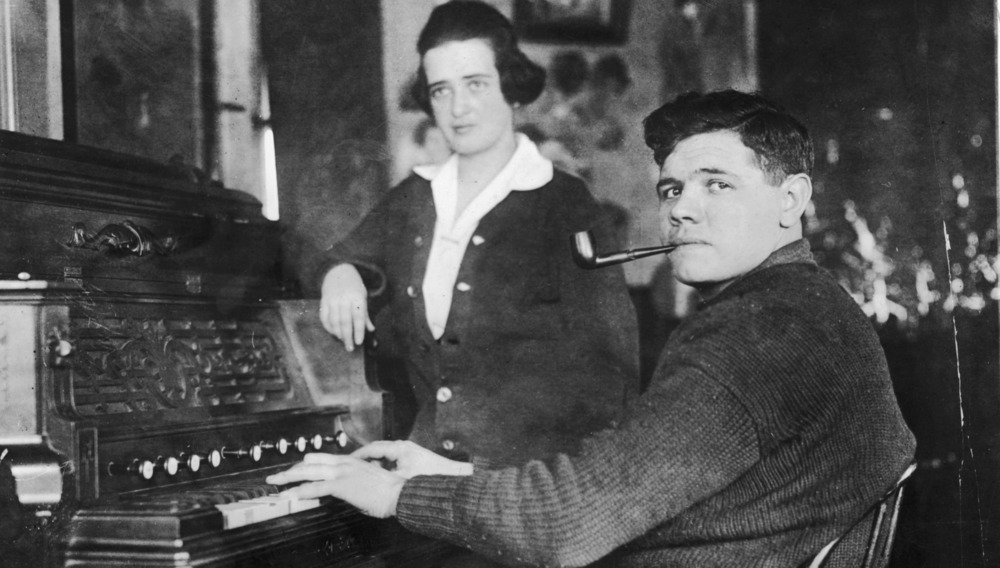 Legally, Helen and Ruth were still married. Helen had ended the relationship around 1925, citing Ruth's infidelity and neglect. "My wife and I have not lived together for the last three years," Ruth told reporters after authorities identified Helen as his wife. "During that time, I have seldom met her. I have done all that I can to comply with her wishes. Her death is a great shock to me."
Ruth was pushing for a divorce, which would clear the way for his marriage to model Claire Merritt Hodgson. According to Helen's sister, Nora Woodford, Helen also wanted a divorce. However, she reportedly demanded $100,000 from Ruth as a settlement. Ruth declined, allegedly telling Helen to go to hell and storming out of their meeting. Helen died a month after the meeting.
Helen's family opined that Ruth had the motive and the means to kill Helen. However, separate investigations into Helen's death found no evidence of foul play. The investigations concluded that the fire started due to an electrical fault, and Helen failed to react to the blaze because she'd taken sleeping pills. Investigators found no proof to back up the allegation that someone had drugged Helen.
"On all of the evidence I find that Helen W. Ruth met death through suffocation and burns between 6:30 and 11 p.m. I find no unlawful act or criminal negligence on the part of anyone to contribute to her death," Waltham District Court Judge Michael J. Connolly concluded.
Ruth reportedly struggled to come to terms with Helen's death
Despite the couple's problems, Ruth seemed heartbroken by Helen's death. The Boston Globe reported that with 'red-rimmed eyes' and a 'quivering chin', Ruth spoke to reporters at the Hotel Brunswick in Boston about Helen's passing.
"His great chest rose and fell, he gulped audibly and his eyes filled as he dabbed at them with his big hands," the outlet reported. "For fully five minutes, he struggled for control of his feelings and emotions."
"Boys, I'm in a terrible fix. The shock has been a very great one to me. Please let my wife alone. Let her stay dead. That's all I've got to say," Rut told the press.
Per The New York Daily News, Ruth was inconsolable during Helen's funeral. "Tears streamed down the Babe's tanned cheeks as he saw the body of his wife lowered to its grave," the outlet reported. "Unmindful of the snow which fell from a gray sky, the Babe, hat clutched in his huge hand, stood among his wife's relatives, sobbing."
For decades, Watertown residents held on to the narrative that Ruth killed Helen. Her death was ruled an accident, but some still opine that Ruth set Helen on fire. On 26th January 2022, sports analyst Ben Verlander tweeted: "Woke up thinking about how Babe Ruth set his poor wife Helen on fire yet the moral gatekeepers are keeping Barry Bonds, the greatest hitter of all time, out of the Hall of Fame."
---