On 10th March 2017, Randall Coffland murdered his twin teenage daughters in cold blood before shooting himself. A 911 call released by authorities chronicles the final moments of Randall's life. "I just shot and killed my two kids and I shot my wife, and I'm going to kill myself now," Randall said.
Randall gave his address to the dispatcher and reiterated his intent to kill himself. The 911 operator asked Randall to stay on the line but received no response. The following 911 call came from a distressed Anjum Coffland, the girls' mother.
"Oh my god, my husband shot my kids!" she said. "My daughters are dead!"
Anjum immigrated from Pakistan aged 12 and married Randall six years later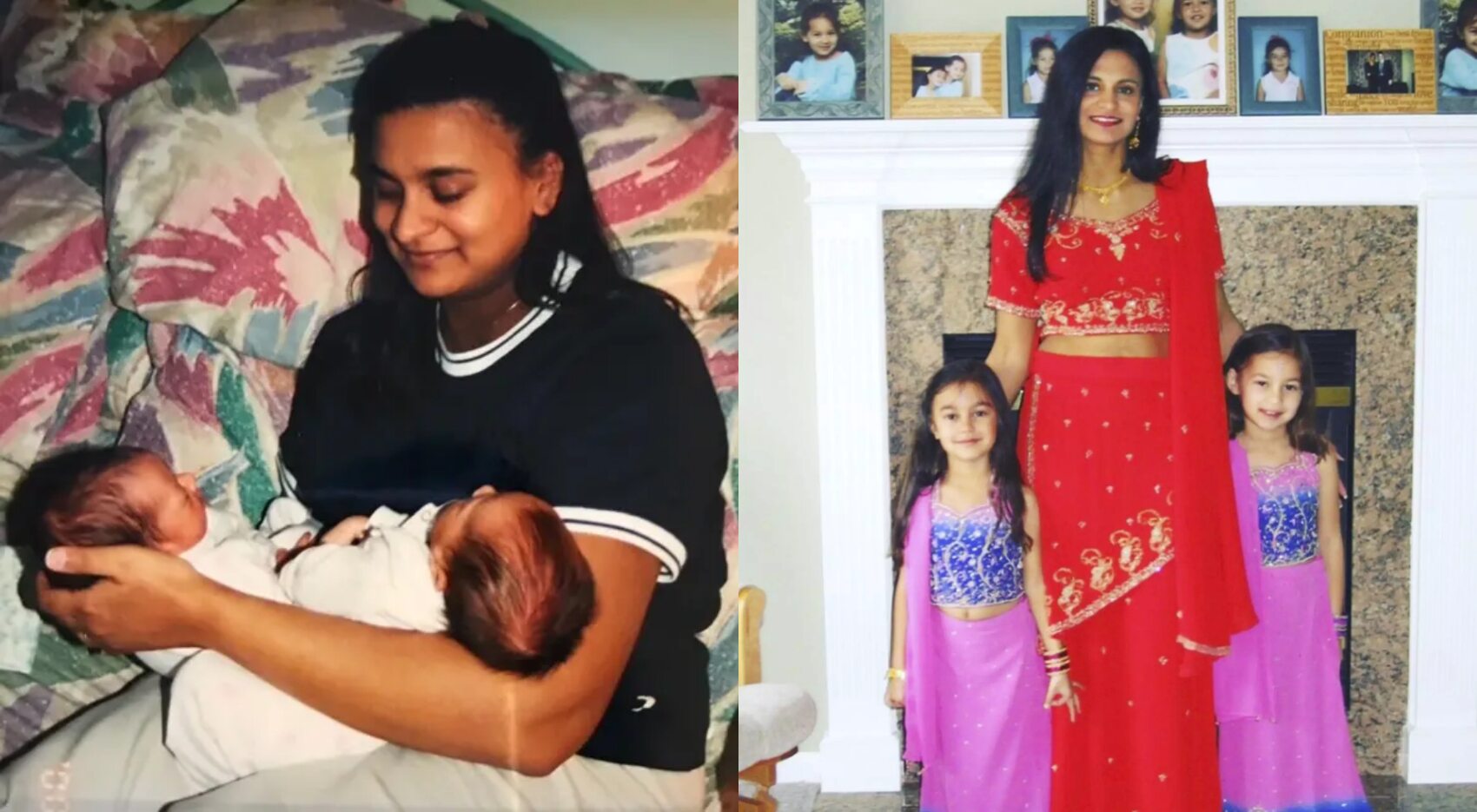 Anjum Coffland was 12 when she and her family immigrated from Pakistan. She was the third of four siblings in a religious Muslim family. Anjum's parents didn't allow her to date.
However, Anjum fell for Randy Coffland, a boy two years her senior whom she met at a discount store where they both worked. Aged 18, Anjum married Randy. Her family disowned her for marrying outside her faith – and continued to shun her after her daughters' murders.
"I thought within a week, maybe a month, maybe two months, they'll just come around, but they didn't," Anjum told Inside Edition. "They didn't reach out to me. So for 25 years, no contact."
Anjum changed her religion when Randy demanded that she become a Christian. She told Shaw Local News Network: "I was 18 years old. I was disowned by my family. All right, I'll change my religion to Christianity. He dumped a cup of water on me from the bathroom and pronounced me baptized."
Brittany and Tiffany were well-loved and had mapped out their careers
Anjum got pregnant with the twins ten years after marrying Randy. She says it was initially challenging to tell Brittany and Tiffany apart, but the parents got used to it.
Anjum told Patch that the family's move from Oswego to St. Charles allowed the girls' personalities to flourish. They really 'came out of their shell', she told the outlet. The twins were juniors at St. Charles East High School at the time of the shooting. 
Brittany was a gymnast and cheerleader who wanted to work in hospitality. Anjum told People that her career goals matched her persona: "Very much an 'I want-to-be-friends-with-everyone' kind of girl. Brittany made friends very easily. And she loved life."
Tiffany loved studying, was training for her first marathon, and worked at a local pet store with dreams of becoming a vet. "I think she loved animals more than people because she could sense that people could hurt her, but animals just love people unconditionally," Anjum said.
Candlelit vigils and makeshift memorials remembering the girls popped up in St. Charles in the days after the murders. "It's kind of unnerving to realize that someone you were so close with, and could see in a day, could be gone in a matter of hours," Ally Siebrasse, a friend of the sisters, told WGN.
"Tiffany would just absolutely light up a room with her smile. Her personality. She was an amazing young girl. You could tell [she] made everyone better just by knowing her."
The number of attendees at the visitation demonstrated that Brittany and Tiffany were valued community members. "Brittany and Tiffany seemed like model students," St. Charles Mayor Ray Rogina told The Chicago Tribune. "This a horrific personal tragedy."
"This is a community that is tight-knit and has the ability to heal, but there is a lot of pain here and understandably so." Yalon Rodgers, a junior at St. Charles East High School, said he'd struggled to find the words to describe such an unfortunate tragedy.
"They [Brittany and Tiffany] could have had a great future," Ben Garcia, a fellow junior, told The Chicago Tribune.
Anjum could have left the marriage a lot sooner, but Randy manipulated her into staying
Anjum said that Randy's controlling nature slowly emerged as time went on. He used his position as the family's provider to control Anjum. She told Inside Edition:
"His personality changed over time. It changed because he got an ego. He was taking care of all of us. Everyone listens to him in the house. I [couldn't] do anything without asking him. He just got a chip on his shoulder. And it got worse and worse."
Anjum first asked for a divorce ten years before the murders. She said that Randy threatened to quit his job if she left him. "My husband said, 'You leave, I'll quit my job. Then, how are you going to survive?'" she said. Anjum conceded that her husband provided the family with a good life. 
The price Anjum paid for a good life: her freedom. "I was not allowed to get my nails done," Anjum told Shaw Local News Network. "I was not allowed to get my hair done – just once a year to trim my dead ends."
In February 2017, Anjum broke free from the marriage. She opined that the kids were old enough to understand that their parents' relationship wasn't working out. She moved down the street to a one-bedroomed apartment to remain close to her daughters.
Randy was taking antidepressants and drinking heavily, but Anjum didn't fear that he would hurt their daughters. Anjum didn't have enough room in her apartment to accommodate the girls, and she wanted them to feel comfortable in a settled environment as the parents resolved their issues.
"I felt 100% that the twins were OK with him," Anjum told Patch. "They were in a comfortable place. They had their own condo. For me, I just couldn't say, 'you are coming with me. You are not going to have your own things.'"
Randy shot Anjum in the legs because he wanted her to 'live and suffer'
A day before the shootings, Randy visited Anjum's apartment and suggested reconciliation as they drank wine. Anjum insisted that she wanted a divorce.
The following day Randy left text messages for Anjum declaring he would kill himself. In the afternoon, he called her and said 'he had secrets, too' but declined to elaborate on the statement. Randy told Anjum to come over so he could 'tell her and show her the secrets'.
Anjum and Randy arrived at the apartment complex at about 4.45 p.m. on 10th March 2017. She said she entered the kitchen, where Randy ambushed her with a gun. Randy told Anjum that the girls were already dead.
He then aimed the gun at Anjum's legs and fired a single shot that tore through both thighs. "I want you to live and suffer like I did," Randy told Anjum as the 911 dispatcher listened. "The second he shot me, I knew my girls were dead," Anjum said.
Authorities found the girls lying in separate rooms, covered with blankets, and Randall face down in a full bathtub. They rushed the bleeding Anjum to Northwestern Medicine Delnor Hospital, where doctors treated her wounds.
The next few weeks and months were a blur for Anjum. She battled depression, suffered nightmares, and struggled to cope with the sudden emptiness in her life. Anjum said that in her grief, she made decisions she regrets, including instructing her friends to get rid of her children's belongings.
Anjum found comfort in her friendship with Ahearn, who told Inside Edition: "She would have nightmares. She still does. I told her there is no reason for her to ever have to be alone and handle this by herself. If there is a tough night still, she knows we can still call each other."
Anjum told the outlet that she lays flowers in front of Randy's grave, but she'll never forgive him: "Can I ever forgive him? No. Never going to happen. I put flowers on his grave because [he was] a good father [before the murders]."
Anjum has become an activist for stricter regulation of gun sales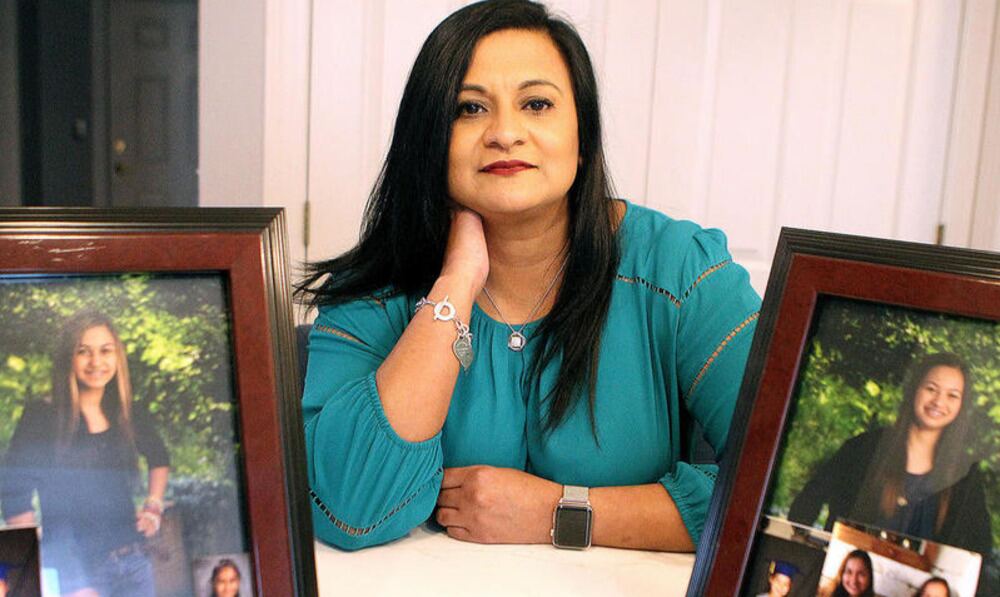 Anjum told Shaw Local News Network that the pain of her loss doesn't go away: "It hits you like a ton of bricks one day and you can't get out of bed."
In August 2019, she quit her job and traveled across America, which she always wanted to do, but Randy forbade it. Many victims of such a crime would have left St. Charles, but Anjum stayed to remain close to her daughters. "I can't leave my girls," she said.
"Of course I can move somewhere else and it would be easier," she said, "[but] I love the fact that they walked these streets. They loved St. Charles. I always want to cherish their memory and that they were here."
Anjum is honoring Brittany and Tiffany's memory by advocating for stricter regulation of gun sales. She joined Moms Demand Action for Gun Sense in America in 2018 and later became a member of Everytown for Gun Safety's Survivor Network.
Anjum hopes to strengthen gun laws by making it harder for people with mental health issues or in volatile relationships to get weapons. Anjum told People that Randy bought the gun he used in the murder-suicide a month before the shootings. 'I had no idea he bought a gun," she says. 
"If he had put me down as a person to contact if he ever bought a gun, guess what I would have told them? I would have said, 'We're going through a divorce. Please do not give him a gun.'"
Anjum acknowledges that she'll never fully recover, but she hopes her story can inspire people to keep fighting. She said: "I want them to remember that if this girl can go through what she's going through, I can go through anything."
---