BMF on Starz is the latest masterpiece from rapper 50 Cent. Fans have praised the series for its unfiltered portrayal of the Black Mafia Family and its drug operation across various states in the United States. Big Meech and his brother South West T are the prominent attractions, but the series also gives insight into other members of BMF.
Bleu DaVinci is one such member of BMF. The rapper became the face of BMF's campaign to legitimize their business. Big Meech formed BMF Entertainment to help launder money for the drug operation. The label had one artist, Bleu DaVinci, and promoted other acts such as Young Jeezy and Fabolous.
Bleu threatens to stop the production of BMF if he doesn't like his portrayal in the series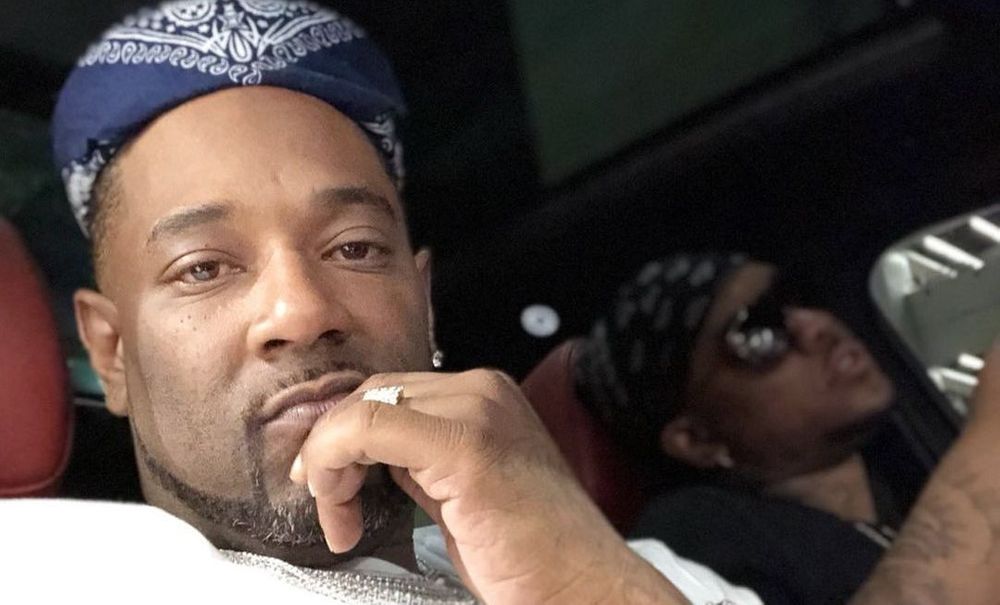 So far, fans, critics, and members of BMF have loved BMF. However, with the series due to heat up in upcoming episodes, Bleu DaVinci has warned 50 Cent not to drag his name through the mud.
DaVinci took to Instagram to praise 50 Cent for his success on television. DaVinci's message then took a dark turn when he told 50 Cent not to 'handle my name wrong.' Bleu said:
"The only thing I'm saying is that if they handle my name wrong, I'm coming to see you. The writers, the producers, the directors, the executive producers, y'all play with my name – I'm telling y'all right now. Y'all play with my name, it's up. Period."
Bleu promised to pull all the stops to disrupt filming for BMF if he hates his portrayal in the series. He continued:
"There won't be no more shooting. No more filming that shit. I'm gonna try to find a way to fuck up everything about it if you play with my name. Soon as I get the first report, 'Aye, bro, they playin' with your name.' I'm coming. Just already know. So have your security beefed up."
Bleu's comments have only added to the excitement surrounding the upcoming BMF episodes.
DaVinci received a reduced prison sentence because he showed a willingness to corporate with the feds
Barima 'Bleu DaVinci' McKnight joined BMF as the face of BMF Entertainment. He claimed that Big Meech didn't inform him of the drug operation run by BMF. According to a book titled BMF: The Rise and Fall of Big Meech and the Black Mafia Family, a tearful Bleu told the court during sentencing:
"Demetirus did not show me that part of his world when I met him. I got into a big brother – little brother relationship with this guy. I came to know this man without even knowing the other side of his life. I did get in above my head. He ordered me to stay away from anything illegal that they were doing. And that's what I did."
Dexter 'Sosa' Hussey told DJ Vlad that Bleu lied about not knowing about the drugs. Hussey said that though Bleu stayed clear of the operation, he knew that drug money funded the flashy life he lived. DaVinci's use of drug proceeds made him a player in the game.
Sosa opines that Bleu had a part to play in drawing the feds' attention to BMF. Furthermore, Bleu showed a willingness to corporate with authorities, but he couldn't provide prosecutors with new information. "You was giving them information on shit they already had and thought it was cool," Sosa said.
"You just confirmed the other shit that the other CIs just told." Bleu's attorney, David MacKusick, confirmed his client's willingness to cooperate.
DaVinci didn't have helpful information to offer, but his desire to work with the police earned him a reduced sentence. Bleu qualified for a federal 'safety valve,' which 'allows the judge to hand down a sentence that's lower than the mandatory minimum.'
Bleu got five years and four months, but he earned release three years into his sentence. After prison, he relaunched his career and became an entrepreneur.
Bleu has a son with rapper Keely Hill and three other children
Bleu and rapper Kelly Hill share a son named Xavier J. McKnight.
DaVinci also has a daughter Madisyn McKnight, and two sons Melaki and Brandon.
Bleu's son with Kelly Hill sparked drama in a 2018 season of Love & Hip Hop Atlanta. Keely had refused to tell her then-boyfriend K. Botchey the identity of her baby daddy. Botchey was very upset when he found out that Bleu fathered Xavier as Botchey and Bleu don't get along. 
The events manager confronted Keely at her office, drawing an angry outburst from Hill. She told Botchey:
"You mad because you friends told you some shit you should've asked me in the first fucking place. I'ma give you some time to calm your nerves before I lose my temper."
---