Breaking Bad is often regarded as one of the best shows ever made. After the show ended, it was difficult to imagine that any other series could come close to Breaking Bad. However, Vince Gilligan and Peter Gould proved us wrong when they came up with Better Call Saul.
Better Call Saul is a spin-off prequel of Breaking Bad, and it is set 6 years before the events of the original show. The main character of Better Call Saul is Saul Goodman/Jimmy McGill (Bob Odenkirk), but it also shows the development of characters such as Mike Ehrmantraut and Gus Fring.
Better Call Saul is hugely entertaining, and it has the same mind-blowing cinematography that we all loved in Breaking Bad. There are currently 4 complete seasons of Better Call Saul, and the 5th season will soon start airing. This piece will deal with everything you need to know about season 5.
When will Better Call Saul season 5 come to Netflix?
Based on past releases, it will take some time before Better Call Saul is available on Netflix US. Better Call Saul usually arrives on Netflix US a few weeks before the new season premieres on AMC. For instance, season 4 came to Netflix US two weeks before season 5's premiere date on AMC.
If production for season 6 takes the same time as production for season 5, season 6 will premiere in May or June 2021. We, therefore, expect Better Call Saul season 5 to appear on Netflix US in mid-2021.
Other Netflix regions usually receive episodes of the show a day after they air on AMC. This includes regions such as Canada, the UK, Asia, South and Central America, and mainland Europe. Season 5 will premiere on AMC on 23rd February, and so the first episode will be available on Netflix on 24th February.
Better Call Saul is not available on Netflix Australia. Viewers in Australia can catch the show on Stan.
What happened in Better Call Saul season 4?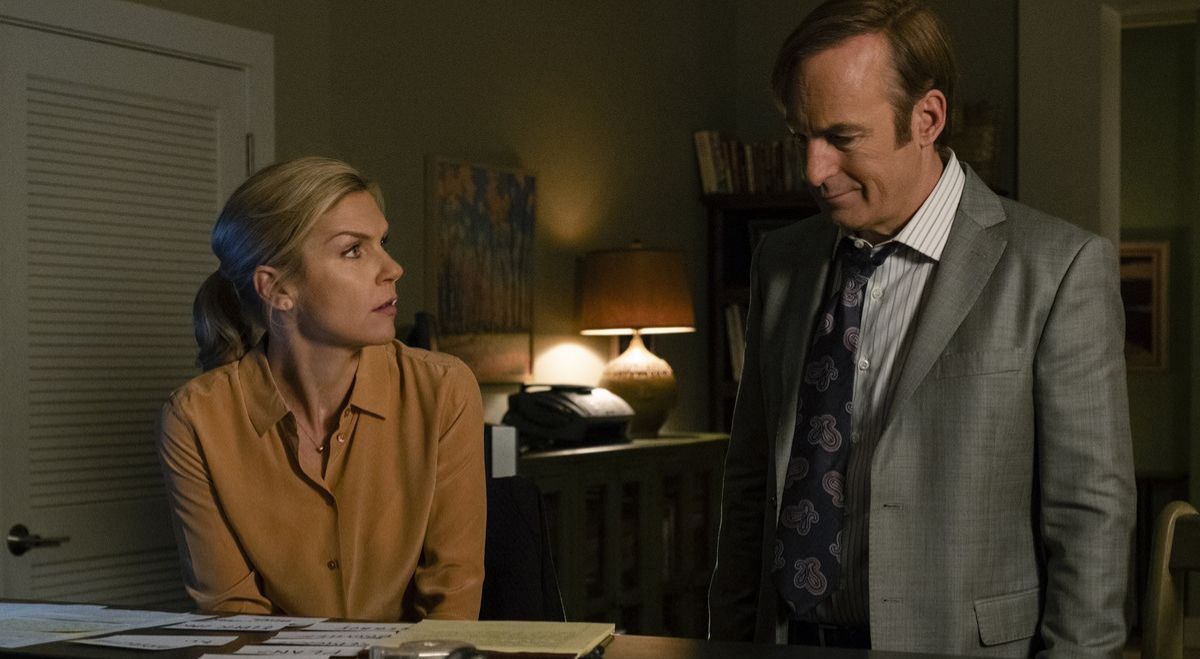 Better Call Saul season 4 showed us the growth of Gus Fring's drug empire. He began creating his secret meth superlab with help from our favorite fixer Mike. Mike had to cross an ethical line that he'd vowed never to cross to keep Gus' lab secret. Season 4 also showed Gus plan to take town the Salamancas.
He enlisted Nacho as a mole to help him take down the Salamancas, but the arrival of a deadly family member jeopardized his plan. The death of Jimmy's brother pushed Jimmy further into the criminal world. His choices threatened his relationship with Kim Wexler, but she did help him get his practicing license back.
Jimmy then announced that he'd changed his name to Saul Goodman. Saul might have reclaimed his status as a lawyer, but his relationship with Kim looked finished.
What to expect in Better Caul Saul season 5
We expect that Gus Fring will continue expanding his drug empire with the help of Mike. We will get ever closer to Breaking Bad's timeline as season 5 goes on. Lalo Salamanca will take over the family business after Hector gets a stroke.
What most of us will be waiting for, however, is to see Saul Goodman as a fully-fledged criminal lawyer. Teasers of season 5 have shown that the new season will be quite intense for Saul. The criminal world is unforgiving, and Saul might have a tough time adjusting to the demands of being a criminal.
However, Saul is a tough and smart lawyer, and we expect him to become successful. We expect most of the cast to reprise their roles, and we might also get more characters from Breaking Bad in season 5. Vince Gilligan has hinted on multiple occasions that Walter White and Jessie Pinkman will return in Better Call Saul. One or both of them might return in season 5.
---